Sharing The Love For Photography: Give Something Back
"Mentoring is a brain to pick, an ear to listen, and a push in the right direction."—John C. Crosby
Shortly after I moved into my former home, there was a knock at the door. Standing in front of me was an 8-year-old girl who lived down the street. "I'm selling note cards," she told me, "I made the pictures." A second look showed subjects a kid might shoot but others demonstrated that she was thinking about the photographs before making them. I bought several note cards and asked about her camera, which turned out to be borrowed. With her grandmother's permission I gave her an old, unused digital point-and-shoot. The girl loved the camera and was inspired to keep making photographs and we talked from time to time about her aspirations. Today she's a young woman with professional ambitions.
Think about your own cameras that may be sitting on a shelf gathering dust. Donate your camera to the Cameras for Kids Foundation (www.camerasforkidsfoundation.org) and help young people enjoy the art and craft of photography and maybe make a difference in a child's life.
Plug-In Of The Month
Back in the days when filters were something you attached to the front of a lens, one of my favorites was the star filter. It was a cliché but was still lots of fun. If you'd like to recall those thrilling days of yesteryear, LightShop 4.0 from Akvis is like a Halliburton case filled with every Cokin star filter ever made, plus a lot of other effects. LightShop is available as a stand-alone application as well as a Photoshop plug-in for Mac OS and Windows. It has two modes: in Express mode, only the necessary options are shown, so you won't get lost and will quickly produce interesting results. Switching to Advanced opens more tools and parameters, which you can drag into position, combine with other panels, scale, or minimize.
I wish other plug-ins were this customizable. A new Star Brush lets you sprinkle multicolored stardust over an image. You can draw this brush over an image to create stars or fireworks. LightShop comes with 138 presets in 11 groups so you can have fun right away. It costs $72, but registered users can upgrade to Version 4.0 for free. Download a 10-day trial version and try LightShop with your own photos.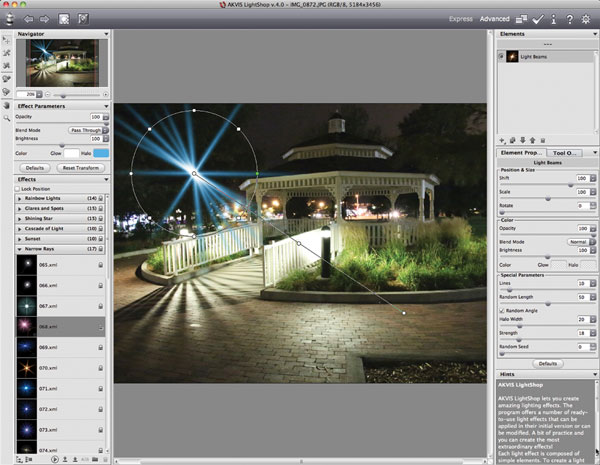 Photoshop Alternatives
No doubt the latest buzz around Photoshop Creative Cloud centers on a Camera Shake Reduction feature that turns blurry photos into sharp images. Not everybody has jumped onto Creative Cloud so for some Photoshop users this feature remains elusive, except for an option from Intelligent Imaging Solutions that was founded by German scientists interested in image restoration. Their product—piccure—is an Adobe Photoshop ($69) or Photoshop Elements ($49) plug-in designed to reduce camera shake.
The plug-in offers automatic camera shake reduction and can improve "nearly perfect" shots and rescue blurred images. Best of all, it doesn't rely on cloud computing. While running it lets you know if it is dealing with what the software feels is a large photograph but would probably be a normal-sized image file for a Shutterbug reader, so be patient. There is no doubt piccure will improve less-than-sharp photos—how much so depends on the specific image. Download a free 14-day trial version and try it with your own photographs. There is no limit on the number of images you can correct and I'll bet you'll be pleasantly surprised by the improvement.
For others looking for a Photoshop alternative, GIMP 2.8 for Photographers is a $39.95 beginner's guide to this free open source image-editing tool. GIMP is a powerful, multi-platform system running on Linux, Mac OS X, and Microsoft Windows. This 400-page book covers the new user interface and tools, the basics of image editing and simple adjustments, advanced techniques using layers and masks, developing Raw images, working with the improved text tool, and preparing high-quality black-and-white images. The most important editing functions are presented in individual, easy-to-follow tutorials. A bonus DVD describes special techniques for creating web graphics.
Slip Sliding Slide Shows
Mac OS users have access to the free iMovie that's bundled with their computers but, to tell the truth, I never could get the hang of using it to make slide shows (or video clips either for that matter). Smith Micro's ScatterShow provides an alternative for Mac OS and Windows users and its $29.99 price tag won't break your piggy bank. With the ability to explore and load photos from your tablet, computer, smartphone, and even Instagram, ScatterShow provides a simple way to explore, store, and share photographs using pre-loaded and customizable animations and visual effects, including the ability to add background images or music. Choose from preset or custom templates that automatically arrange your photos. Just dump 'em in and voilà! instant slide show. You can then dazzle your friends by uploading to Facebook, YouTube, or any HTML5-enabled web page.
Sling Your Camera, Do-Si-Do
Smaller cameras require smaller accessories and OP/TECH USA's Compact Sling offers the convenience of a shoulder sling. My 12MP Panasonic Lumix DMC-3D1 (yes, it shoots 3D photos) is slightly smaller than Mary's 10MP Olympus XZ-1. You can compare their—or your own camera—sizes at www.camerasize.com. The Compact Sling has a Mini QD Loop connector that attaches to the camera with a loop and a 3/8" quick disconnect for easy attachment/removal from the strap. A low-profile neoprene shoulder pad has a nonskid surface securing the pad on your shoulder, allowing the camera to freely move up the strap and into shooting position. The strap's length is adjustable and has a plastic triglide, which serves as a stop so you can set where you want the camera to rest. The Compact Sling costs $12.95 and is made in the US.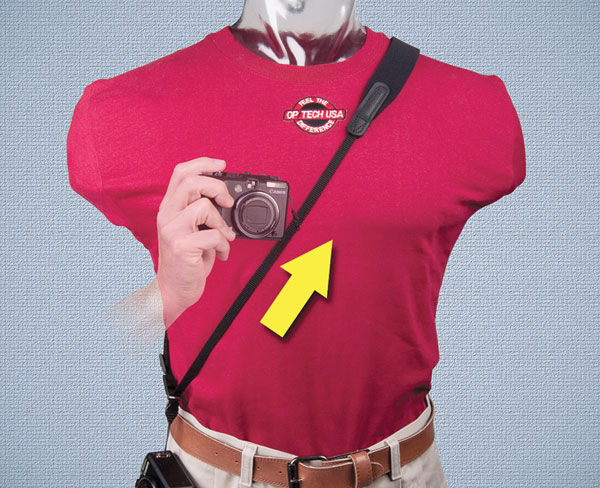 iPad mini Keyboard
I like the compact size of Apple's iPad mini but after trying one at Best Buy I changed my mind. The reason? The size of the on-screen keyboard seemed small for my US medium fingers. Now I've got the iPad mini itch again because Belkin introduced its FastFit Bluetooth Wireless Keyboard Case. At 7 millimeters thick, the FastFit keyboard cover is thinner than an iPad mini. Magnets snap the keyboard onto the tablet without added weight. Belkin's TruType keyboard uses a Bluetooth 3.0 connection and provides well-spaced keys for fast, accurate typing and has a nice touch, especially for non-typists like myself. A 200 mAh battery provides optimal battery life and yields 155 hours of use without charging. When the cover is opened, an auto-wake feature activates the iPad mini and puts it to sleep when the cover is closed. The FastFit Bluetooth Wireless Keyboard Case costs $79.99 and adds little bulk to the iPad mini, making it an easy fit into most camera bags.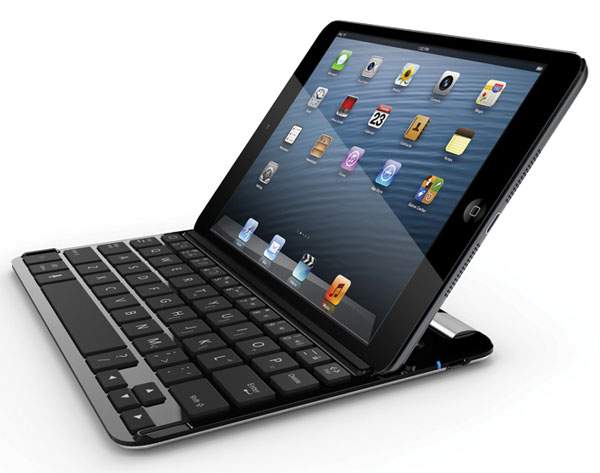 App Of The Month: Linea
Linea is a free photo-viewing app for the iPad or iPhone that lets you share images as well as collaborate with friends and family to assemble albums. You can add photos in their original resolution from your Camera Roll, Facebook, Flickr, or computer and browse lots of photos using Linea's clever MosaicView. You can securely store the photos and even print a photo book directly from within the app. The latest version also lets you import your photos from Dropbox (www.dropbox.com). Previously, you couldn't see or even find photos because of Dropbox's non-visual folders, but now you can use Linea to organize and view thousands of pictures, pulling them straight from Dropbox into the app.
Contacts
Akvis: http://akvis.com/en/lightshop
Belkin: www.belkin.com
Intelligent Imaging Solutions: www.piccure.com
Linea: www.getlinea.com
Op/Tech USA: www.optechusa.com
Rocky Nook: www.rockynook.com
Smith Micro: http://scattershow.smithmicro.com