10 Point Review of Radiant Photo AI-Powered Image Enhancing Software
Name and Version
Radiant Photo, version 1.1.0.243
1. What Does It Do?
Radiant Photo uses the time-trusted Perfectly Clear image enhancement engine to automatically improve the appearance of digital photos. Operable as a standalone app or Adobe-compatible plug-in, Radiant Photo features a wide variety of presets, editing tools and color grading capabilities. Leveraging AI, one click makes your digital image arguably better, and the myriad of options allow you to select and finetune a unique "Look" that can be saved, shared and infinitely adjusted.
Quoted from Radiant Imaging Labs' website: "Radiant Imaging Labs is a company created entirely by photographers and we designed Radiant Photo based on our extensive combined experience and our love of photography. We truly believe that every photo deserves to be Radiant and that the editing process should be as powerful as possible but never overwhelming or confusing.
"With photographers from all walks of life in mind, we designed Radiant Photo to be lightning fast, extremely accurate, easy to use, and completely customizable. Every Photo — Simply Radiant. The way all images deserve to be."
2. Why Do I Need It?
You need it because you want to make your photos appear their finest without the need for exceptional image editing skills. Especially if you're not intimately familiar with all of the image improvement possibilities available in Photoshop, Radiant Photo helps you make the best of an image's potential and does so extremely fast. Going several steps further, Radiant Photo allows you to freely tweak to match your taste. It's also a ton of fun to play with and create variations of your photos, especially with the Color Shading toolset.
Additionally, if you are a current user of Perfectly Clear Complete, which is said to be discontinued (with no more updates), Radiant Photo offers a more-or-less seamless transition to the same AI transformations. Note that Perfectly Clear Cloud is still available as a cloud-based app on a cost-per-image basis.
3. Is It Easy To Use?
Radiant Photo is an easy to use as it gets. The GUI is clean and intuitive and even the most inexperienced photographer can create stunning images with only a few mouse clicks. The default workspace view displays Before and After versions with a slider that enables you to easily see the effects of your edits.
4. Performance
If speed is king, Radiant Photo rules. And they provide a library of Looks, enough to satisfy most users. Additionally, you can create, save and reuse the Looks you want to execute in the future, thereby applying a selection of adjustments to groups of images consistently and quickly.
Radiant Photo is compatible with Apple's latest silicon as well as Intel-based Macs, and of course, the full range of current Windows PC processors.
5. Drawbacks & Downsides
Priced at $159, Radiant Photo is not inexpensive enough to buy on a lark. That said, you can download a Trial Version (see below) and decide whether or not the benefits balance favorably against the cost.
6. What Platforms Are Compatible?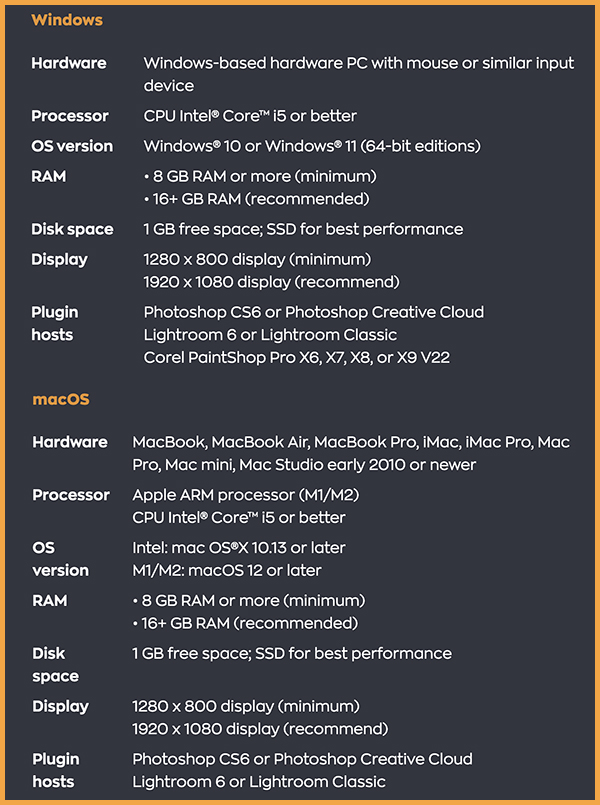 7. How Do I Get It?
Download directly from Radiant Imaging Labs.
8. How Much Does It Cost?
Price of Radiant Photo is $159. Look for bundles for potential savings. Additional Presets, including user-created batches, are available at prices ranging from $15 to $25.
9. Can I Try It First? Yes. Here's the link.
10. Before/After Example Below
—Jon Sienkiewicz
FEATURED VIDEO