Review: Nikon Z fc is a Small, Fast & Affordable Mirrorless Camera with Retro Design & Great DNA
Nikon introduced a compact mirrorless camera styled after the legendary Nikon FM2 film camera of yore. It packs a DX (APS-C size) sensor and comes bundled with a compact 16-50mm zoom at a very agreeable price. After several extended weeks of shooting, we offer this review.
Key Features
Mirrorless camera with Nikon Z mount (APS-C format)
20.9-megapixel CMOS sensor
EXPEED 6 image processing engine
Continuous 11 fps high speed shooting at full resolution
209-point hybrid AF system with Eye-Detection
ISO range 100 to 51,200 (expandable to 204,800)
3-inch, articulated Vari-Angle touchscreen LCD
Industrial design based on Nikon FM2 35mm film SLR
Compact and light weight
Magnesium alloy frame
4K UHD and Full HD video
Built-in intervalometer for 4K timelapse movies
Nikon SnapBridge2 connectivity
Nikon Webcam Utility app available
Powered by EN-EL25 rechargeable Li-ion battery
Shots-per-charge exceeds 300 on average
Measures 5.3 x 3.7 x 1.8 inches (135 x 94 x 44 mm)
Weighs 14 ounces (390g)
Price: with 16-50mm f/3.5-6.3 zoom lens, $1,099.95
In addition to traditional black and silver, the Nikon Z fc is available exclusively from nikonusa.com in six additional color options: white, coral pink, mint green, sand beige, amber brown and natural gray. Supplies are limited, so if this is your bag, act now.
Dedicated Lenses
Nikkor Z DX 16-50mm f/3.5-6.3 VR (Reviewed)
DX-format, 24-75mm equivalent, with VR image stabilization
Measures 2.8 x 1.3 inches (70 x 32 mm)
Weighs 4.8 ounces (135 g)
Nikkor Z 28mm f/2.8 SE (Not Tested)
FX format, 42mm-equivalent
Measures 2.9 x 1.7 inches (71.5 x 43 mm)
Weighs 5.7 ounces (160 g)
Overview & Background
Nikon helped create the market demand for retro-styled cameras when they introduced the Nikon Df back in 2013. Unlike the new Nikon Z fc, the Nikon Df is full-frame sensor DLSR that can use nearly every Nikon SLR lens ever made and is packed with advanced features. Instead, the Nikon Z fc offers ease-of-use, compact portability and killer cosmetics. For more about the Nikon Df, read "Choose One Camera for the Rest of Your Life."
The Nikon Z fc uses all Nikon Z-mount lenses (there are about 31 available now, 13 prime and 14 zoom) and can use any of about 360 other Nikkor lenses via the Nikon FTZ Lens Adapter (detailed below). Nikon currently offers two compact lenses specifically designed to match the portability and retro styling of the Nikon Z fc body, a 28mm f/2.8 (42mm equivalent) and a kit zoom, the 16-50mm f/3.5-6.3 (24-75mm equivalent).
Camera Build, Layout & Handling
It's unfortunate that the first thing a new Nikon Z fc owner does is open the battery compartment cover, because the door feels very fragile. As the SD card slot is inside the same compartment, it's a hatch that is opened and closed frequently.
The control dials are milled aluminum and the Nikon Z fc's body casting is magnesium alloy, so the flimsy battery door stands out in stark contrast to the rest of the camera's solid build. Looking past the battery compartment cover, I give the Nikon Z fc a solid 9.5 for construction.
The location, size and labeling of the control dials are excellent. Everything feels like it's exactly where it should be. Exposure Mode, ISO sensitivity, Shutter Speed and Exposure Override (+3/-3) as well as the Power Switch and Shutter Release are all on dials that are conveniently positioned on the top.
Vloggers will love the Vari-Angle (fully articulated) LCD monitor. What many overlook—but I highly prize—is that the LCD can be reversed so that the vulnerable side is toward the camera body. This offers maximum protection. Not all articulated screens can do this, but I have enjoyed this feature on Nikon cameras since my Nikon D5000 (2009) which has since been converted to Infrared (IR) only sensing.
And the Vari-Angle screen is a touchscreen, so people migrating up the technology ladder from smartphones to the Nikon Z fc will feel comfortably at home upon first contact, especially when reviewing images in Playback mode by using common touchscreen gestures.
The Nikon Z fc is fast handling and easy to operate. Press the i button and then quickly adjust any of 10 key settings, including Picture Control, AF Area, White Balance, Metering and D-Lighting settings. Every operation is quick and sure. Using the i button saves you from scrolling through the entire menu system when you want to change a common setting. And there is a function button (Fn) conveniently located on the front of the camera that can be set to immediately access one of a variety of settings, including White Balance (the default).
The small size and light weight may be undesirable for some people who have gargantuan hands and sausage-like fingers, but I found the shape and mass to be remarkably functional and comfortable even after extended use.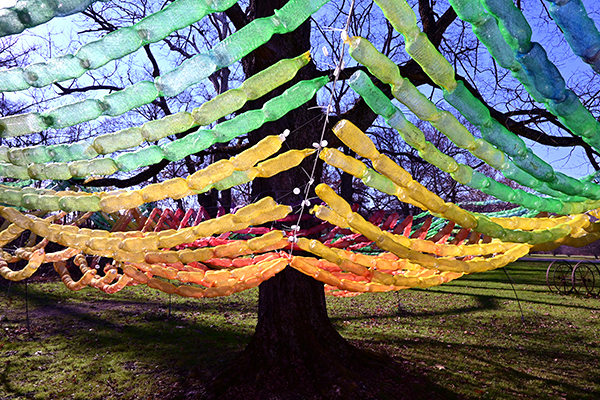 I must admit that I like the color options. The two shades of brown and the battleship gray are rather attractive and are welcome alternatives to the monotonous black-silver or silver-black combinations found everywhere. Pink, green and white are not for me, but I'm sure they'll find their fans, too.
Field Performance
It's really a fun camera to use, this Nikon Z fc. I want to emphasize that strongly.
There are nine editable Picture Control options including Auto, Vivid, Monochrome, etc. The Creative Picture Control mode offers 20 choices including the old standards like Sepia and Toy plus more contemporary choices like Charcoal, Graphite, Carbon and Binary. The options can be edited to fine tune the results, and I guarantee you'll spend many happy hours experimenting; I did.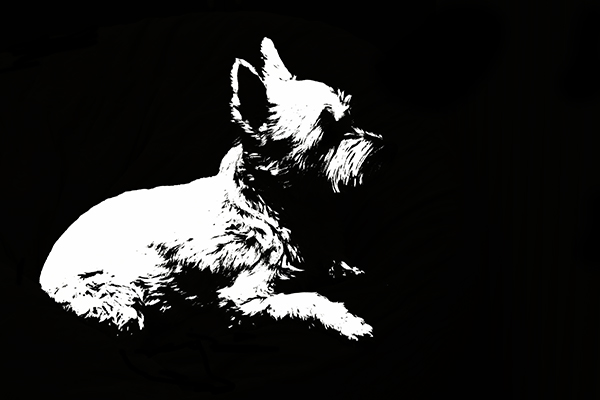 I made adjustments to the Binary option so that I could instantly shoot images that roughly equate to extreme contrast Kodalith prints. With minimal editing, the shot of my vicious attack dog above takes on a unique appearance.
Additionally, the Retouch options available after capture include Raw processing into JPEG, Red-Eye Reduction, Distortion Control, Perspective Control and creative Image Overlay.
The 16-50mm kit zoom retracts into itself and the camera becomes smaller and easier to carry. The lens must be manually extended before shooting, and therein lies the rub. This is clearly a user problem, but I frequently found myself aiming the camera while the lens was still retracted. I missed some shots. My fault, for sure, but annoying nonetheless.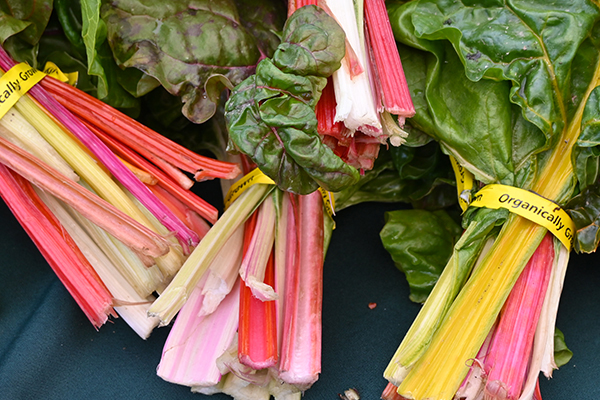 Image Quality
Although the 16-50mm kit zoom is slow (f/3.5 at the 16mm zoom position only) and feels a bit unsubstantial, it's remarkably sharp and aberration free. I was amazed by the great color fidelity, edge-to-edge sharpness and rich saturation.
At the 50mm (75mm equivalent) focal length setting, the Nikkor lens focuses to about 12 inches (0.99 feet, 0.3m), close enough for spontaneous closeup shots. Closeup image quality was excellent.
Nikon glass, of course, is legendary, and the lens always deserves major credit when images are outstanding. Purchasers of the Nikon Z fc can rest assured that they will get superior results with any Nikkor lens.
Odds and Ends
Newbies and folks moving up from point-and-shoot cameras or smartphones can download Nikon's excellent (and free) image browser/editor/Raw converter and be creative immediately. Nikon NX Studio software is outstanding and intuitively simple enough that newcomers will get terrific results right away, and seasoned pros will find robust features and powerful capabilities.
The Nikon Z fc online/PDF Owners Manual is 624 pages. That may seem overwhelming to some, but in fact it's very complete, thorough and simple to follow. Nikon has invested considerable resources to assure that the Nikon Z fc is as understandable as possible. Kudos to Nikon.
The Nikon Mount Adapter FTZ ($246 from Amazon) works with approximately 360 lenses in total, over 90 of which are AF-S, AF-P or AF-I type and have full AF/AE capability, according to Nikon. So current Nikon owners need not fret about incompatibility. And remember, folks who in the future move up from the Nikon Z fc to a more sophisticated model like the Nikon Z5, Z7, etc. can still use the FTZ adapter without a hitch.
No flash onboard. It would be useful to have a built-in flash for occasional fill light, but the inclusion would dilute the retro film camera look, I guess. Besides, users are much better off with an accessory flash like the popular Nikon SB-300 AF Speedlight (which usually costs less than $150 if you can find it a dealer who has it in stock).
Price and Availability
The new Nikon Z fc body price is $959.95. With the Nikkor Z DX 16-50mm f/3.5-6.3 VR lens the price is a friendly $1,099.95. The six additional color options are available in limited supply as a kit with the silver Nikkor Z DX 16-50mm f/3.5-6.3 VR for $1,199.95 (i.e., $100 higher) and are sold exclusively through nikonusa.com. The Nikkor Z 28mm f/2.8 (SE) special edition wideangle lens is $299.95.

Conclusion
If you are buying your very first camera with interchangeable lenses, the Nikon Z fc is a solid choice. It will take excellent, perfectly exposed pictures in nearly any situation. And it will earn you some oohs and aahs because of the cool retro styling.
The Nikon Z fc is easy to use, even for folks stepping up from a smartphone, but still offers a remarkably complete set of manual controls, most of which can be accessed using the well-placed knobs and dials on the camera body—no need to hunt through menus to find a setting.
The 16-50mm f/3.5-6.3 kit zoom is sharp enough, but the maximum aperture of f/3.5 is somewhat limiting in dim situations. Furthermore, the smallish aperture makes it hard if not impossible to limit depth-of-field when trying to isolate a subject from the background when shooting portraits.
In addition, the 16-50 kit zoom can be retracted by turning the zoom ring. I liked that, because it made the lens smaller and easier to carry; however, I hated it because of the many times I forgot to extend it before shooting. My fault—I'm untrainable, I guess—but it seems contradictory that the collapsible lens feature that makes the camera easier to carry also impedes a quick shot response.
I cannot imagine any Nikon Z fc buyer being unhappy with the purchase decision. The camera-plus-zoom lens combination is affordable, produces outstanding images with zero fuss and is so easy to carry. And it looks great. It's a smart choice for first-time buyers of a serious camera and those who want an upgrade to a high quality camera with interchangeable lens capability.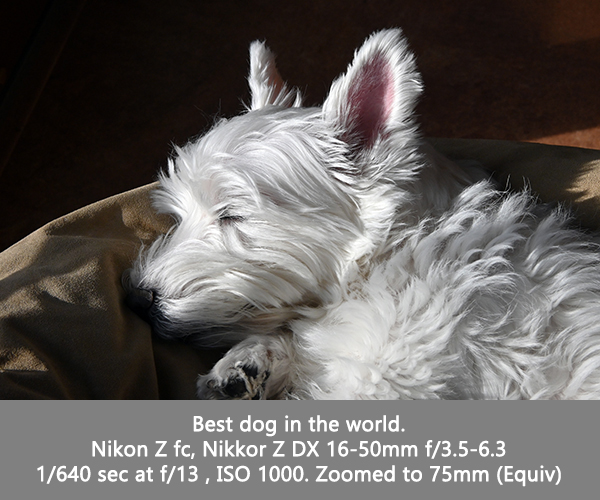 Liked a Lot
Overall image quality (sharpness, color and low noise)
Fast and accurate autofocus
Compact, take-me-everywhere size and weight
Simple, familiar menus
i button shortcuts
Cool, young-minded color options
Not so Much
Aperture limitation of kit zoom (f/3.5-6.3)
Flimsy battery compartment cover
Shots lost because I forgot to unretract the lens
Lack of in-body image stabilization
No built-in flash
—Jon Sienkiewicz
(As an Amazon Associate, Shutterbug earns from qualifying purchases linked in this story.)
FEATURED VIDEO