We Test Nikon's New Z 9: Powerful Flagship Camera for Still Photos & Video
Remember the early days of the mirrorless format, with the promise of tiny full-featured cameras and equally small lenses? The idea was to give mobile photographers an interchangeable-lens kit with an array of DSLR-like capabilities in a much smaller package.
I still own (and frequently use) a 12MP Panasonic GF1 micro-four-thirds camera billed as "the world's smallest and lightest digital interchangeable lens system camera with a built-in flash" when it was introduced in 2009. Fitted with a Panasonic 20mm f/1.7 pancake lens, the GF1 easily fits in a jacket pocket.
Well those days are long gone, as mirrorless cameras have evolved over the past decade, with more sophisticated capabilities, large sensors, an array of system accessories, and full-frame models target at pros. All this progress comes at a cost, measured in dollars, size, and weight.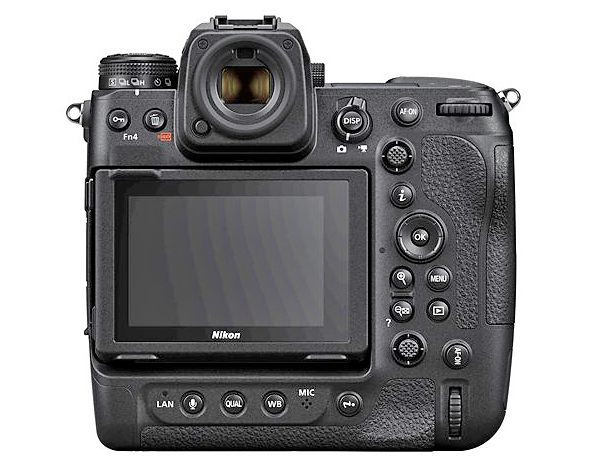 Enter the new full-frame Nikon Z 9. It's a powerful, and some would say beautiful, beast with a vast array of innovative features for both still photography and video. As for size, let's just say it's significantly larger and heavier than the latest DSLR from Pentax—the only company that hasn't transitioned to mirrorless.
The adjective Nikon uses to describe the $5,500 Z 9 is "unstoppable." This curious claim is based upon the camera's high resolution, durability, vast array of features, image-quality, and high-speed operations. According to Nikon, these attributes and others combine to "completely eliminate the need for a traditional mechanical shutter"—a somewhat provocative design choice that Nikon says improves reliability and minimizes the odds of expensive repairs.
Camera Build, Layout & Handling
Based upon its size and heft, I expected the 45.7MP Nikon Z 9 to feel somewhat awkward compared to the smaller cameras I use most. Surprisingly, I found the Z 9 to be very comfortable in the hand, with most of the many physical controls logically placed for quick access.
I say "most," because atop the left side of a body, in place of the conventional Mode dial I prefer, is a dial with four buttons that you press to access drive modes, bracketing, flash settings, and the camera's various exposure modes. So if, for example, you're shooting in Aperture Priority, an extra step is required to switch to Shutter Priority or Manual.
That's certainly not a deal breaker, but every extra button press can slow you down in fast-changing situations. Other than that quibble, I really like how the Z 9 is configured, and its integrated vertical grip provides comfortable, secure handling. With numerous buttons on the top, front, and back of the camera, you'll rarely have to delve into the menus once the camera is configured to your liking.
As you might expect of a pro model designed for tough assignments, the Z 9 boasts bomb-roof construction, with a durable magnesium chassis and sufficient drip- and dust-resistance for shooting in the field. The camera also meets expectations with dual slots for high-speed CFexpress Type B cards. Nikon also thoughtfully included a Kensington security slot for theft prevention when you leave the Z 9 unattended (something I can't imagine doing myself).
Also worth mentioning is the Z 9's four-axis horizontal and vertical tilting touchscreen. No, you can't swivel if forward to take selfies (dread the thought), but it tilts up and down for high and low camera positions, as well as sideways. The result is that you can shoot from just about any angle while maintaining a clear view of the frame. And with 2,100K-dot resolution, the screen is vibrant and bright.
The Z 9's rugged build also includes an internal sensor shield that closes automatically when a lens is removed, to block out contaminants and prevents you from inadvertently touching the sensor. Moreover, the sensor itself has an electro-magnetic coating to repel dust, as well as a fluorine coating that facilitates wiping the sensor clean.
Features & Performance
The Z 9 boasts an impressive list of capabilities built around a Nikon-developed stacked CMOS full-frame sensor with 45.7MP resolution. In combination with a new EXPEED 7 engine, the camera achieves significant increases in burst rate, AF speed and other important measures of performance. In fact, Nikon says the EXPEED 7 engine, is their most powerful yet, and approximately 10 times faster than that in the Z7 II.
As for relying solely on an electronic shutter, Nikon claims that the extreme scanning speed of the Z 9 "achieves the world's most minimal rolling-shutter distortion," equaling that of a mechanical shutter that's more apt to wear out or break down after years of use. So if you're interested in capturing natural-looking images of fast-moving subjects like a golf swing, you can fire way with confidence.
While we didn't shoot anything moving faster that a cyclist riding along at about 20mph, it was immediately clear that the AF system in the Z 9 is blazingly fast and precise, whether the subject is moving across the frame, coming toward you, or quickly moving away. Nikon credits this speed and precision, in part, to a new subject detection algorithm they claim is the most intelligent to date.
For those shooting in extremely low light conditions, the Z 9 is said to focus in virtual darkness, all the way down to -8.5 EV. The camera also utilizes Nikon's new 3D Tracking for the company's most sophisticated AF tracking performance ever. When shooting in Auto-Area AF, the Z 9 will automatically detect and focus on everything from people, birds, pets, and airplanes, to trains, cars and bikes.
Speaking of speed, the new Z 9 is capable of capturing images at up to 120fps with full AF/AE at a file size of 11MP. This means freezing action that can't even be seen with the naked eye.
I really enjoy using optical viewfinders, which is one reason I still own a DSLR. That said, the high-resolution EVF in the Z 9 is truly something to behold. Extremely sharp with accurate colors and subtle details in the shadows, this sophisticated viewfinder is truly blackout-free—even when shooting at 120fps. I guess I'll have to rethink my preference for optical finders.
The Z 9's impressive EVF is also fully customizable; enabling you to determine the exact settings and information you wish to see. And there's even a Glasses Mode for guys like me, that reduces display size so the entire frame is visible without taking off your specs.
Video Capabilities
Other than a brief summary, the extensive video capabilities of the Z 9 are beyond the scope of this article. The folks at Nikon use another preemptive adjective to describe the robust video power of the Z 9, in this case it's "groundbreaking." And most videographers would hesitate to disagree,
Thanks to a unique body design with heat dissipation in mind, the camera records 8K/30p 10-bit video at 24, 25, or 30fps with no risk of overheating. In fact the specs indicate you can do this for over two hours straight at an ambient temperature of 73.4°. And if you're a hybrid shooter and want to capture both photos and videos at the same time, the Z 9 enables you to make 33MP frame grabs directly from your footage.
The Z 9 supports a variety of codecs for a variety of workflow preferences, and offers in-camera tone mode profile options for color-grading flexibility in post. You can also create impressive 4K UHD slow motion sequences up to 120p. Nikon boasts that the high-res 24-bit linear PCM audio delivers cleaner sound quality with greater range.
If you want more details about the Z 9's video features, and learn about an upcoming firmware update to enhance pro-level video features, you can do so here.
Image Quality
The images you see here we're shot at the camera's highest JPEG setting, with one of three lens I received with the review camera; a fast telephoto zoom, a wide-angle zoom, and a fast mid-range zoom (identified in the captions).
While the Nikon Z 9 offers a wide selection of White Balance options, including the ability control color temperature by creating custom settings yourself, I left the camera set to Auto and achieved very accurate results under bright sun, in shade, mixed lighting, and overcast skies. As is my typical approach, I relied upon the camera's default imaging parameters because I prefer to adjust sharpness, saturation, contrast and highlights/shadows during the editing process.
In that regard, processing the images was quick and easy because just about everything was spot on. I did notice a slight tendency toward underexposure in certain extremely bright situations, but all it took to rectify that was a half-stop of EV compensation.
The only other adjustment I made in post processing was to dial back saturation a bit with images I shot of red winter roses in direct sun. The blossoms were, in fact, extremely vibrant, and my photos were realistic, but the color was so vivid that the images appeared unnatural.
In short, the Z 9 did everything right, as it should for a pro-level camera. Focus was fast and precise, the exposure system delivered great results, and color rendition and contrast were accurate. All in all, I was very pleased with how the camera performed. I'm even willing to admit that, with my limited time with the camera, the Z 9 was actually better than I was.
Conclusion
If you can afford a top line camera with the latest technical innovations and the performance to back it up, the new Nikon Z 9 is well worth your consideration. Landscape shooters will appreciate the great image quality and super high resolution, sports/action photographers will love the speed and autofocus precision. And if you're an intrepid adventure photographer, the Z 9's rugged construction and weather-resistant capabilities won't let you down.
The Z 9 is also a great choice for portraiture, wildlife, and just about anything else you shoot. The possible exception is travel photography when you want to pack light, for which the camera's size and heft may feel burdensome.
The new Nikon Z 9 will be available later this year, timing yet to be determined, for a body-only price of $5,500. That may sound like a lot, but in this case you'll definitely get what you pay for.
You can find more details on the new flagship Z 9 by visiting Nikon's website.
Pros
• Great build quality with rugged weatherproof construction.
• Fast performance and precision autofocus.
• Superb imaging characteristics.
Cons
• No dedicated Mode dial.
• Expensive.
• Larger and heavier than other options.
FEATURED VIDEO