Review of the Leica M11: The Ultimate M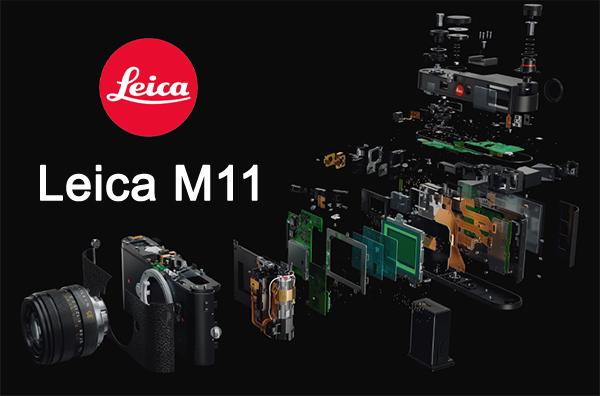 Leica just introduced the Leica M11, a 60-megapixel digital rangefinder camera that leads the coveted M-Series Leica cameras into all-new technological territory. Shutterbug had the opportunity to use a preproduction model for a couple weeks before the wraps came off. This review includes some example photos of a $2 million McLaren Senna LM.
There's so much to say about the new Leica M11 that it's almost overwhelming. In summary, the Leica M11 is the stuff that photographers' dreams are made of.
Disclaimer: all example images were shot with a preproduction sample. The lenses used were Leica Summilux-M ASPH 50mm f/1.4 and the author's vintage Leica Summicron 35mm f/2. The McLaren Senna LM was photographed at McLaren North Jersey and we thank them for their kind hospitality.
Breakthrough Features
Let's unpack the new features one-by-one.
Sensor
The new Leica M11 features a 60-megapixel BSI CMOS Sensor with Triple Resolution Technology. The sensor package begins with a full frame 60-megapixel BSI CMOS sensor, covers it with a True Color Filter Array and tops it with a dual-layer, ultra-thin IR/UV absorption filter. There is no low-pass filter. This arrangement promises improved, more natural color reproduction, as well as supreme sharpness.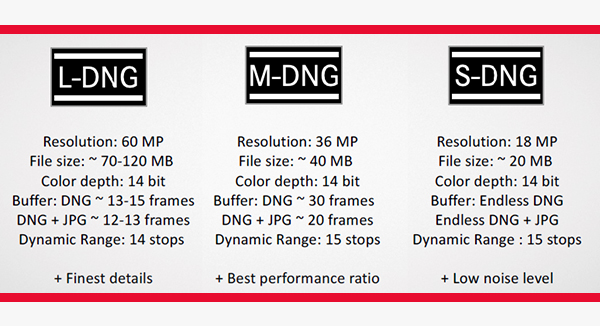 Multiple Resolution Options
Select 60, 36 or 18 megapixel resolution JPEG format and Raw image files (DNG). All options use the full frame sensor area. At resolutions below 60 megapixels, the M11's sensor produces even less noise and delivers up to one stop higher dynamic range (and of course, files are smaller and easier to process). The Leica M11's imaging forming circuits provide 14-bit color depth at all resolutions.
Signal Processor
The new Leica Maestro III Image Processor enables 4.5 frames-per-second (maximum) bursts, faster data storage and fast image processing.
Onboard Storage
64GB built-in storage capacity for perpetual backups, overflow or sorting JPEG and Raw image files during capture. That's 64 gigabytes, not a typo. You can mirror all images on both SD and internal for backup, separately write JPEG to SD card and DNG to internal, or write both file types to SD and use internal as overflow when the SD is full (or vice versa). Optionally, you can ignore the internal storage altogether and write to the SD card only (but why would you do that?). And at any point you can transfer from internal storage to the SD card using just the camera (no computer needed).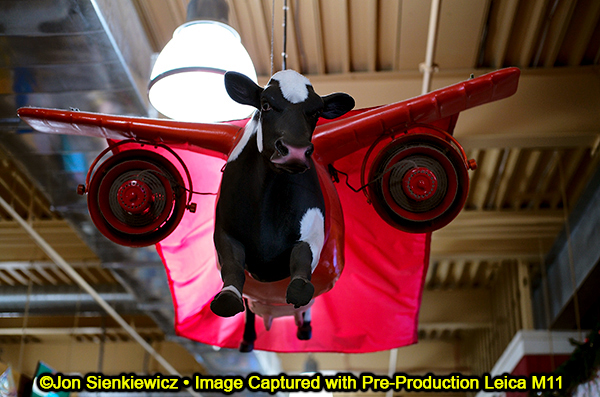 Top Shutter Speed
Action-stopping 1/16,000 sec via Electronic Shutter option. (Hello, Noctilux in daytime without ND filter!) The Leica M11's mechanical shutter delivers 60 minutes to 1/4000 sec.
ISO Range
Available ISO sensitivity settings 64 to 50000. ISO/ASA 64 is familiar to all film shooters. (Remember when Kodachrome 64 was the fast version of that famous slide film?)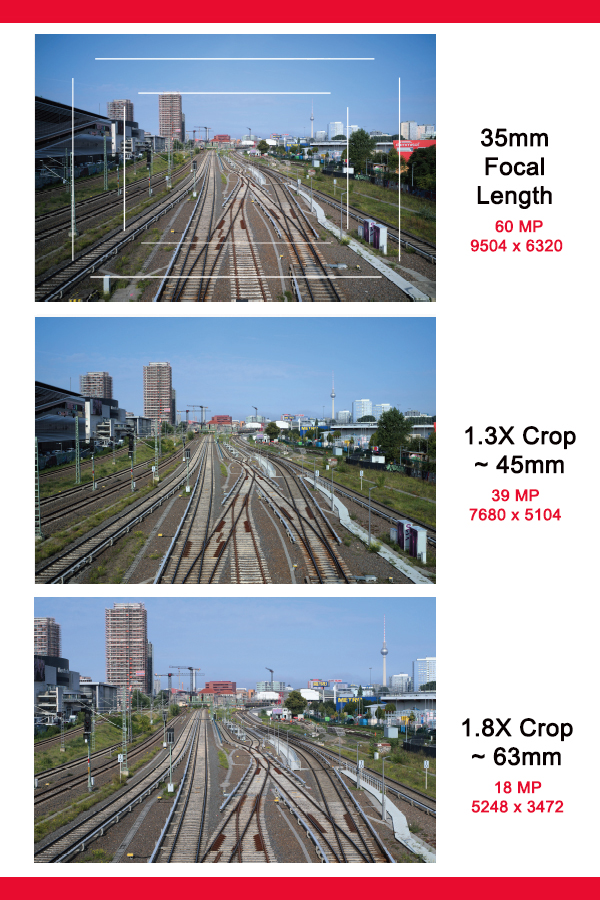 Digital Zoom Simulation (Auto Cropping)
Choice of 1.3X or 1.8X crop is displayed in the RF optical finder via bright line frame (and of course, in Live View). Crops are reversible on DNG images (not on JPEG). This function can be activated with the FN button or button on the top plate. Most hardcore photographers scoff at Digital Zoom, and rightfully so, but when you start with 60 megapixels, it's a different story. Think of it as a new way to crop within the camera.
Metering
Another first, the Leica M11 offers multi-field metering in rangefinder mode as well as Live View mode.
Integrated Baseplate
The Leica M11's baseplate is one with the body. The battery and storage (SD) card can be accessed directly. You may read Leica literature that claims "No baseplate" but this is misleading; it has a baseplate, it just doesn't come off.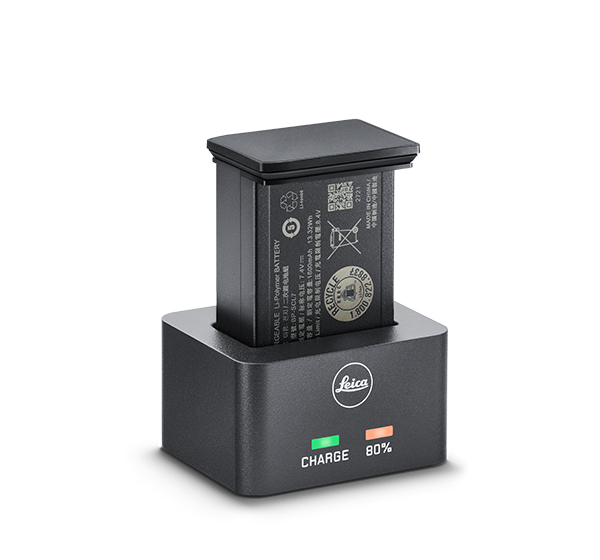 Concealed Technology
The Leica BP-SCL7 battery provides 64% greater capacity (Li-Poly 1800mAh); smart low-power mode can be used for 1,000+ images with one battery charge. USB-C charging and data transfer. Apple Certified connectivity.
Leica Fotos App
Upgraded version 3.0 delivers enhanced features and creative filter options. Realtime Geotagging coming later in 2022.
Color Options
The Leica M11 is available in silver-color Chrome or Black. Black option is comprised of aluminum alloy and is 20% lighter than the chrome model, and is highly scratch resistant. Chrome model is silver-color chrome deposited on brass top cover.
Dimensions & Weight
Leica M11 body measures 5.47 x 1.52 x 3.15 inches (139 x 38.5 x 80mm).
Black body weighs approx. 18.7/16.0 ounces with/without battery (530/455 grams).
Silver version weighs approx. 22.6/19.9 ounces with/without battery (640/565).
New Accessories
An all-new Visoflex 2 electronic viewfinder features a 3.7-megapixel resolution display. Other optional accessories include a new thumb rest and new camera grip that is Arca Swiss compatible for easy on/off tripod use.
Image Dimensions & File Sizes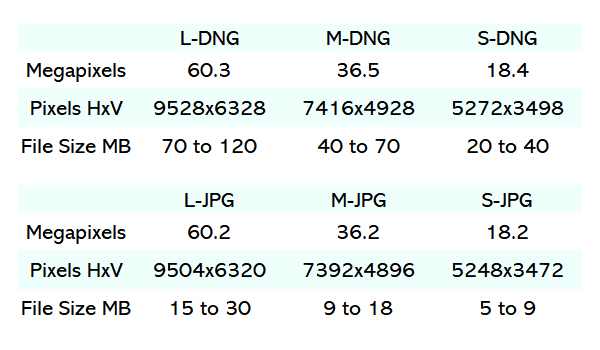 Overview & Background
If you're unfamiliar with the Leica Story, visit their website. Because their history is so well known to many Shutterbug readers, we'll not recount it here.
My personal Leica history began with a screw-mount Leica IIIa (Model G) purchased secondhand from a vendor on Chicago's famous Maxwell Street outdoor shopping bizarre more years ago than I can remember. I carried it throughout college and later added an M-mount, double-stroke Leica M3 and ultimately a Leica M4 (arguably the pinnacle of the Leica film camera family).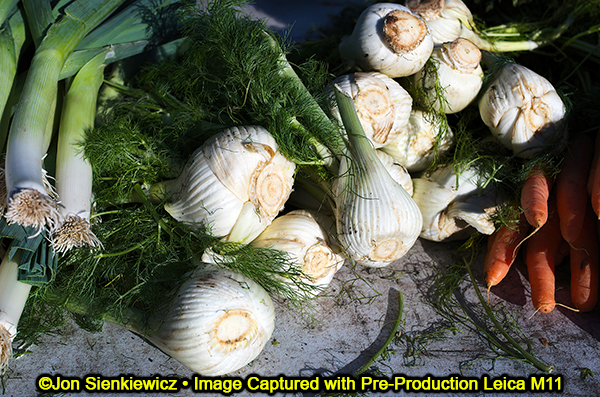 It is significant that some of these example images were shot with my personal Leica Summicron 35mm f/2 lens, which was purchased decades ago and is still 100% compatible with the new 2022-minted Leica M11 without any sort of adapter. The Leica M lens mount first appeared in 1954, nearly 70 years ago. That's an amazing record for compatibility; to say it another way, when you find a lens mount that works, never make it obsolete.
Leica M10
For detailed reviews of the various flavors of the Leica M10, predecessor of the Leica M11 that is the subject of this piece, check the Shutterbug stories linked here:
Camera Build, Layout & Handling
If a time traveler from the 1950s picked up a new Leica M11, she or he would probably identify it as a Leica M3, and may wonder where the rewind knob went. Furthermore, that tourist could likely begin using the Leica M11 after minimal examination. The body styling is modern yet entirely traditional.
We evaluated the silver-color chrome model, which is heavier than the black version and weighs in at about 1.4 pounds sans lens. It's as solid as an anvil. Adjusting the various controls and even pressing the buttons feels much like turning the crown on a fine Swiss watch: precise, exact and definite. Nothing sloppy.
The Leica M11 physical layout is logical and intuitive. Top and back are clean and simple; no excess buttons. The all-important user interface (menu layout) is the same as the familiar and easy-to-use menu system deployed on the Leica SL2, and two other Leicas we reviewed on these pages, the Leica Q and Leica Q2.
The touchscreen LCD is 3-inch, 2.33 million dot, Active Matrix TFT covered with Corning Gorilla Glass 5 for scratch resistance and long term durability.
Field Performance
The Leica M11 offers an abundance of riches. When I photographed the patch of simple wild grass I had no idea that when viewed at 100% it would provide such extraordinary texture, depth and sharpness, and the finest detail imaginable. Frankly, it made me rethink the way I take pictures to a certain extent.
Although the Leica M11 sample was preproduction, I encountered zero flaws. Changes may have been made to the final version of the firmware, etc., but I found nothing that needed correction. Instead, metering, white balance, rangefinder accuracy and color reproduction were all superb.
The distinctive "click" of the Leica M11 shutter, like the sound of a jail cell locking or a mousetrap snapping, delivers a clear "Gotcha!" feeling. Shutter tripped, image captured. No doubts, no apprehension.
A Rangefinder in the Days of TTL Viewing?
The Leica M11 features Live View via the large LCD, should you want to focus Through the Lens (TTL). Optionally, you can purchase the new Visoflex 2 for a truer DSLR-like experience. But let there be no doubt, this is a rangefinder-focusing camera, and that's a huge part of its appeal.
Why use an RF system in the 21st century anyway? Well, ask any seasoned photographer who has spent any time at all with a rangefinder camera and you'll learn these two things: First, RF focusing is faster (than other manual focusing methods) once you've mastered it. And second, using the optical viewfinder of an RF camera allows the photographer to see objects on either side of the lens's field of view. The advantage is that you can see objects that are about to move into the scene. For many of us, it makes us feel more connected to the subject, and that's vital when street shooting.
DNG Raw Format
Instead of a proprietary Raw format, Leica has been using the Adobe DNG (Digital Negative Image) file format for all digital cameras. The DNG format is universal, and you never have to worry about not having the right software to decode it.
Here's another advantage you may not know. This is quoted directly from Adobe's website: "You can compress DNG files. This makes them much smaller than RAW files and ideal for storage and archives. Notably, the United States Library of Congress uses DNG files for this purpose. Another useful archival feature is that DNGs can self-check for corruption."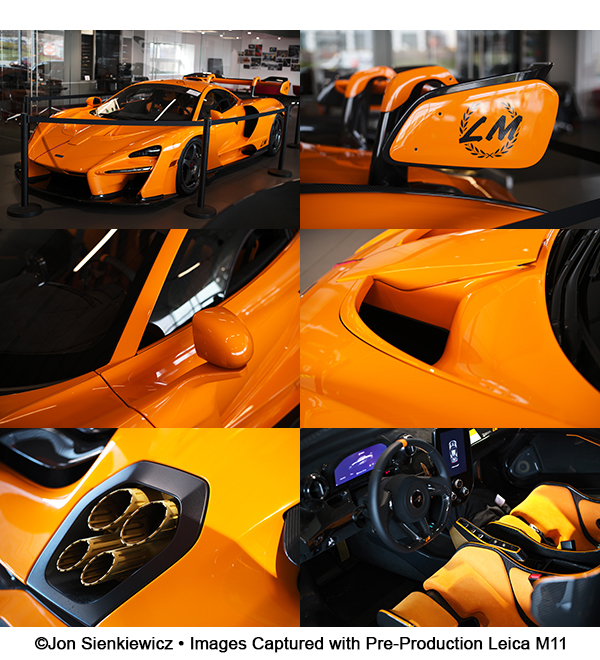 Image Quality
When I visited McLaren North Jersey in Ramsey, NJ (same city that was USA headquarters for Minolta Camera in bygone days, incidentally) I anticipated the environment of their new car showroom to be mixed lighting (natural illumination via large windows plus bright overhead tungsten), multiple reflective surfaces and otherwise challenging conditions. I decided that since the Leica M11 sample was preproduction anyway, I would use all default settings rather than try to fine-tune anything.
I forgot to pack my X-Rite ColorChecker so I shot the logo emblem on a Bentley parked outside for a baseline comparison later.
Judging from what I was seeing on the LCD, I was encouraged by the possibilities during the session. Later, in my studio, open in Adobe Photoshop, I fully appreciated the magnificent performance. The shot of the exhaust system and the small detail enlarged at 100% says it all.
Conclusion
Worth repeating, the Leica M11 is the stuff that photographers' dreams are made of. It combines the finest design elements and traditional operations of the original Leica M cameras, including lens compatibility and rangefinder-focus operation, with the best that modern digital still photography has to offer. The Leica M11 is the Ultimate M.
Leica collectors will line up to buy this breakthrough model, but in truth the Leica M11 is made for the working professional photojournalist and commercial photographer. The Leica M11 provides the features, durability, specifications and versatility that working pros require.
Price & Availability
The Leica M11 is available from Leica Boutiques and authorized Leica dealers at the suggested price of $8,995 body only, silver-color chrome or black. The Leica Summilux-M 50mm f/1.4 ASPH used in this review is available for the suggested retail price of $4,495.
—Jon Sienkiewicz
(As an Amazon Associate, Shutterbug earns from qualifying purchases linked in this story.)
FEATURED VIDEO