Holiday Books For The Digital Photographer
"Be careful about reading health books. You may die of a misprint."
--Mark Twain
Even with the massive sale of US book publishers to foreign companies and the payment of million dollar advances to authors whose books don't sell, 2006 produced more and better digital imaging books since I started this annual feature. This current generation of books is better designed and more comprehensive than previous offerings. Here are my picks of some of the best digital imaging books of the year:

Photoshop Elements: Drop Dead Photography Techniques; edited by Steve Luck; Lark Books; 224 pages; $29.95; softbound; (ISBN 1-5799-0669-9)
The song "Nobody Does It Better" is from a James Bond movie but could have been written about Lark Books. Photoshop Elements: Drop Dead Photography Techniques is just one example of this publisher's commitment to excellence. While Photoshop often gets the spotlight, the less-expensive Elements is a useful digital imaging tool and this books shows why. Easy-to-follow tutorials feature large, colorful screenshots and images that are spread across just a few pages, making them easy for the short-attention span generation to digest. The book begins with the briefest introduction to digital imaging, then takes you through basic methods that anybody can use to improve their photographs, before moving on to more advanced techniques. You'll be an Elements expert in no time!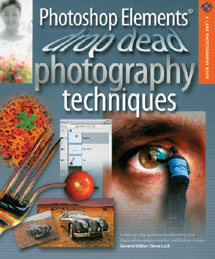 Master Composition Guide for Digital Photographers; by Ernst Wildi; Amherst Media; 130 pages; $34.95; softbound; (ISBN 1-58428-179-0)
This beautifully designed book represents this master photographer's magnum opus on the subject of composition. It is filled with before and after examples that demonstrate the difference between so-so composition and a well-composed photograph. The subject matter is precisely dissected and arranged into 19 chapters that address everything from compositional elements to understanding the importance of color. The book shows how the right filter and lens choices can improve composition, and shows how to pose and place a subject within the image frame for maximum impact. Lastly, there are tips on post-capture manipulation to improve composition. This last one is oh-so-brief, so perhaps Mr. Wildi will grace us with a new book on this particular subject.
National Geographic Photography Field Guide: Digital Black & White; by Richard Olsenius; National Geographic Society; 160 pages; $24.95; softbound; (ISBN 0-7922-4196-7)
Naysayers who said digital imaging would mean the death of black and white photography should pick up a copy of this book to see how digital imaging has ensured that monochrome images are as much a part of this millennium as the last two. The book is small enough to fit inside your camera bag as a reference or read on an airplane when you're wondering how to add pizzazz to the next shoot. While half of the book is aimed at film shooters, the second half shows how to process black and white images within a digital workflow. Most of the images belong to Richard Olsenius, but he wisely brings in photographers with different visual styles and points of view to add to the usability of this slender volume. By showing the power of monochrome imagery Olsenius demonstrates why at least a few of your next photographs should be in black and white.
George DeWolfe's Digital Photography Fine Print Workshop; by George DeWolfe; The McGraw-Hill Companies; 272 pages; $39.99; softbound; (ISBN 0-0722-6087-4)
The amusing fact that the book's cover designer placed the tag "full color" on top of a black and white photograph only proves you can't tell a book by its cover. George DeWolfe has put together a step-by-step guide for producing fine art digital prints, starting with evaluating its qualities. DeWolfe sets it up and then tells you how to achieve this goal between the covers of this modest volume. There are no quick fixes or tweaks; DeWolfe shows you the tools and how to use them to create luminescent results with the admonition that creating digital fine art takes "skill, experience, and time and vision." Yes kiddies, there is no digital free lunch. This book is for those who remember Fred Picker's Zone VI Workshop and have been looking for the digital equivalent.
Back To Basics

How Digital Photography Works; by Ron White; Que; 180 pages; $29.99; softbound; (ISBN 0-7897-3309-9)
The phenomenally detailed illustrations by Tim Downs alone make this book worth the cover price; it's also an indispensable guide for anybody who wants to learn the nuts and bolts of digital photography from optics to the best explanation of noise you will read anywhere! The book includes an exploration of the differences between image sensor types that is covered in two full pages, followed by an investigation of the Foveon sensor. That's followed by another beautifully illustrated spread on how an image becomes data. There's even a section on inkjet and dye sublimation printers! This may sound like dry stuff, but Ron White's tightly written prose and Downs' illustrations make it fun. If you want to learn how digital photography works, get this book.
Digital Photography in Available Light: Essential Skills; by Mark Galer; Focal Press; 248 pages; $29.95; softbound; (ISBN 0-240-52013-0)
While this may be an entry-level book, it is maybe the best one currently available on digital photography with available light. Newbies will love the introductory section on camera and asset management, but the meat of the book begins with the chapter on "Exposure" that not only makes the technical details understandable but provides example photographs showing the aesthetic issues as well. On a personal note, I liked the book's design so much I asked for the same graphic artist for Getting Started with Digital Imaging (see "Shameless Commerce Division" sidebar below).
Spring Into Digital Photography; by Joseph T. Jaynes and Rip Noël; Addison-Wesley; 312 pages; $34.99; softbound; (ISBN 0-1318-5353-8)
This book is a bit text heavy and features a pedestrian design but represents a crash course in digital photography that's ostensibly aimed at professionals but seems ideal for aspiring professionals. It features a mélange of topics from monitor profiling to fixing redeye--all of the good stuff you need to learn if you're serious about digital photography. The heart of the book is found in the first three chapters: "Let There Be Light," "Compose It," and "Expose It." What follows is the kind of technical information you'll need to transfer these images from your mind, through the camera, and into the world.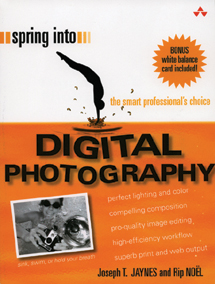 40 Digital SLR Techniques; by Darrell Tan and Eu Lee; Wiley; 160 pages; $16.99; softbound; (ISBN 981-053520-1)
This little book makes a great holiday gift for the beginning digital SLR photographer. Beautifully printed in Korea but a little under-illustrated, at least based on the title and cover shot, the book reminds me more of a generic Magic Lantern Guide that includes techniques that fall into the category of basic camera operation. If this is new stuff to you, the information will be invaluable. It's a fun, quick read and a useful reference book.
Digital Nature Photography and Adobe Photoshop; by Kevin Moss; Thomson; 330 pages; $39.99; softbound; (ISBN 1-9863-135-7)
Kudos all around on this book. A lot of credit goes to Thomson for producing one with a "landscape" orientation. They wrapped the book in a wonderful design with supporting text and illustrations by Kevin Moss. The first half reads like a master class on nature photography. The second half is all about what to do with the photographs when you get them into your computer. Moss starts with using Adobe Bridge to manage images and then shows how to make tonal and color corrections. His before and after illustrations show how judicious and realistic application of these digital tools can make your nature photographs sing.
How to Use Flickr: The Digital Photography Revolution; by Richard Giles; Thomson; 276 pages; $24.99; softbound; (ISBN 1-59863-137-3)
If you don't know about Flickr, you should. Flickr is an online photo management and sharing application that has two goals: To make your photos available to those people who matter and provide new ways of organizing photos. Flickr makes it possible to keep a photo blog or securely and privately share photos of your kids with family across the country. Part of the solution is making the process of organizing photos collaborative. With Flickr, you can give your friends, family, and other contacts permission to organize your photos--not just add comments but also notes and tags. With a competent design and monochrome reproduction, the book remains the perfect introduction and user's guide to using this online service.
Technique

Professional Digital Techniques for Nude & Glamour Photography; by Bill Lemon; Amherst Media; 128 pages; $34.95; softbound; (ISBN 1-58428-178-2)
This is the best book on nude and glamour that's been published in a long, long time. While most publishers are content to simply recycle nude photography books written by British authors, only Amherst Media has the courage to publish one by an American writer/photographer. The images found in similar UK-based books seem locked into a 1970s sensibility, but Bill Lemon's nude and glamour photography is fresh and contemporary and oh-so-this-millennium. The book is beautifully printed and designed and filled with text that illuminates the subject. It is enhanced by spectacular images from this master of this genre. Lemon shows you literally how "to see the light" to create soft monochrome images or photographs with eye-popping color.
Digital Nature Photography Closeup; by Jon Cox; Amphoto Books; 160 pages; $24.95; softbound; (ISBN 0-8174-3674-X)
This book is a delightful pastiche of the technical and aesthetic considerations involved in macro photography and is illustrated with some of the best close-up photography I've seen. It's more than just a gussied-up book on macro photography that tosses a few "digital" terms around. The author includes a serious chapter on working with histograms and raw files. The chapter called "The Digital Darkroom" includes a good introduction to digital workflow and color management but also manages to address the question of "honesty" when working in the field of digital nature photography. It encourages photographers who try to fool Mother Nature to 'fess up with appropriate captions. The bug factor that's typically high in these kinds of books is limited and those "creepy crawlies" that appear are fun.
Digital SLR Pro Secrets; by David D. Busch; Thomson; 316 pages; $39.95; softbound; (ISBN 1-59863-019-9)
While I wish it had more photographs, this book provides the kind of "secrets" that can make the difference between capturing a good shot or a great one. Chapters are technique driven with the opener covering how to improve your image quality, a topic often overlooked in many photo books who seem to have more of a "we'll fix it later in Photoshop" attitude. David D. Busch helps you capture it on the chip the first time, making this one chapter a valuable reference. He's included a good chapter on infrared photography with the highlights being the section on post-processing, showing how to produce clever color IR effects. Many photographers like to build gadgets and gizmos; chapter seven delivers and includes one of my favorite old ricks--making and using a Harris Shutter. If you're not familiar with this technique, you'll love this chapter.
Digital Sports Photography: Take Winning Shots Every Time; by Serge Timacheff and David Karlins; Wiley; 359 pages; 29.95; softbound; (ISBN 0-7645-9607-1)
While hampered by a lackluster design and a dearth of photographs, Serge Timacheff and David Karlins' text makes this a worthwhile addition to your bookshelf. The authors include tips from more than 20 sports photographers, including Terrell Lloyd, who is the official photographer of the San Francisco 49ers. While fencing is covered (Timacheff is the official photographer for the International Fencing Federation), motorsports is ignored in favor of "stick and ball" sports. This is not the authors' fault as much as Wiley's, who like most photo book publishers choose to ignore the most popular sport in the world. If you're interested in sports photography as a vocation or avocation this is a good place to start.