Holiday Books For The Digital Photographer Page 2
Master Guide for Underwater Digital Photography; by Jack and Sue Drafahl; Amherst Media; 128 pages; $34.95; softbound; (ISBN 1-58428-166-9)
Going diving? Get a copy of this book to learn how to make great-looking underwater digital images. The book is populated with text and charts of everything you need to know about getting started in aquatic photography. It's the essence of what a good how-to book should contain: easy, fun-to-read text by writers who know their subject inside and out, enhanced by photographs that illuminate the text. In addition to the expected tips on capturing the images, chapters on traveling with your gear and post-dive care of your equipment enhance the book's usability. Underwater photography is by its nature much more technical than terrestrial photography, but the Drafahls not only know how to do it, they know how to show you how to do it in an entertaining and interesting way.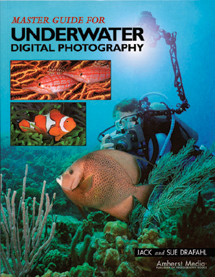 The Art of Digital Wedding Photography: Professional Techniques With Style; by Bambi Cantrell and Skip Cohen; Amphoto Books; 160 pages; $29.95; softbound; (ISBN 0-8174-3324-4)
This book is a perfect blend of information and inspiration and shows how to produce pictures that capture the essence of this special day in pictures. That includes making images in black and white, color, and sometimes a combination of both at the same time. You won't find posed pictures of groups of people standing in front of a wall in the "fig leaf" pose. Bambi Cantrell's images burst off the page with the energy of a bride tossing the bouquet. In all of the lovely images through this book, Cantrell shows that she's an artist and the looks on her subjects' faces tell you that they trust and like her. If you're a wedding photographer or are considering becoming one, get this book. This is the yardstick of image quality that you will be measured against.
Photoshop/Elements Books How to Cheat in Photoshop; by Steve Caplin; Focal Press; 376 pages; $39.95; softbound with CD-ROM; (ISBN 0-240-51985-X)
Subtitled "The Art of Creating Photorealistic Montages," Steve Caplin produces a worthwhile book and a CD that contains QuickTime video clips showing many of the projects illustrated. Cleverly designed and copiously illustrated, this is a wonderful book that includes a chapter called "Heads and Bodies" which covers the digital "guillotine effect" of mixing and matching bodies and heads. Most of the techniques in this section involve people photographs but a fun example with Bob the Builder shows up, even though few of us work with cartoons. The book abounds with useful tricks and techniques that are superbly illustrated and executed. If you think Focal Press only produces textbook-like volumes, think again.
Photoshop CS2 RAW; by Mikkel Aaland; O'Reilly; 210 pages; $29.95; softbound; (ISBN 0-596-00851-1)
This is the best book available on using Adobe Photoshop to work with raw images. And it's not just about the software; Mikkel Aaland provides background by helping you to decide when or when not to capture with the raw format. He takes you through Bridge by showing how to use it to manage and organize files. On the output end, he provides useful information on how to use the Digital Negative format to save and archive DNG images. The book is enhanced with a superb design and you-are-there text that makes this a pleasant journey that will help you capture and produce high-quality image files. While all of the chapters are excellent, the one on better black and white images from raw files is truly amazing from the standpoint of text, design, and illustrations.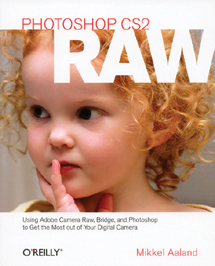 Photoshop CS2: Before & After Makeovers; by Taz Tally; Wiley; 359 pages; $29.99; softbound; (ISBN 0-471-74901-X)
Although burdened with the same clunky design (the cover will be your first clue) that haunts all Wiley books, this one overcomes the limitations because of its concept: "before and after" makeovers. It's chock full of the kind of tutorials you would expect from a Photoshop guru like Taz Tally, who provides the cleverest ever "before and after" shots of himself on the back cover. In addition to the kinds of basic improvement tweaks (brightness, contrast, matching color) you might expect, the book covers techniques such as adding motion, repairing tears and rips in scanned old prints, painting on an image, and how to remove distracting elements.
Photoshop Photo Effects Cookbook; by Tim Shelbourne; O'Reilly; 176 pages; $29.95; softbound; (ISBN 0-596-10022-1)
This oversized volume is chock-a-block with the kind of useful and practical tips that aspiring Photoshoppers are looking for. Aided and abetted by a classy design and reproduction, Tim Shelbourne points the way for photo/graphic effects, from how to assemble multilayer images to producing photomontages. As a graphic artist he can't resist including non-photographic techniques such as tutorials on creating stone, metal, and glass texture, but I like them because sometimes you need to add text to a flyer, postcard, or mailing. My favorite part of the book is the chapter on natural world effects, in short, adding special effects to an image that don't look like effects, including simulating rain and snow, adding rainbows, and (shades of Francois Truffaut) how to turn "Day into Night."
The Adobe Photoshop Elements Crafts Book; by Elizabeth Bulger; Peachpit Press; 156 pages; $21.99; softbound; (ISBN 0-321-36896-7)
If you like making crafts, this is the perfect book. It's perfectly executed with superb design and engaging tutorials that show you how to use Photoshop Elements in all kinds of crafts, ranging from Parisian number tiles to holiday gift wrap. Elizabeth Bulger is the perfect hostess, starting with showing you how to maximize Elements' photo/graphic capabilities then using them in practical projects that use material from paper, ceramics, metal, glass, fabric, and clay. She'll show you how to create custom brushes to make wrapping paper filled with your own images, not somebody else's.
Photoshop Cosmetic Surgery; by Barry Jackson; Lark Books; 192 pages; $29.95; softbound; (ISBN 1-57990-800-4)
This is the digital version of TV's Dr. 90210! There are eight chapters with titles that include "Supermodel Looks," "Pumping Iron," and "Radical Makeovers." Arranged in a series of tutorials that include titles such as "Building Biceps" and "The Tummy Tuck," this cleverly designed and written book shows you how to turn ordinary mortals into the beautiful people you see in magazines. (So that's how they do it!) The "Body Beautiful" section includes tutorials on breast enlargement and lifts as well as bottom reshaping and firming. Yes, there is some tasteful nudity in the book. The "Radical Makeovers" section includes fanciful techniques to merge human and feline portraits, but like all of the rest of the book is done with a sense
of fun. You may not use all of the techniques in the book to such extreme effect, but all of them will be useful for portrait photographs.
Photoshop Workflow Setups; by Eddie Tapp; O'Reilly; 196 pages; $29.95; softbound; (ISBN 0-596-10168-6)
Adobe Photoshop has the ability to create customized work spaces, but my guess is few of us take the time to make one. If that's you, then buy this book. It's all about creating a custom work space to help you become more efficient and create better images. It shows you how to customize Preferences, keyboard shortcuts, and menus so you can work smarter, faster, and better. You'll learn how to use Bridge not just for image management but to improve workflow. Eddie Tapp takes you on a guided tour behind the screens in Photoshop and shows you how to master the key features of the most important palettes in this ubiquitous program.
Adobe Photoshop CS2 A-Z; by Philip Andrews; Focal Press; 248 pages; $24.95; softbound; (ISBN 0-240-52002-5)
This is a clever book that appears wedged into somewhat smaller, uncomfortable shoes. The brilliant interior design seems reduced from a larger format book, but that doesn't diminish its usefulness. Philip Andrews has put together a literal dictionary of Photoshop CS2, beginning with the Accented Edges filter on through to ZoomView Format. Each term is illustrated with nice, albeit small, screenshots and illuminating text that explains what each of these features, commands, and filters do.
Sidebar

Shameless Commerce Division
Shutterbug's writers were busy this year producing a stack of interesting digital imaging books and I would be remiss if they were not included here. Peter K. Burian penned the Magic Lantern Guide to the Sony Alpha A100 (Lark Books; ISBN: 1-60059-082-9) and shows you how to use what's expected to be one of 2007's top-selling cameras to create great-looking images.

Jon Canfield has also been busy this year. He has two new books that will be in bookstores in December 2006, including The Digital SLR Guide (Peachpit Press; ISBN: 0-32149-219-6) and Apple Aperture for Digital Photographers Only (Wiley; ISBN: 0-47003-742-3) that should be available on Boxing Day.
I contributed a few chapters to Raw Workflow from Capture to Archives by Philip Andrews and Yvonne J. Butler (Focal Press; ISBN: 0-24080-752-9). The ambitiously titled (it wasn't my choice) Complete Guide to Digital Infrared Photography (Lark Books; ISBN: 1-57990-77 2-5) represents my most comprehensive effort to date at explaining the art and craft of IR photography. Also look for two other books: Getting Started with Digital Imaging (Focal Press; ISBN: 0-24080-838-X) and the Magic Lantern Guide to the Pentax K100D/K110D (Lark Books; ISBN: 1-60059-086-1).
Idea to Image in Photoshop CS2 by Rick Sammon (Peachpit Press; ISBN: 0-321-429 18-4) lets this globetrotting photographer share his favorite creative enhancements for turning "straight" digital pictures into creative and imaginative images. This compact volume contains a series of lessons and step-by-step tutorials that show step by step how Sammon transforms digital travel photographs into unforgettable images.