Book Reviews
Photography In Japan: 1853-1912; by Terry Bennett; Tuttle Publishing, 320 pages; $65; (ISBN: 0-8048-3633-7)
In 1853 Commodore Perry made it possible for the world to explore the wonders of Japan. Due to the rapid influx of outside ideas and innovations the traditional Japanese way of life experienced a sudden transformation from a feudal society to industrialized nation. Writer Bennett crafted this beautiful and educational book from a collection of 350 old and rare images captured by Western photographers. Bennett discovered them scattered in museums, libraries, and private collections across the globe. This book offers a glimpse of life in Japan during one of its most dramatic periods in history.
Pawfiles: Portraits Of Dogs: A Bark And Smile Book; by Kim Levin; Andrews McMeel Universal Publishing LLC, 136 pages; $14.95; (ISBN: 0-7407-6606-1)
This whimsical title by Kim Levin explores our affection for dogs. The pages are graced with a collection of images captured around New York's Central Park. Each shot reveals different breeds enjoying quality play time with their human counterparts. Levin provides a touch of insight into each dog's unique personality by listing their favorite toys and acts of quirky behavior. You don't have to be a dog fanatic to fall in love with this book.
Out Of The Darkroom: A Short History Of The Photofinishing Industry; by Peter L. M. Rockwell and Peter W. Knaack; 2P Press, 180 pages; $23.99; (ISBN: 978-0-9554072-0-8)
Out Of The Darkroom offers a comprehensive look at the history of photography from its beginning in 1839 to today. Rockwell and Knaack provided highly detailed information including charts, graphs, and diagrams on every aspect of photography from its inventors to cameras, film, darkroom equipment, and even what we can expect to see in the future. This educational guide is a must-have addition to your library so be sure to grab a copy on your next visit to the bookstore.
Elvis At 21: New York To Memphis; by Alfred Wertheimer, preface by Peter Guralnick, introduction by Chris Murray; Insight Editions, 224 pages; $65; (ISBN: 1-933784-01-6)
In the mid `50s Elvis Presley was one of the newest and brightest stars at RCA. To document his tour, RCA hired photographer Alfred Wertheimer and granted him unprecedented access to the young super star. This book contains a wonderful collection of 300 of Wertheimer's candid black and white images. Elvis At 21 provides a rare behind-the-scenes glimpse at one of America's most beloved icons and a treat that simply can't be missed.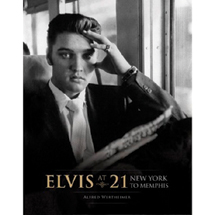 2007 Photographer's Market; edited by Donna Poehner; F+W Publications, Inc., 633 pages; $26.99; (ISBN 13: 978-1-58297-428-6)
This handy guide is a wonderful resource for beginners and pros because it provides detailed information on how and where to sell your work. It contains over 1800 listings for various magazines, book publishers, and stock agencies all over the country. If you are seeking advice on how to sell your fine art images at a gallery, start a photography business, or how to meet the needs of your clients, the 2007 Photographer's Market can provide you with top quality tips. That makes this book a must-have addition to any photographer's library.
Gray Matter: Why It's Good To Be Old!; by Bob Elsdale; Andrews McMeel Publishing, 88 pages; $14.95; (ISBN-13: 978-0-7407-6209-3, ISBN-10: 0-7407-6209-5)
Gray Matter is a delightful little book from award-winning photographer Bob Elsdale. He uses digital technology to create highly imaginative images of elephants playing chess, surfing, and enjoying life to the fullest to deliver a whimsical yet inspiring message about aging. Elsdale reminds us that elephants never let a few wrinkles hold them back from having a good time and we should follow their example for a brighter future.