Into the Woods: How Photographer Simon Baxter Captures His Moody Images of Nature
We can all appreciate the beauty and mystery of a forest enshrouded by mist in the early dawn. But few of us manage to capture the haunting quality of the scene.
Even fewer of us go out before dawn to capture that alluring, mystical light that shapes the forest and which the forest in turn shapes. We tend to look for the obvious, charging forward, impatiently forcing our vision upon the scene.
Photographer Simon Baxter takes a decidedly different tack. He allows nature to reveal itself to him, one quietly evanescent moment at a time.
How Baxter Visualizes His Woodland Lighting
We, as photographers, are often taught to recognize the way light wraps itself around three-dimensional objects to give them form, to study the shadows these forms cast, and to exploit that relationship of light and shadow. Baxter sees that light and takes it even further. He comes upon the scene with careful deliberation, slowly studying every nuanced texture and form and the light that envelops them.
As Baxter explains, he sees the scene as "a moment in time when the balance of light, color, and mood complement the physical elements in the scene. Mist and fog are often the key ingredients for capturing mood, adding mystery, creating soft light, decluttering the scene, and enhancing depth. A foggy woodland is incredibly atmospheric and creates an experience that can be peaceful or even creepy. Whatever the experience is, I very much enjoy having that story behind the image."
He loves what he describes as "the softness of light you can get from a foggy woodland. The sun trying to break through mist offers amazing light." Given a choice, he'd choose flat light over harsh sunlight.
Life Has a Way of Shaping Our Vision
One defining moment that shaped Baxter's photography was a back injury several years ago. Instead of letting the injury hamper his photographic pursuits, Baxter not only turned it around into a force for his creative vision, but he found himself exploring his native woodlands with even greater depth and sensitivity.
An early riser, Baxter is on the scene at the crack of dawn, if not earlier. The early morning drive is a short one, the remaining hours spent exploring on foot with his dog Meg.
As they step into the mist, Baxter is driven to arrive at the scene he envisioned, shooting that day before the sun's rays dare penetrate to the forest floor. At that point in time, the moment would be lost. "Once the sun is up," he notes, "the fog may lift and within an hour it's an entirely different scene."
What exactly prompts his trigger finger to make the exposure? "I guess it's that moment when you're presented with the scene you've envisaged, especially after patiently waiting for weeks, months, or longer," Baxter says. "For example, there's an image in my very first vlog called 'The Dysfunctional Family,' which is a scene I discovered in March 2016, but didn't photograph until December of that year. All it needed was the fog and soft light shining through the woodland's edge to the right." Of course, as he points out, waiting may have unforeseen consequences: key elements, such as a tree, may have fallen in the interim, dashing your hopes for that once-in-a-lifetime image.
Baxter continues: "Other times, the defining moment is very brief, when you witness an unexpected and transient scene, such as the image I titled 'Transient,' which was taken looking down on a woodland as the morning sun beamed through the drifting mist. It was a brief moment in time which I will probably never witness again."
Baxter's Woodland Exposure Technique
Low-light levels are not a problem, since he always shoots on a tripod, adding spikes for stability in the soft ground. And he almost always shoots at ISO 100, with Cloudy WB (and occasionally Daylight WB for cooler tones), primarily in aperture priority. Shutter speeds are of little concern on a calm day. "I'm more concerned with the aperture and capturing all the detail which will then lead to a great print. However, I do shoot in full manual mode when creating panoramas."
He adds: "I don't think I ever take an image above f/11 and most of the time it's around f/5.6 or thereabouts for general woodland scenes. There's no need for extended depth of field when shooting in fog as the background is already soft, so I typically prefer to maintain that softness and ensure crisp detail in my subject. I also enjoy taking selective focus images using a very shallow depth of field to create woodland images that are a bit more abstract or to add depth and separation when mist or fog is absent."
Specifically addressing the question of how to expose for fog, Baxter expanded on his technique. "I try to expose as far to the right as possible without blowing out the highlights so that I have as much control as possible in post-processing. That also explains my preference for excluding the sky in my woodland shots, as it makes it easier to create a more balanced exposure. I try to use the histogram as much as possible, rather than rely on the camera's metering but sometimes I'll also bracket exposures if I feel the dynamic range justifies it. I often find that I don't need to blend the bracketed exposures in post-processing but, if I do, then Adobe Lightroom CC makes it very easy."
Into the Woods We Go
Simon Baxter's moody, introspective woodland photography is simply inspiring, deriving largely from an appreciation and understanding of the territory he explores in a studied, unhurried fashion. Baxter eschews vibrant colors and harsh contrasts, preferring instead to infuse each image with a quiet stillness that comes alive through a combination of soft muted tones and textures. The images are understated and almost ethereal. He allows the viewer to take it all in, to meditate on the image.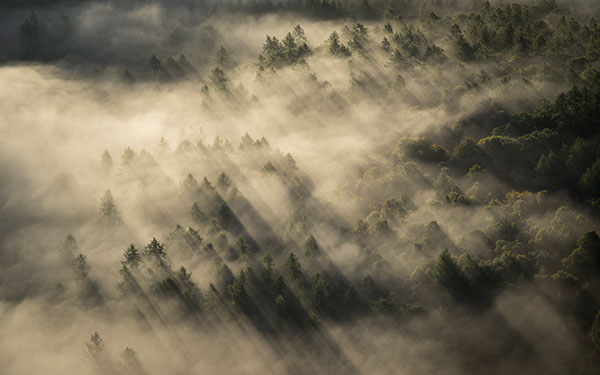 Yet at the same time, the images also have a haunting quality. You ask yourself, dare I dawdle and be drawn further into this scene, or should I move on? Yet you remain there—transfixed.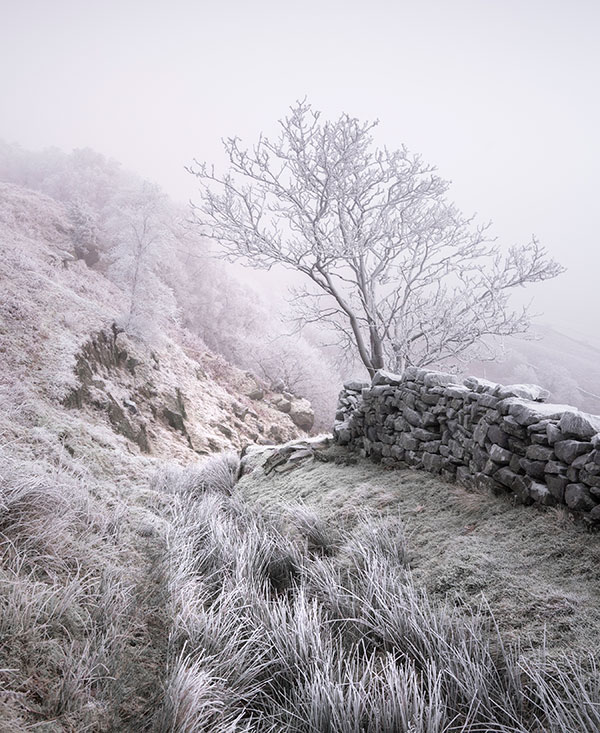 Baxter's Top Five Tips for Woodland Photography
1. Shoot for yourself.
2. Explore and find locations that you can call your own.
3. Be patient and persevere because new shots can appear in a location just when you'd thought you'd exhausted all opportunities.
4. Composition is key, so try shooting with a single prime lens. The constraint encourages creativity, and slowing down the process may allow you to see something you would otherwise have missed.
5. Enjoy any kind of weather. Rain can do wonderful things for color, reflected light, texture, and mood.
What's in Baxter's Gear Bag
• Sony A7 II mirrorless camera
• Sony A6500 mirrorless camera for video
• Sony FE 16-35mm f/4 ZA OSS
• Sony FE 24-70mm f/2.8 GM (go-to lens)
• Sony FE 70-200mm f/4 G OSS
• Sony FE 55mm f/1.8 ZA
• DJI Mavic Pro drone
• Induro CLT304L Stealth tripod
• FLM CB-38F ball head
• L-bracket
Baxter's Favorite Gear
"I'd say it has to be the combination of the tripod, ball head, and L-bracket. The tripod is a touch heavy but I love the height and stability on soft ground combined with the flexibility of an L-bracket."
Simon Baxter operates out of North Yorkshire, United Kingdom. To see more of his work and learn about his workshops, visit baxter.photos; Instagram: @baxter.photos.
Jack Neubart (jackneubart.com, Instagram: @pixelperfexion) has authored numerous books and articles on photography over the years.
FEATURED VIDEO