Travel Photographer Profile: How Nat Geo Shooter Ami Vitale Spans the Globe to Capture the World
Photographer Ami Vitale travels the world to capture those aspects of life we don't ordinarily see. She helps us understand other peoples, their cultures, lifestyles, and traditions. She's not afraid to take the journey, regardless of the perils she may face. And she comes away from the experience with images she shares with the world, much of it for National Geographic.
The National Geographic Connection
Vitale started her professional photography career as an editor with the Associated Press. However, she soon realized she could do more with her images and left to work in Prague, Kosovo, and later India, where her evolving connection to National Geographic began. "I moved to India in 2001," Vitale said, "and started doing a lot of work all over the region for National Geographic Adventure."
That said, it still took a few years for National Geographic, the parent magazine, to come knocking and ask Vitale to shoot for them. Now the relationship has grown. She's also doing speaking engagements for them, shooting films, and "most recently I've started working on VR films." For VR she uses the Nikon KeyMission 360. "The 360 has also made me a better still photographer because it makes me think more deeply about the story," Vitale explained.
Living the Story
Vitale noted that travel photography was originally her passport to meeting people and experiencing new cultures. "Now it has become a tool for creating awareness and understanding across cultures, communities, and countries; a tool to make sense of our commonalities in the world we share."
In making sense of all that, Vitale finds herself living the story, as one photograph of her standing waist-deep in water will attest. She recalled: "I was shooting a story about climate change in Bangladesh. That is where you witness it firsthand, where it's a reality and you see what people have to live with. They were literally living on top of their houses, even cooking up there, waiting for the waters to recede."
But some of Vitale's stories do have a lighter side, although the message is no less compelling. She has shared pictures of herself wearing a panda suit, holding a camera, to shoot her story at the Wolong China Conservation and Research Center for the Giant Panda, which is dedicated to ensuring the health and survival of a growing panda population.
The Alexia Foundation
It wasn't long before Vitale grabbed the attention of the Alexia Foundation. The organization had a very profound effect on Vitale and how she viewed the world through her lens. Today, Vitale's involvement with the Alexia Foundation has grown, to include teaching workshops for upcoming journalists.
"The Alexia grant encouraged me to spend time on stories that rarely make it into the mainstream," Vitale said. "For the first time, I could work without the pressures of deadlines and editors. It also made me see the importance of giving a voice to those who so often go unrecognized."
One such story took her to the West African country of Guinea-Bissau, where Vitale had planned to stay only a couple of weeks recording the aftermath of a civil war. That brief sojourn turned into a six-month-long voyage of discovery. Vitale recalled: "I spent my days learning Pulaar, the local language. I carried water, gathered firewood, and experienced life as the villagers know it. To the women I was totally useless. I did not have a baby nor a husband, I could barely cook, and I couldn't even get water out of the well. Slowly I gained their trust and only then did all these wonderful stories begin to emerge.
"My last evening in the village I sat talking into the night with a group of children about my return home, above us the moon and a sea of stars. One youngster turned to me and innocently asked if we had a moon in America. It seemed so symbolic and touching that he should feel as if America were so far away we would not share the same moon in our sky."
First Light
Vitale prefers to use natural light where possible, at specific times of day. "I'm mad about light and desperately hunting for it," she explained. "I'm the first one awake and the last one to leave a location." She expressed a special fondness for first light, "that moment before the sun comes up, when the light has a very special quality—you usually have just a minute of it in some places. The scene has a mystical quality. And the other thing I love about morning light, you may still have mist in the atmosphere.
"Also, there's a different energy about people starting their day. The activities around sunrise are very different from the activities at sunset. And I usually feel a lot safer working before sunrise. Because people are preparing for the day ahead, there's a certain purposefulness about them. The people who are out to harass you are usually still asleep at that hour."
Flash May or May Not Play a Role
Lighting, however, is rarely ideal. "The truth is, 99 percent of the time you're working with bad light," Vitale said. "So when there is harsh light outside, I will either bring my own lighting or go inside and find interesting lighting." Vitale's own lighting usually takes the form of fill flash off-camera. "When the sun is going down and I want to lightly add a little fill so you can see there are beautiful colors in the background, without silhouetting faces."
Vitale was quick to add that flash may not be the panacea we make it out to be. "The truth is, in a lot of places where I work, flash can be really scary to people. What's more, I can't use flash with many stories that I'm working on with wildlife. Certainly not with the pandas—I wasn't allowed to. I have to be sensitive about when and where I can use it."
Vitale's Modus Operandi
Vitale's overriding maxim is to be open and honest with people. "A lot of times I am a photographer on the street. I literally just take a couple of minutes to talk to people and explain why I'm there and then ask questions. But rather than run around and try to document everything surreptitiously, I try to spend time in places and allow people from the community to show me around. They get me access to things and people I would never find on my own."
A longtime National Geographic photographer and Nikon Ambassador, Ami Vitale shoots travel with a difference. In contrast to many travel photographers who simply try to blend in with the woodwork, Vitale takes the time to know people, their customs and their environments. In the process, her images represent a deeper tapestry of life and a richer understanding of that place. More to the point, she offers us a unique perspective, one that ultimately enriches our lives.
Photographer Ami Vitale is based in Missoula, Montana. To see more of her work, read her blogs, and learn about her upcoming workshops, be sure to visit her website, amivitale.com. You can also find her on Instagram: @amivitale.
Vitale's Favorite Gear
"The Nikon KeyMission 360 is ideal because its tech requirements don't get in the way of the story. I'm a journalist at heart. I want to make beautiful images, but the story is important. I like gear that becomes invisible."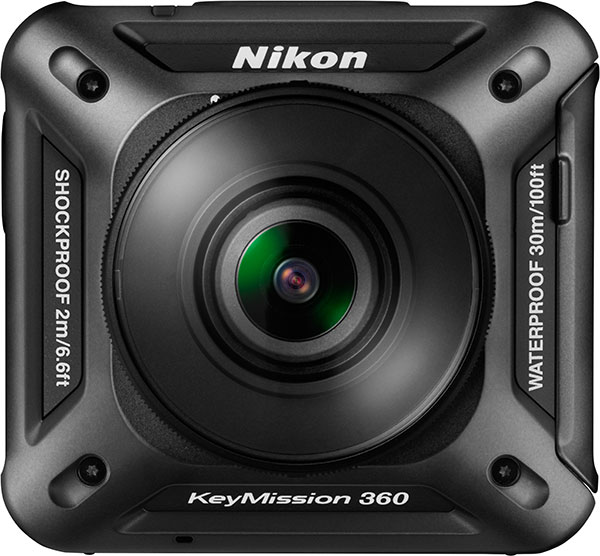 What's in Vitale's Gear Bag
• Nikon D5
• Nikon D500
• KeyMission 360
• Nikkor 24-70mm f/2.8 lens
• Nikkor 70-200mm f/2.8 lens
• Nikkor 14-24mm f/2.8 lens
• Nikkor 50mm f/1.4 lens
• Nikon Speedlights
• Lastolite reflector (white/silver)
• Manfrotto tripod (for video)
FEATURED VIDEO