Insta-Success: How 3 Photographers Are Using Instagram To Share Images, Promote Their Brands & Find Work
Instagram is, unquestionably, the hottest social network right now for sharing photos. While the service is simple to use, getting your work noticed is not easy considering you're competing with over 400 million other Instagram users. So what's the "trick," if any? We interviewed three photographers who have found success on Instagram to learn more about this social media phenomenon. Along with checking out (and liking) their Instagram pages, don't forget to visit (and like) Shutterbug's own page (@shutterbugpix), where we're sharing our favorite work from readers.
ANDREW GRISWOLD
(Instagram: @the_gris)
Andrew Griswold is a photographer and designer who was born, raised, and is still based in Indianapolis. He founded a community of photographers via Instagram, connecting them with brands to work with and shoot locally.
Shutterbug: Why did you decide to start sharing your photos on Instagram?
Andrew Griswold: I think the biggest reason I started using Instagram was the ease of use and speed in which I could share my photos. A friend had recommended early on I should get on this new photo app called Instagram. Even though I was design focused at the time professionally, photography drew me in with some of the same basic principles and concepts. I loved it and from there I was hooked.
SB: How has the experience been for you?
AG: The experience of using and engaging on Instagram over the last four plus years has been absolutely incredible. The people I have had the chance to meet and shoot with along with the places I have been able to travel to through connections or collaborations have been unreal. I still find opening the app today just as refreshing and inspirational as I did at the beginning.
SB: When did you realize you could actually use this social media service professionally and who was your first client?
AG: It wasn't until about two years ago where I really felt I was decent enough at photography to begin working or collaborating with brands on a more professional level. My first client was The Children's Museum of Indianapolis, where I actually interned as a designer in college years prior. The experience was a simple test to see who and what I could get away with as I used Instagram as more of a marketing tool rather than just a place I shared snapshots of my life. Having built a following locally and beyond on the app, I pitched the idea to bring in a handful of Instagrammers to host a meetup (instameet) to explore and take photos of the museum. It's easily one of my favorite meetups to date and I have since been invited back to explore even more.
It was that small moment of success when I felt I could push even further and take it to the next level. My freelance photography began to grow and I took on every job that I could find. Essentially I was looking for experience in that craft to build a portfolio. Not really paying attention to my follower base but rather really paying attention to my work on the platform. Over time people and brands began to find me to work with them. These last couple of years have been my absolute favorite, having had the chance to work with brands such as General Electric, Pepsi, The Waldorf Astoria, Mashable, Xbox, and even Apple.
SB: You initially shot Instagram images exclusively on your iPhone but have since started also using a Canon 6D DSLR and a Sigma 35mm f/1.4 Art lens. Why the change and how has it changed your imagery?
AG: I've actually owned a DSLR almost as long as I've been on Instagram so having the option to flip back and forth between my phone and big camera has always been there. Though the majority and probably 98 percent of my Instagram posts are still iPhone photos, I do sneak in the DSLR shots from time to time.
It wasn't until recently I finally got a setup I had been wanting for a very long time in the Canon 6D and Sigma 35mm f/1.4. The change came from wanting to have a bit more control and resolution to my photos and a full-frame camera does that for me.
SB: How do you see Instagram evolving as a tool for photographers?
AG: Now that Instagram has officially become one of the world's leading social platforms and has no real signs of slowing down I can see it going quite far actually. They still have plenty of features to offer such as supporting multiple accounts, curated community groups, higher levels of editing, greater reach and search capabilities, freedom to build custom pages and longer video options, and so much more.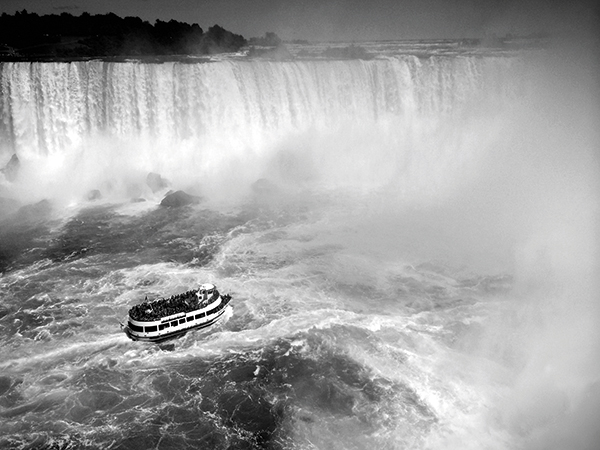 ROB DEPAOLO
(Instagram: @rdepaolo)
Rob DePaolo's images range from the whimsical to the mysterious. With a focus on fine art, portraiture, and conceptual photography, much of DePaolo's work is preconceived and draws upon his dark sense of humor and his love of surrealism, the avant-garde, and all things absurd.
Shutterbug: Why did you decide to start sharing your photos on Instagram?
Rob DePaolo: When I rekindled my passion for photography just a few years ago, most of my photog friends were into mobile photography and Instagram was the one place that they all seemed to congregate. Once there, I realized just how many people were using it to share more artistic work (not just "selfies" and such), and I have since made many lasting friendships with photographers of all styles/techniques.
SB: What appeals to you about the Instagram format?
RD: The simplicity of the Instagram interface is its biggest appeal factor for me. It is very intuitive and user-friendly. Because of this, I find it easy to keep up with my favorite artists while also discovering new photographers whose work resonates with me. I also appreciate some of the recent interface changes such as the ability to post non-square images. While the square-only format had a certain charm, in the end it was too restrictive for those of us who don't stick to a 1:1 crop ratio.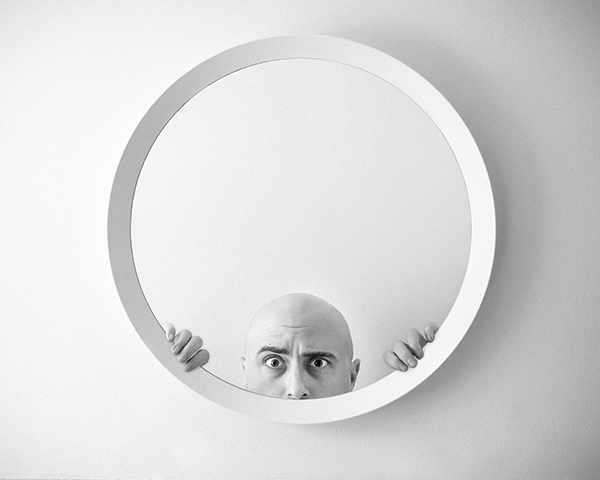 SB: Your Instagram imagery is very artistic and high concept. At what point did you decide that Instagram was more than just a fun social media service but also a tool for sharing serious photography?
RD: Actually, I made that decision right from the beginning. I originally joined Instagram for the purpose of sharing my more serious photographic work, as I knew others who were doing the same. Over the years, it has been wonderful to see so many other serious photographers joining the Instagram community. While there can sometimes be a lot of social "noise" to sort though, it is worth it for the gems that you can discover with just a little bit of patience.
SB: What about Instagram concerns you?
RD: Like any photo-sharing community, image theft is always a concern. Luckily, Instagram compresses all images that are uploaded, and I downsize all images before posting anyway, so thieves can't obtain high-quality copies for commercial use. I have had a few images stolen (that I know of), and while it is frustrating, I don't lose sleep over it anymore. If anything, it is flattering in an odd sort of way as it means that someone liked my image enough to steal it in the first place.
SB: What gear do you use to capture your Instagram images?
RD: While I was primarily into mobile photography when I first joined Instagram, I now shoot almost exclusively with my Fujifilm X-T1 when working on my conceptual photos. Most of my mobile (iPhone 6s) work these days tends to be more spontaneous (street photography, etc.).
The majority of my work is processed exclusively in Lightroom unless I am compositing images, in which case I will also use Photoshop. Most of my mobile work tends to be shot with the ProCamera 8 app and edited using an app called Filterstorm Neue as I find it the most similar to my desktop editing experience. However, the new Lightroom Mobile app is also becoming a favorite of mine.
SB: What are some tips you can share for helping photographers to get their photos noticed on Instagram and to increase their followers?
RD: First, start following other photographers who you like, and be sure to comment on images of theirs that you like (don't just "like" them). Second, find groups on Instagram that feature work that you are interested in, follow them (which, incidentally, will help you discover other photographers you like), and start tagging your own work with their hashtag(s). You just may find your own work featured!
I find that you get as much out of Instagram as you put into it. If you engage with other artists and groups, they will engage with you in return. It's not necessarily about the number of "likes" you receive. I would much rather receive a handful of thoughtful comments on an image than hundreds of "likes." And the friendships that can develop are truly great. To be able to connect with so many like-minded photographers/artists from around the world is a wonderful experience.
SB: How do you see Instagram evolving as a tool for photographers?
RD: As many other photo-sharing sites such as EyeEm and 500px now offer photographers the ability to make their work available for sale (as stock photos), it only seems like a matter of time before Instagram offers this as well. Although there are plenty of third-party sites that will leverage your Instagram photos for stock photo sales if you so desire.
While this type of sales model isn't for all photographers (myself included), I know plenty of folks who have enjoyed success in this manner. I also expect Instagram to keep pace with any other trends in social photo sharing, including those that we have yet to realize we need.
WOLF189
(Instagram: @wolf189)
A photographer, creative director, marketing specialist, and experimental filmmaker, Wolf189 shoots fashion, editorial, commercial, portraiture, lookbooks, food, and more in Las Vegas, Los Angeles, and Park City, among other cities. He specializes in 35mm film photography and Polaroid work with no major digital manipulations or enhancements.
Shutterbug: Why did you decide to start sharing your photos on Instagram?
Wolf189: I was initially not aware of the platform. I actually received over a dozen requests from my fan base asking for my Instagram address before I looked into it. And then for a while (maybe a year) I held back because as a somewhat purist photographer, I was not a fan of cropping frames or posting low-resolution images online. Later I started experimenting with it and started enjoying the outlet more and more.
SB: What appeals to you about the Instagram format?
W: There's an immediate connection with my audience and it's the perfect place to showcase experimental work, BTS (Behind The Scenes) as well as documenting everyday life.
SB: Your work is sensual, sexy, and often contains nudity. Has this been a problem on Instagram?
W: Yes, various images have been removed and my account has been suspended a couple of times.
SB: What do you think of the restrictions Instagram puts on nudity? Has it made you want to look for another photo-sharing service? If so, are there others you would recommend?
W: I don't enjoy restrictions on any art forms. However, I do understand that the aggressive sex industry would take over the platform even more if there was no policy in place. So I am not sure if there is an easy answer here. I would have liked if Instagram could pick and choose the people with credible bodies of work and give them artistic freedom. Obviously, that could cause more work and complaints for them, too. I started using Tumblr before using Instagram and the freedom and quality offered there has been impressive, although it's not as phone friendly as Instagram while it is a much stronger outlet actually. My Tumblr address: wolf189.tumblr.com.
SB: What gear do you use on a typical shoot?
W: Until six months ago, a Canon Elan IIE and 7E. For the past six months I also have added a Canon 6D to my bag. I might be one of the last professionals who switched to digital (in 2015).
SB: What are some tips you can share for helping photographers to get their photos noticed on Instagram and to increase their followers?
W: Keeping the quality high, having integrity toward their own work, authenticity for getting the right type of attention in the long run, persistence, and, of course, using tags and interaction with others to be seen.

LATEST VIDEO