Reader Spotlight: An Interview with Nature, Outdoor & Travel Photographer Douglas Croft
If you've visited Shutterbug's galleries, you've likely seen Douglas Croft's splendid work. A specialist in nature, outdoor, and travel photography, Croft's gorgeous images have received glowing remarks from fellow Shutterbug readers.
In fact, one of Croft's photos won the People's Choice award in Shutterbug's Photo of the Month contest earlier this year, garnering the most five-star votes of any in the competition. As a prize, Croft received a $500 gift certificate from LensRentals.com.
What did Croft spend the gift certificate on? Two DSLR camera bodies and a lens to use on a Photo Safari to South Africa.
We recently caught up with him to discuss his photography, his trip to South Africa and his choice of gear. Images Croft shot during that trek are included in this story.
Shutterbug: Please give us a little background on you and how you got into photography.
Douglas Croft: My interest in photography began with my father, who was a serious nature photography enthusiast, but I never understood how he could sit for hours waiting "for the light to get right." It wasn't till long after he was gone that I realized what that meant. In 2010, my wife and I were planning a trip to Alaska and I remembered seeing Tom Mangelsen's iconic photo, "Catch of the Day" from Brooks Falls. I knew we had to go and see those bears in that place. And while I knew better than to think I could get a photo of that magnitude, I knew I had to try to get something. So I bought a DSLR and took some classes to get familiar with it. I got a couple of really nice shots on that trip to Brooks Falls, and was hopelessly hooked.
Shutterbug: What appeals to you about outdoor photography?
Croft: God created a beautiful world for us to enjoy and we haven't completely screwed it up yet! My parents fostered a real love of the outdoors, nature and wildlife in me from the time I was very young. We did a lot of camping and my best childhood memories are of climbing on rocks and looking for bears in Yosemite with my brother. That love of the outdoors hasn't changed. The camera gives me a great excuse to get outside and gives me a whole new way of seeing things that I've seen a thousand times. Waiting for the light to get right, like my dad did.
Shutterbug: Tell us a little about your approach to photographing wildlife.
Croft: We tend to want to protect things that are important to us, things we care about. I'd like my wildlife images to be compelling enough to make people care. To do this, I focus on subject, light, and gesture. Pretty basic stuff, but not all that easy to pull together most of the time. There are so many forces working against wildlife, from destruction of habitat, to poaching, trophy killing, and general apathy. If I can inspire even one person to get out and see these beautiful animals for themselves, or to donate their time or money to an organization dedicated to protecting wildlife or habitat, it's a win.
Shutterbug: You recently won Shutterbug's Photo of the Month "People's Choice award." The prize was a $500 gift certificate to LensRentals.com. What kind of gear did you rent and how did you use it?
Croft: Yes! And thank you again! LensRentals.com was fantastic. The whole order and return process was flawless and the equipment was like new. I ended up renting two Nikon D7200 bodies and a Nikkor 80-400 lens for our Photo Safari in South Africa. The D7200s were the basis for two set-ups, one long, one wide. This way I didn't need to change lenses as often in the field and could switch seamlessly between the two cameras. An added benefit is having a back-up if one should fail. Knowing your equipment is incredibly important as action heats up or as light changes. I usually shoot with a D7000 so the controls and menus on the D7200 were very familiar and comfortable.
I used the 80-400 as my long set-up. It is a nice versatile zoom, easily handheld and had all the length I needed at the reserves we visited. If I had it to do over though, I'd go with a 200-400 f/4.
Shutterbug: Did having the gear you rented from LensRentals.com provide you with photo opportunities you might otherwise have missed?
Croft: Absolutely! Game drives begin before sunrise and go into the night. The low-light capabilities of the D7200 are light years ahead of my D7000. I could jack the ISO up without completely sacrificing image quality and when paired with my 70-200 f/2.8, it was a great low-light solution. I was amazed by the autofocus capability of the D7200 in very minimal light. That alone, allowed me to get some nice shots that otherwise would have escaped me. Quite impressive!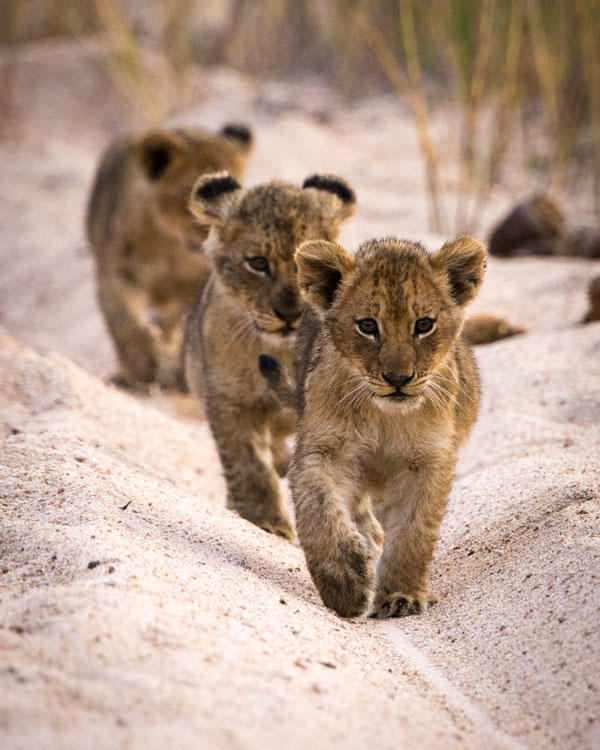 Shutterbug: Please talk about the photos you recently shot in South Africa. What did you capture and what was the experience like for you?
Croft: One of the great joys of going on a small group photo safari with a good guide is the ability to spend significant, quality time with the animals you encounter. We spent one whole morning drive at the wild dog den photographing 17 puppies as they played, slept, ate and played. We were able to devote much of one morning to photographing a lioness and her three young cubs. We followed a cheetah off and on throughout her day, and spent an afternoon with elephants at the river. The photographic opportunities that arise from this time spent are incredible. Made more so by the communication between our guide and ranger and their knowledge of positioning, light and animal behavior.
This is where I need to put in a shameless plug for our guide, Stu Porter and Wild4 African Photo Safaris (www.Wild4photographicsafaris.com). This was my second trip to Africa with Wild4. The first was so amazing and photographically productive, my fear was that this tour might pale in comparison. I needn't have worried.
At the end of a mere six days on safari at two of South Africa's premier reserves, Ngala and MalaMala, we had filled much of a terabyte hard drive with photos of Africa's Super Seven. (Lion. Leopard. Rhino. Elephant. Buffalo. Wild Dog. Cheetah.) Add to that Giraffe, Zebra, Hyena and multiple other game and bird species. I'm confident that we've got at least a few compelling photos to share!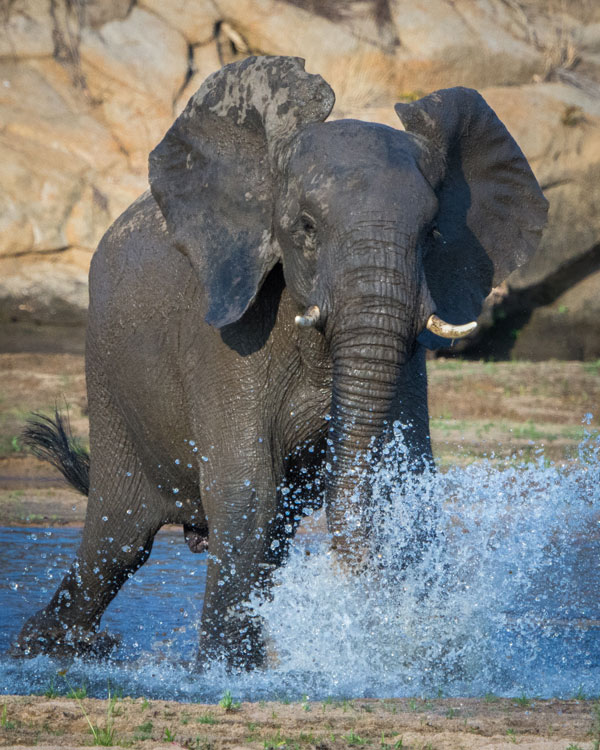 Shutterbug: In light of the ongoing controversy over the slaying of Cecil the Lion in Africa by an American game hunter, do you feel people are responding more strongly to images of wildlife theses days, particularly to photos of lions and their cubs?
Croft: It really does seem that this event has affected people deeply and I'm hopeful that some good will come from it. Most of the comments I'm getting, especially on my lion photos, show an overwhelming sentiment that Trophy Killing is wrong on every level: "This [photo] is how real men shoot animals", "Thank you for shooting him with a camera", "Hang a Photo, not a Head", "What right did he have [to kill Cecil]?" etc.
I personally feel that taking a photograph is a far better option morally, ethically and sustainably, than killing an animal for a thrill.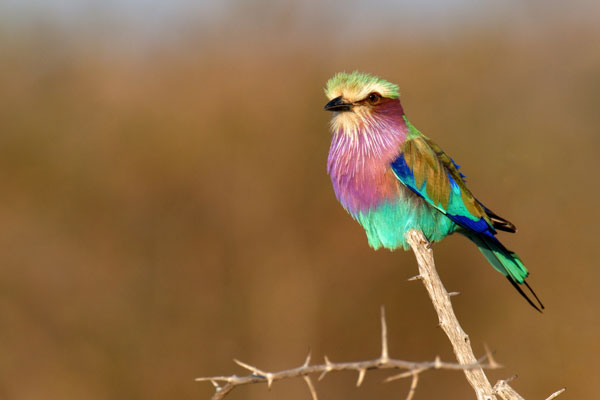 Shutterbug: What's next for you in photography?
Croft: In addition to just getting out and enjoying nature, I'd like to do some good with my camera. I've recently begun volunteering with Monterey Bay Marine Life Studies. They work in cooperation with the Whale Entanglement Team (WET) network to be a first responder to reports of whales entangled in crab fishing gear, marine debris, etc. (an increasing problem). My job is to get identifying photos of the whale and of the entangling gear to help WET determine the best way to remove the gear and free the whale. The photos are also used for training and data collection in an effort to prevent future entanglements. It is quite rewarding to be part of this group of dedicated volunteers and to know that these photos are being used in a very immediate and positive way to protect wildlife.
See more of Douglas Croft's work on his website.
FEATURED VIDEO