Shutterbug's Shutterbugs: Exploring Readers' Sites
"There is no greater joy nor greater reward than to make a fundamental difference in someone's life."—Sister Mary Rose Mcgeady
In any given issue of this magazine you'll see lots of different genres of photography represented, showing the diversity not only of subject matter but also how these subjects are treated aesthetically and technically. It's this diversity of style that makes the magazine so readable as well as so much fun. Our readers are a diverse lot, too, and this month you will see an all-readers' Web Profiles. These readers come from all over the country and use a variety of methods to display their work, but they all have one thing in common: an overriding passion for the art and craft of photography.
http://bluzartphotography.zenfolio.com
Volker Firnkes is a German native residing in Florida whose vision clearly embraces American culture. To display his images, he uses Zenfolio (www.zenfolio.com), an all-in-one solution for photographers to display, share, and sell work. He's collected images into four main galleries: Recently Added, Portfolios, Events, and Weddings. In Portfolios there are 10 collections of images as well as subcollections all showing a wide-ranging style, from highly personal to professional. There's a soundtrack accompanying these collections that may be turned off if the tunes are not to your taste.
His Classic Black & White images are not purely monochromatic and include toned and selectively colored photographs, many of which are posed and candid portraits that show his distinctly European style. That distinctive style manifests itself in "Dia de los Muertos," a portrait of a bride posing next to a limousine but wearing full Day of the Dead makeup. And if that's your cup of tea, you'll also enjoy his zombie portraits for the full George Romero experience. Even his nature and scenic images could hardly be called traditional because Volker Firnkes brings his own unique and highly personal view of the world to bear in all of his imagery, creating, if you will, an alternate universe that while similar to our own, has just enough Twilight Zone in it to make you want to keep looking through all of the collections.
www.pixielatedpixels.com
Shutterbug reader Chris Lord is another transplant, this time from the UK, and calls the Big Apple his home. In this site Lord has created a fairy-tale land of HDR photography and collected arresting images in six galleries. Heck, even his portrait in "Meet the Artist" is HDR, and one of the best portraits of a photographer I've seen in a long, long while. (We make terrible subjects for other shooters.) The first two galleries include images from both his original and adopted home, but I started with the United Kingdom, which has three subcollections, including The Brighton Experience. Lord's approach to HDR mixes well with his nostalgic approach to image making and the subject matter at hand. His lush and whimsical image of the Brighton Royal Pavilion summons up impressions of Douglas Fairbanks in 1924's The Thief of Bagdad, while his precisely composed image of people on the beach with a pier in the background recalls postcards of the 1940s, but is still very much of today.
The same time-travel whimsy is on hand with Exploring Manhattan, part of the six collection Glimpses of Gotham. His beautifully crafted "Vintage Flatiron" recalls both Edward Steichen's "The Flatiron" and Spider-Man, no mean accomplishment for a single photograph. If I'm sounding a bit rhapsodic it's because Chris Lord's photographs filled me with a sense that the images are spectacular in execution with a real feeling that the photographer is having lots of fun creating them. Be sure to explore the other galleries, too, because if you think HDR is passé, think again.
http://jimliestmanphotography.zenfolio.com
Jim Liestman appears to be a gentle man. A former chaplain, his goal is to "share the beauty of God's creation with my photography." The All My Photos gallery contains 14 collections of subtly beautiful nature and landscape photography that have titles revealing their spiritual orientation. You'll have to visit to savor them all; I'll just give you a glimpse.
I've always loved New York's Finger Lakes country so I jumped into New York Fingerlakes, Adirondacks & Catskills first. When you delve into a collection, you're greeted by a light box-style interface. Clicking a thumbnail shows a larger image and gives access to successive photographs, such as "Eagle Cliff Falls at Havana Glen Park, Montour Falls, NY," showing the unmanipulated beauty of nature—and Liestman's skill set using long shutter speeds to add a touch of verisimilitude. In Canyonlands of the Southwest he takes you to Arizona and Utah, again focusing on the purity of the landscape using his compositional and technical skills to capture images of a world largely untouched by the hand of man, although he sneaks in an abandoned wagon in "Capitol Reef National Park" to show that the landscape is the ultimate victor. Through these collections, Jim Liestman's skillful use of color enhances the viewing experience, showing, as one of his galleries is entitled, All Things Bright And Beautiful.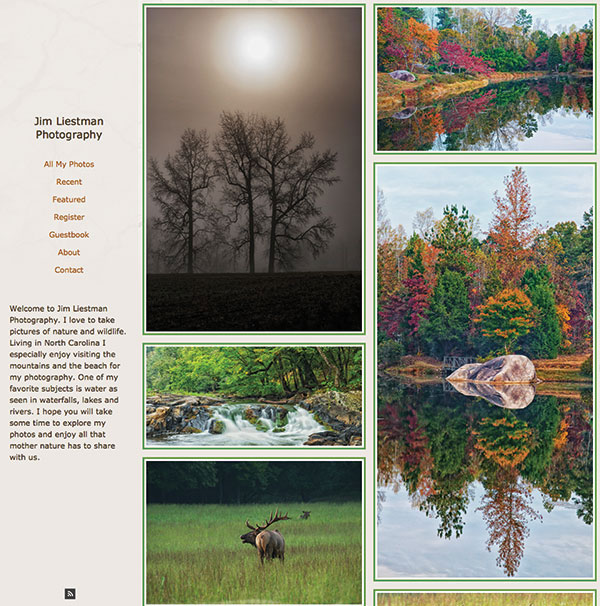 http://lightanon.com
The understated design of Steven K. Parrott's website hides the exploratory and experimental and, dare I say, playful nature of the images contained within. His Gallery contains 15 collections of images ranging from multiple exposures with Holga cameras (The Holga Pool) to the Revolog Scratched Negative Study, where he revels in images of decaying and dilapidated buildings that are a counterpoint to slickly produced architectural images.
Tip: Revolog (www.revolog.net) is an Austrian company that hand makes special effects films and that tip alone made my visit worthwhile.
While his images in Portraits may be traditional, others, as in Cryptic Playdate, take on the type of "baby doll" portraits epitomized by the work of the late M. Richard Kirstel in the 1970s. But here Parrott puts his own spin on the imagery that is both bizarre and representative of his matchless view of the world. Clearly, Parrott is in the running as the Mr. I. Magination of photography, but his obvious joie de vivre in creating oft-brilliantly conceived images shows that he is also an artist in the finest tradition of creating art purely from the imagination. If you're a "pretty pictures" kind of photographer you might not get what Steven K. Parrott is trying to accomplish, but the world of photography is a big one and encompasses all kind of genres, including some, like these, that nobody has yet thought about.
Joe Farace invites Shutterbug readers to visit his websites, including www.JoeFarace.com and www.JoeFaraceShootsCars.com, which also includes a blog with tips on photographing cars and motorsports.
FEATURED VIDEO