Selling Through Galleries; Charting A Course For Making Fine Art Photo Sales
As the markets for both consumer and commercial photographers keep warping and changing, many photographers are looking for alternative revenue paths. A fine art photographic sale by a gallery always gets high interest from photographers, but what about the gallery owner's perspective? What factors influence their choice of the photographers they represent? How do owners view fine art marketing presentations? What can you do to follow-up?

First, some background on the venue. Galleries are the "brick and mortar" storefront operations in fine art, and they usually sell to individuals, private collections, and corporate collections. They can offer interior designers or others a small discount when the purchase of the art is not for the buyer himself or herself, but for resale to their clients.
Wyatt Gallery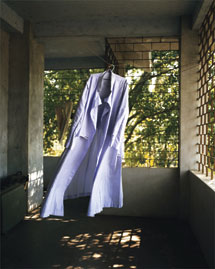 Priest's Robe, Kerala, India from the series Spiritual India. LightJet print, 66x96" (167.6x243.8cm).
© 2006, Courtesy the artist and Charles Guice Contemporary, All Rights Reserved
Many galleries now have websites on which they post their catalogs to draw attention to the work. Most large urban areas will have large and well-established galleries, but that doesn't mean you should overlook the smaller regional and local galleries. Some towns will be home to several galleries.

"Fine art colonies" are the home to dozens of galleries in one location, often a quiet and remote area where artists have congregated. Examples include Santa Fe (New Mexico), Taos (New Mexico), and Concord (New Hampshire).

When you are looking at galleries, check out their level of involvement in their community. Although primarily concerned with providing a space to show works of art, galleries are sometimes used to host other artistic activities, such as concerts or book readings. These interactive and entertaining events are often combined with a fine art exhibit to enhance and increase the "foot traffic" audience plus help increase the chance of sales.
Joy Gregory
My Feet, Cinnamon House from the series Sri Lanka: Interiors. Chromogenic color print, 16x20" (40.6x50.8cm).
© 2005, Courtesy the artist and Charles Guice Contemporary, All Rights Reserved
Next, you have to do some homework before you approach a gallery. Most fine art photographers choke up merely at the thought of walking into a gallery because of a lack of preparation. Preparation and planning will give you the resolve and even the confidence to start selling yourself to a gallery. Also, when you visit a gallery, take the time to check out the basic architectural aspects such as layout, traffic flow, and, of course, lighting. Collect and review their promotional materials and reception invitations, anything that will give you a sense of their businesslike approach to art. Finally (and this is extremely important), talk to their staff to determine how considerate and helpful they are to visitors.

FEATURED VIDEO