The Family Portrait Business: Getting Going And Then Growing
The past few years have witnessed many challenges to those who want to earn money with their photography for both full-timers and those who use their talents to earn extra income. One area that has remained strong, indeed grown, is the family portrait business. Photographers have seen the need to adapt to changes in their clients' expectations and tastes and, as importantly, the changing pace of technology. In addition, there are important marketing considerations that contribute to success as well. In this article I talk with Kim Campbell, Orit Harpaz, Vonda Hussey, and Michelle Tricca to gain their insight on the family portrait business. Please use the "Web Resources" listed at the end of this article to help you visit their websites so you can see more of their dynamic and exciting work.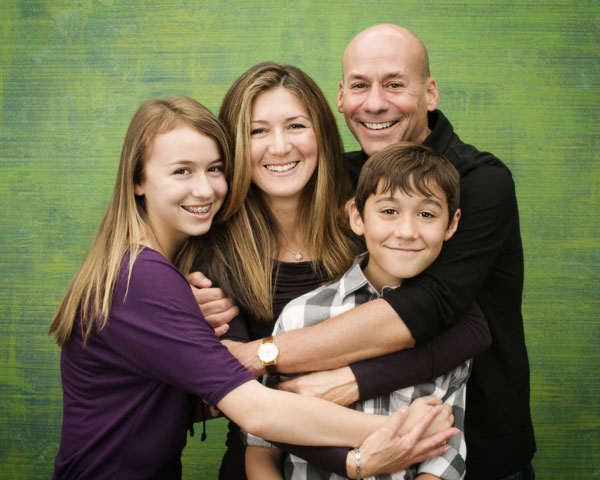 Shutterbug: Many of today's portrait photographers began with photography of family and friends. Once they hone their skills they might consider "going pro," either full- or part-time. Any advice on the next steps to take?
Vonda Hussey: When I first started out I reached out to my network of friends through church, Girl Scouts, and business acquaintances. I offered to come to speak to the PTA groups while offering special discounts to their members, and through talking with these groups I found out what special shoots fit their needs, and I offered those to them. As the word spread I secured small private preschools and a performing arts high school for high school seniors, and that gave me a base of people who knew my name. Now after seven years, I rely mostly on word of mouth and social media.
Kim Campbell: If you are interested in building a photography business you have to have a portfolio that showcases your style of photography, and that's where friends and family come in. Very few families will turn down a free photo session to help build your portfolio. Those same people can become your sales force. If you do a good job for them they will tell their friends and family.
Contact local networking groups and see if they have a need for a photographer. You'll find parents and business owners in networking groups who often have need of photographers. Find a local coffee shop or store that serves the same demographic you covet and ask if you can put up a display of portraits or run a raffle at the counter for a free photo session. Start building a mailing list with those contacts.
Lastly, don't rely on the online shopping carts to bring you big sales. Professional photographers know that there are a lot of factors that go into a sale. If you are doing sales yourself (do not let the web be your salesperson) you need to be comfortable receiving payment for the service and products that you provide. Think beyond the cost of a print. You need to figure out what your true costs are to run a business and price your products accordingly.
Orit Harpaz: One of the ways I acquire new clients is by working with another local business that advertises my photography in their space. I work out of my home so I don't have the advantage of a studio space with signage and walking or driving traffic. When I first started in family portraiture, I approached the owners of a business that offers children's art and music classes as well as an indoor play space. I have framed prints hanging on their walls. During holidays, I offer "mini-portrait sessions" which they advertise to their clientele. In exchange for advertising my business, I service all their photographic needs for their own advertising. It's a wonderful relationship with mutual benefits.
Michelle Tricca: For me, it's attraction and referrals. All of my work comes via word of mouth or by people seeing my work and hiring me based on my style. Families are always growing, so from year to year, as marriages happen and babies are born, I'm fortunate to be remembered when they want updated images of their expanding families. I live in a vacation destination. Naples (Florida) has an abundance of retirees whose kids vacation with their young families and who hire me year after year to document their growing brood, mostly at the beach. They hear about me from my past clients, see photos, and want the same feel brought to their images when they come to the beach.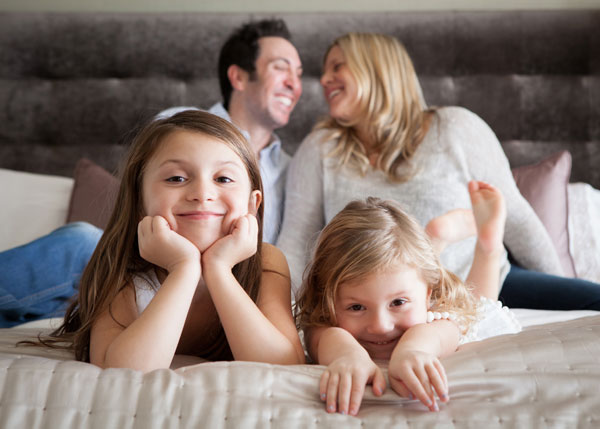 SB: What skills, temperament, or proficiency (other than photography) do you think a family portrait photographer has to develop for a successful business?
Michelle Tricca: Patience: the ability to put your subject at ease. Psychology: children can get cranky; adults can get impatient. You have to get into their psyche and get them to like you. Have fun. Be as goofy as you can. Photographing families can be stressful; the experience gives me permission to bring out my inner goofball. It's all about making the client feel good about themselves. Provide an experience they'll remember and images that touch them. Value: you've got to value your work to attract the right (paying) client. If you're not charging adequate rates and being paid, you're not earning a living. You also need to value your client. Make them feel important by returning phone calls and e-mails promptly. Find out what they want. Let them know what you will do for them.
Kim Campbell: Do you enjoy people? Can you make strangers feel at ease quickly? Are you good at giving directions? Can you memorize people's names? Are you patient? If you answered "yes" to these, then you probably have what it takes to work with people as a portrait photographer. These are all really helpful skills.
Also, you need to embrace technology. There are a lot of tools that have made a photographer's life easier, studio management software, sales software for presentations, websites, and social media. We've been in business for 18 years and I still remember printing paper newsletters to mail to clients on a quarterly basis. Now I can sit down and generate a well-crafted newsletter in a few hours and mail it with the click of a button.
Orit Harpaz: When I tell people that I photograph children, I usually hear, "You must have a lot of patience." I actually feel that more patience is required taking photos of a nervous bride on her wedding day than taking photos of kids. More than anything, you have to have a calm temperament, be skillful in the art of silliness, and be proficient in going with the flow. Often parents have a preconceived idea of how they want their family portrayed in a photograph. I try to assure parents that their children are beautiful regardless of whether they smile or not. Each stage of childhood is unique and documenting age-appropriate behavior is in large part what creates more authentic and emotional images.
Vonda Hussey: First, you must love people, to talk, to interact. I also think it helps to have an open heart so that you can see every family, child, or teenager that comes to you, in whatever place they are, as loving and whole and perfect, even with all their imperfections. We all have flaws, and that is what makes us rare and unique. I have had families come to me and during or after the shoot I find out all sorts of thrilling, sad, and unique circumstances they have faced or are currently facing. I fall in love with every one of them for their love for one another, and their strength. One thing I think I do well and makes people so happy with their images is that they have a lot of fun when they are with me. I do my best to make their portrait experience one of connection to each other. They walk away arm in arm, laughing and talking. Often I hear, "This was so much more fun than I expected."
On the business side, you must be organized and be able to get the correct product in your customer's hands in a quick and simple way. That is your last contact with your client until the next time; it must be delivered on time or even early. That makes a best last impression, so they will come back. That is why great staff is so important and I openly and regularly appreciate Carley Blackmon-Yonkman, my studio manager, and her attention to detail and efficiency.
SB: What has been successful for you in terms of marketing efforts?
Kim Campbell: You can't rely solely on a traditional approach or social media marketing tools. You need to have a mix of strategies and a way to track their success. I use SuccessWare software (www.successware.net) and I note where each inquiry comes from or if they are a returning client. This same software can tell me which marketing strategies garner the highest sales averages. That lets me know how effectively my advertising dollars are being spent.
I also have displays in local businesses, signs outside our own studio, and business cards in the wallets of all my staff and friends. I give clients "social media pictures" branded with our logo that they can use on Facebook, LinkedIn, and Twitter, and that carries our brand further into their personal networks.
I am always open to new marketing campaigns and ideas. I watch videos on creativeLIVE (www.creativelive.com) to see what other pros are up to. I go to the annual PPA (Professional Photographers of America) conference to better understand trends and tools available. I recognize if something is not working that it's okay to just stop doing it.
Vonda Hussey: I have found that direct mail doesn't work anymore. I placed ads in local magazines for two years in the beginning; they are very expensive and I found that I didn't get direct business from them. My website is an absolutely essential basic tool for information. My Facebook page seems to be the way to get out regular fresh images and keeps my name in front of my clients and their friends.
Orit Harpaz: Getting new clients is more difficult than keeping old ones. A lot of my marketing is directed toward the clients I have already photographed. I use e-mail blasts (hosted by MailChimp, http://mailchimp.com), social media, and a blog with current portraits and events. Word of mouth from other happy clients is the best form of advertising.
Michelle Tricca: Marketing is marketing. Use everything you can. I show my work to anyone who will look. I own and maintain a fresh website; I'm constantly updating my recent work. I've found social media to be a valuable and fun tool to stay connected and present. I let people know that I appreciate referrals. I send press releases to local and national media about my photography events (photography exhibits and personal projects). Once you choose a marketing tool, don't abandon it. Be inventive, do something different.
In 2011, I produced "A Face in the Crowd," a public photo mural where I photographed 900 faces in the community and plastered them to the side of an industrial building. This was basically my portfolio visible to the public for nine months. This brought me a lot of recognition and I'm still booking work from people who were a part of it or heard about it. Stand apart. Develop a niche. It's great when someone can look at a photograph and know "Michelle Tricca shot that."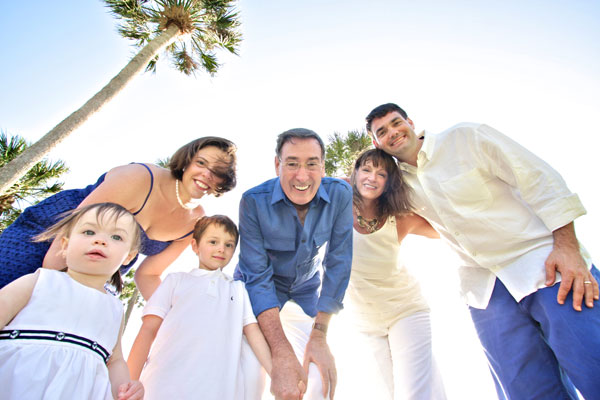 SB: What final recommendations do you have for those looking to get into family portrait photography as a business?
Kim Campbell: I would tell people not to quit their day job. You can't expect to start making a profit the first couple of years because you have to plow so much of your earnings back into your business for equipment, advertising, backgrounds, software, coffee, etc. So many photographers and artists struggle with the business side so it's important to join PPA and take business courses right away.
Don't borrow a lot of money. You are entering a highly competitive field and you may find there is more work than reward for the first couple of years. Make sure you like doing this and want to commit for the long haul before transitioning to making it your day job.
Opportunities abound within your own personal network. Talk to friends and families to find out about potential jobs. Be willing to do anything because it will give you much needed experience. For example, you may find that photographing homes for realtors sounds like a drag but you may discover it to be relaxing and peaceful.
Vonda Hussey: From the photography side: show images on your site that reflect a connection and candid moments, but always include a traditional image as well. From the business side: make sure your workflow includes some sort of preview for your images that has a built-in way to keep the proofing and choosing and purchasing process flowing toward a closure. Offer regular mini-sessions that allow families to do a small update every year. Even if they do not book a session it gives you a reason to keep in contact and it keeps you in their thoughts that time is passing and they need to come in again soon.
Orit Harpaz: Making people comfortable enough to be themselves in front of a complete stranger looking through a lens is a skill that comes with experience and time. You have to keep getting yourself out there, plugging along, shooting everything and everyone in every situation you can. With time, it will be inevitable that you will develop your own style.
Michelle Tricca: Avoid people shopping for a bargain. My ideal client is someone who wants to hire "Michelle Tricca" to photograph their family for a candid, unscripted approach to making images of them. I infuse fun and this awareness comes from the consistent feedback I've received throughout the years from new and repeat clients. When clients are left with positive emotion as a result of working with you, they'll likely hire you in the future and refer their friends. I appreciate my awesome clients who respect my work and acknowledge that by not negating my rates. They respect and value photography. They proudly publish my images to social media with photo credit and proper attribution.
Do not fall into the trap of working for "exposure" or a "cheap rate" in the hopes it'll bring you future work. It doesn't. Once you work for unreasonable rates, this sets your value and people will expect discounts and you'll be tagged as the bargain shooter.
Opportunities I recommend: referrals! If a client has a great experience with you and loves their images, they will refer you. The referees are usually clients who will already have a trust in you at the onset of the shoot. They know, via what they've heard or what they've seen, what you'll do for them. Take up opportunities to join professional photography forums, both online and in person. There are many creative and business photography groups operating with the goal of keeping the business aspect flowing with integrity.
Web Resources
Please visit the photographers' websites for more on their work and approach, plus if you need a great photographer in your area!
Kim Campbell
www.campbellsalgado.com
http://aphotographerswonderland.com
http://campbellsalgadoseniors.com
http://myfotoplayground.com
Orit Harpaz
www.oritharpaz.com
http://oritharpaz.tumblr.com
Vonda Hussey
www.onelastmarble.com
www.facebook.com/pages/One-Last-Marble-Inspired-Photography/288892091176637
Michelle Tricca
www.michelletricca.com
www.facebook.com/MichelleTriccaPhotography
FEATURED VIDEO