On The Road: Making A Difference: The Rewards Of Extra Effort
The picture of the Buddhist nun drinking tea in the Drepung Monastery in Tibet was going to be perfect. The light coming in through a window behind her was capturing the texture of her skin and casting a glow on the tea and the rising steam, and from my training in studio photography I knew how rarely light like this happens in real life. But by the time I'd asked for and received permission to take the photo, the moment had passed: she'd finished her tea and was about to move from the light. So now, along with permission to take the photo, I had to get permission to recreate it.
When I see something like this happening, I have to capture it. Something different is always worth extra effort, and as a travel photographer, something different is what I'm looking for. No matter how exotic or unfamiliar places, people, or cultures are, I need to find a different way to picture them so that my photographs attract, if not demand, attention. That's just the nature of the business: my photos have to set me apart; they have to tell better stories than simply, isn't this interesting?
The best pictures happen when I can photograph people doing what they naturally do, even if I sometimes have to ask them to recreate the moment. My aim is to make my subject in some way representative of the place or the culture, and making those images distinct can involve lens choice, lighting, point of view, perspective, or background.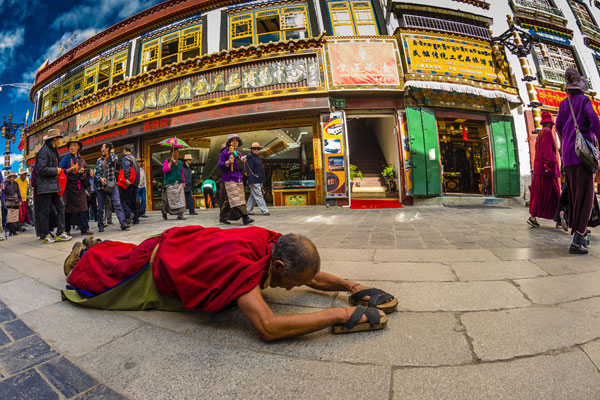 First I make sure there's nothing extraneous in the frame to take away from the story. After all this time, knowing what to exclude is pretty much second nature for me, and I compose and frame by making quick decisions about where to stand and what lens and what focal length to use. Sometimes I have my subjects' full cooperation and can choose a location for them, but much more often it's where I choose to stand that makes the image successful.
For the picture of the three young novice monks, for example, everything I did involved a deliberate decision. There's a bit of background, but the clean composition calls attention only to them, and it leaves you wondering: what are they looking at? What are they doing? I could have composed the photo to answer those questions, but in this case I wanted something other than a picture that told the entire story, so my position, the focal length of the lens, and my composition were chosen to keep the questions about this real moment unanswered.
For the photo of the Buddhist monk prostrating himself on Barkhor Street near the Jokhang Temple in Lhasa, Tibet, I took an opposite approach. Here the background was very important, and I used a 16mm fisheye lens to include as much of it as I could to depict what we might think of as strange behavior, but which is, in fact, quite normal for this area, where these devotions of monks and pilgrims take place each and every day.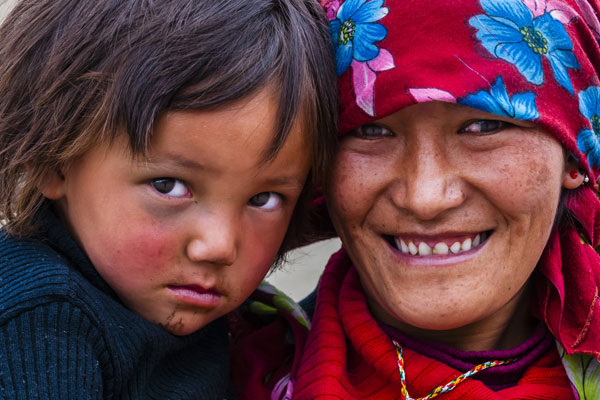 The image of the eight Muslim schoolgirls in Kashmir, India, was a tough one to get. I kept watching, and with a 70-200mm lens was able to keep my distance. Eventually they formed this little huddle and were all doing something different, giving different looks and attitudes. There was no way I could pose an image like this in that situation, and what made it work was simply the persistence and patience to wait for what I wanted—and what I wanted was something different.
All the pictures here are from a recent trip I took to Asia—I call it a journey around the Himalayas—and I believe that every one has an element of difference to it, and also that in every one the people were comfortable with me being there. I know that I was confident and comfortable with them, even if there was a language barrier. In those moments when I made the pictures, their focus was on me and mine was on the feeling I was getting from them. Believe me, that too makes a difference.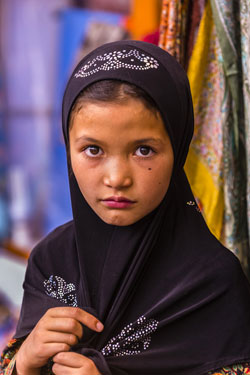 A selection of Blaine Harrington's travel images can be viewed at his website, www.blaineharrington.com.
FEATURED VIDEO