Reporter's Notebook: Out Of Sight: Robert Beck's Infrared Views
Who: Robert Beck, staff photographer for Sports Illustrated.
What: Infrared (IR) photography.
When: "The editors give me some leeway," Robert says, "but I'm not going to be using it for a decisive putt."
Where: Golf courses all over the world.
Why: Although the job calls for capture of the peak moment, the turning point, the key play, the tense concentration, the moment when the athlete's body language gives it all away, there's always the professional and personal challenge to do something different.
How: With a Nikon D700 modified for infrared photography.
Additional Notes:
• Definitions. Infrared is light beyond the visible spectrum, just beyond the red of visible light.
• Robert's IR intro. "I don't recall seeing anyone else's golf infrared, but I do remember that the first IR I saw of sports was by Chuck Solomon, who shoots a lot of baseball for SI. He'd done IR at training camp. I remember seeing the grass gone white and the sky gone dark, and that's when I caught on: grass, sky…well, we have a lot of that in golf, and those are the things that infrared alters the most. Once I took some frames, it was kind of a no-brainer."
• The camera's modification. Robert sent his D700 to Life Pixel in Mukilteo, Washington. They removed the low-pass filter from in front of the sensor and installed their deep black-and-white IR filter in its place. Nice video, lots of IR imaging info at their website, but they're certainly not the only company doing IR conversions. Google of "infrared camera conversions" brought half a million hits.
• The focus factor. Camera lenses are made to focus correctly for visible light, but for infrared photography the sharp-focus point is a bit farther away. Life Pixel spokesperson says, "Every lens behaves differently. The viewfinder can be lying to you. You think you're focused in on something, you take the picture and find something behind your subject is sharper." Life Pixel changes the camera's point of focus "to correspond to the wavelength of IR light." They'll adjust a camera for the lens that's sent with it, or do a "universal calibration," which is popular with cameras that offer Live View. They calibrated Robert's camera to an 18-70mm DX Nikkor lens—but Robert often uses a 24-70mm FX Nikkor, sometimes a 70-200mm. "I'm not caught up in the technical aspects of IR—at least, not too much," Robert says. "I knew there was a focusing issue, and I solved it by going with greater depth of field, like f/5.6 or f/8, which will give me enough latitude."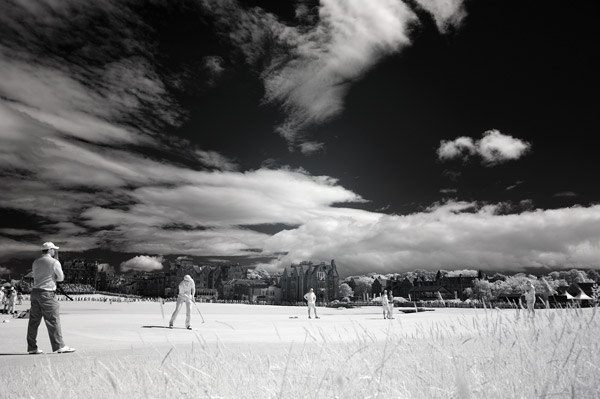 • Tech considerations. "IR doesn't work well on overcast days," Robert says, "and I won't shoot backlit with IR. It doesn't react to backlighting very well. Pictures are likely to have a lot of flare and hot spots. It can look really dreamy and whacked out, and some may like that, but it's not what I'm trying to accomplish. Sidelighting isn't as bad as backlighting, but I'll try to go frontlit anytime I can. When it comes to setting the camera, at this point I know what's what, and I often open up a stop from the meter reading. I'll look at the LCD to be sure I'm in the ballpark."
• Locations. "I don't have to make big adjustments hole to hole; it's more course to course…some courses are just brighter than others. On the first day or two of a tournament I'll see places that might look good for IR shooting. I'm thinking, how can I compose the picture? Because with a wider lens you need something that reads a little closer to the foreground and leaves room for the sky and trees; the elements have to fit the format of the wide angle."
• Alternatives. Other ways of doing digital IR include putting a filter that blocks normal light over the lens, but that'll require a tripod and long exposures in order for infrared light to register on the sensor. You can create an infrared look to images using post-processing software; graphically interesting, but Robert says "it's not the real thing."
• Caveat. Different cameras with different sensors mean different sensitivity to IR. Best to check with the manufacturer of your make and model for info about suitability for IR shots.
• Impressions. The sky can look menacing in IR photographs; so can tall trees. Infrared seems to convey a sense of emotional isolation of the athlete. Is there menace in the press of the crowd, the familiar forms and stances against the strangeness of the background? Tiger looking down the fairway: a whole other dynamic; lurking expectation, the unknown distance. Okay, don't get carried away…it's just a game.

LATEST VIDEO