How to Photograph Tennis: Tips from Professional Photographer Ella Ling at the U.S. Open
With the U.S. Open tennis championship reaching its exciting conclusion this weekend, we caught up with a pro photographer who is currently covering the Open to get her tips on how to photograph tennis.
In the Q&A interview below, we ask pro sports shooter Ella Ling, who sells her images on Shutterstock, for her advice on how to capture killer shots of tennis players in action. Read on to find out what she told us. You can see more of her work on her website.
Q: What are your recommended camera settings for shooting tennis?
Ella Ling: It's really hard to say, there is no single setting that I stick to. My camera settings are constantly changing because of the constant movement and changing light conditions.
Q: What's your favorite lighting for tennis?
Ella Ling: Natural sunlight is usually best. While it can sometimes get warm I've captured so many amazing shots just because of how the sunlight is hitting the athlete like this one of Naomi Osaka from the Australian Open. The magic hour for me is when the shadow starts to come across the court and we can shoot the player in the evening sun with shadow in the background, creating a stark contrast and beautifully clean images.
Q: How much flexibility do you have in terms of shooting positions? Do you have to spend the whole match in one small area, or can you move around?
Ella Ling: This depends on the tournament. At Wimbledon they are quite strict with shooting positions and we don't have the flexibility that we might have at other Slams. There are certain spots on each court where we are allowed but outside of those, we are forbidden. From the Semi-Finals onwards, we are each allocated a seat which we are supposed to shoot from the whole match.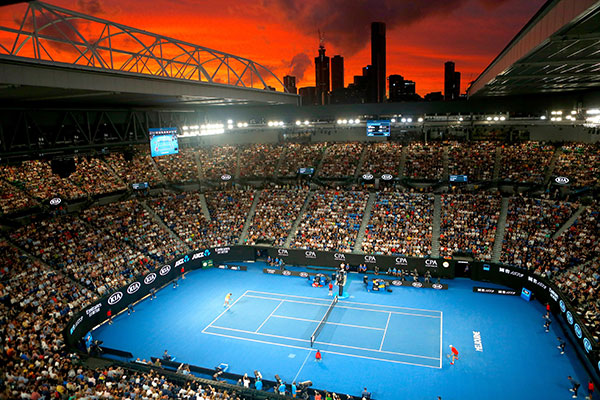 Q: Is there a particular camera you like for shooting tennis? What lenses do you use and why?
Ella Ling: I use two Canon 1D-Xs and my go-to lenses that I carry around are the Canon 400mm f/2.8 Mark III and the Canon 70-200mm f/2.8 Mark II. They are the most useful to have as they basically cover all bases, both tight action/details and more full-body/ambience shots, without having to change lenses which is time-consuming, and you end up missing shots.
Q: Do you know players' style of play well enough to anticipate particular shots?
Ella Ling: For players that have been on the circuit for a while, I think photographers start to pick up on certain trends in how they play and move. For example, Nick Kyrgios is known for his underarm serve and the power in Serena Williams' serve is always amazing to shoot. Other examples will be Rafa's forehand follow through and Federer's backhand from certain positions on the court which only those who have experience shooting will be able to predict.
Q: Who is your favorite tennis player you've ever photographed and why?
Ella Ling: Having been a fan of the sport for as long as I can remember, it is really tough for me to choose a favorite player since I have the opportunity to shoot so many amazing athletes. Rafael Nadal always provides great action, power, emotion and details, as does Serena Williams.
I'm also lucky to shoot a sport like tennis where you can see so many rising stars make their way to the top. I'm a huge fan of Naomi Osaka. I especially love shooting her with her hair down, as it looks like it's on fire when shooting her backlit, creating some really stunning images.
Q: What's the biggest challenge with shooting tennis?
Ella Ling: The biggest challenge is competing with other photographers to get that one of a kind shot. At big tournaments like the U.S. Open, there are tons of photographers all fighting for the best pictures. My tactic is to not always follow the ball. I'll take shots of the crowd, or of the opposition player waiting for the ball to land in their court to get unique photos that others might not think to take. I also love to play with the light and create more artistic shots.
Q: For photographers who aren't professionals, what key advice would you recommend to get them started with shooting tennis and sports in general?
Ella Ling: To get your foot in the door as an aspiring pro, you have to be prepared for long hours in a competitive industry. It's also a very competitive industry with no guarantees. I recommend reaching out to different agencies or photographers to see if they have internship opportunities as a start.
My advice for shooting sports action photography are:
1. Pay attention to what's going on around you and don't just follow the ball. Some of my favorite shots often happen off the ball so I try to make sure I'm thinking beyond strictly action shots.
2. Find a unique shot. I always try to shoot something non-traditional whether that be playing with the light, looking into the crowd or changing my angles around.
3. Don't follow the crowd. I think there's a lot of value in choosing your position if it's possible. It's a guaranteed way to get a shot that no other photographer will have.
FEATURED VIDEO