Pro's Choice; Richard Izui's Automotive Photography; Beyond The Ordinary
Automotive photography involves more than cars, although these vehicles make up the bulk of this genre. Automotive can also mean motorcycles and practically any motorized conveyance that hits the road. Tackling these vehicles may appear overwhelming at first, but not to veteran automotive photographer Richard Izui.
Client: Heritage Propane Express
Richard Izui's team arrived at 7am at the Heritage Propane Express facility in Gurnee, Illinois, ready to shoot this truck in the parking lot almost immediately, with a full day of photography planned. That included some vehicles on the road. The sunset was added in post. Periodic rain made shooting difficult, but overcast conditions reduced contrast to the point where no additional lights were needed here.
All Photos Richard Izui
Interestingly, Izui didn't start out shooting automotive. Having had a background working with 8x10 view cameras combined with his appreciation for the automobile put Izui in a good position to tackle a special assignment as a staff photographer for Playboy magazine. This assignment, his first in automotive, focused on the new generation of convertibles, taking him to different cities around the country. At the time, in the early 1980s, few people outside Detroit were shooting cars and Izui found himself developing techniques on the fly. Resounding success on that assignment led to a long-standing relationship with the magazine that continues to this day in his current role as contributing contract photographer.

Izui now runs Izui Photography (www.izui.com) in Evanston, Illinois (just outside Chicago, where he'd opened his first studio). Although we're focusing on Izui's automotive photography, this family-run studio continues to expand. In fact, Izui's studio has taken on numerous commercial and editorial assignments ranging from executive portraiture to products, food, and medical photography. In this endeavor, he employs his older son Clifton as digital artist/tech, with his younger son Daniel focusing on HD video capture/production—all integral to a successful studio operation today. Clifton also creates background soundtracks for the videos. Izui's wife Fumi is studio manager, accountant, and booking agent.
Client: Mini Cooper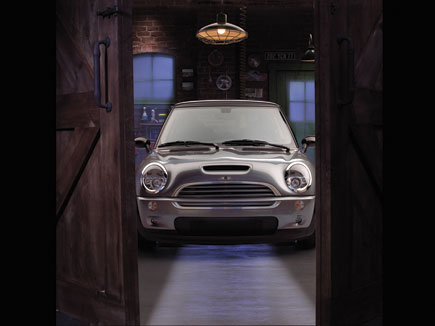 The original concept was to use a garage similar to one seen in the movie Sabrina to feature this sporty-looking Mini Cooper S for an ad insert. The more practical approach involved constructing a set at South Bay Studios, in Long Beach, California. The lighting had to hide the fact that this car had all sorts of test gear inside, with the windows spray-frosted. The complex lighting setup began with a huge Fisher overhead light bank with 16 Speedotron heads inside (running off eight power packs). Added to that were lights skimming the back wall, plus additional lights for the lower front end of the car, each bounced off 4x8-foot foamcore panels. Blue-gelled lights stood behind the windows to simulate moonlight, with additional gelled heads to create that shaft of light. To provide just a hint of light to the doors required additional heads, each tightly controlled. This composite image was captured with a Sinar 4x5 with a 60mm lens and a Phase One H 20 digital back. (Agency: Crispin Porter + Bogusky.)
The Automotive Studio
Often a key requirement in automotive photography is a sizable studio, one with direct access to the street so vehicles can pull in. Some photographers shoot cars and trucks largely on rental stages; others in their own studios. Yet others shoot mostly outdoors on location, and often on the road. Izui combines all these elements to deliver automotive images that present the vehicle in the best light, often focusing on lines and shapes and supportive backdrops.

Izui's own spacious studio will accommodate cars of varying size. In fact, the facility is broken down into two studios. One is fully decked out for automotive, complete with a large Chimera light bank suspended from the ceiling. That Chimera hangs above a corner cyclorama. The walls are painted white or off-white. "We painted the floor in a semigloss gray with a scuff-resistant coating so we can move the car around to shoot at different angles without having to retouch the paint every time. It just wipes clean," Izui noted. The walls also act as reflectors, bouncing light back into the sides of the vehicle.

Another studio at the same location is designated equally for cars, motorcycles, products, and people. Izui will add a green screen behind a bike, for example, so that he can create more dynamic images by compositing different backdrops from an extensive collection that he has compiled over the years.
Client: Chicago Harley-Davidson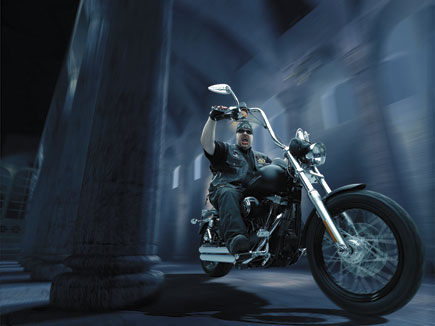 Richard Izui came up with a concept featuring Harley-Davidson bikes and their owners in a vampire theme. He produced this around the time when the teen vampire craze hit its stride. Integral to this shot was the creation of a Gothic cathedral interior in LightWave, a 3D-rendering application, as the setting. The biker was shot sitting on his bike in the studio, with a Hasselblad and a 28mm lens. Izui used a special support stand that keeps the bike upright but mounts underneath in a way that can be easily retouched out. The lighting involved the overhead bank plus two softboxes from behind to create a backlit effect to simulate the windows in the cathedral and one softbox frontlit for the chrome. In post, the wheels were spun to make them appear to be moving.