Pro's Choice: The Photography Of Jeffrey Totaro: Architecture On The Technical Side
Jeffrey Totaro (www.jeffreytotaro.com) didn't plan on becoming an architectural photographer. After graduating Drexel University in 1991, he became an architectural engineer. In his job, he found himself working alongside architectural photographers and was soon assisting them, until finally he found the allure too great and switched careers. Now he runs his own studio near Philadelphia.
Client: Wyant Architecture
A self-taught photographer, Totaro began with a Toyo 45C. He switched to digital at the end of 2004, shying away from the D-SLR in favor of the larger format, albeit 6x9cm, specifically an Arca-Swiss F-Metric, with a Phase One P 25 back. He had his Schneider 58XL and 72XL converted over, and then bought additional Schneider Digitar lenses. "But it just proved torturous to focus with that camera—just like with any bellows camera." His solution: a technical camera, which simplified focusing. Plus it was light and compact enough to take anywhere. He soon switched again, to a 4x5 Cambo Wide DS, and finally to the Alpa 12 MAX technical camera that he now owns. The move to this latest Alpa also meant buying an arsenal of new Schneider lenses, including the 35XL and 47XL, plus a Rodenstock 23mm HR, which is a super-wide. In the interim, Totaro had upgraded to a Phase One P 45+.
Client: Great Oak Holdings
"I still use rise and fall on the technical camera for the lens movement, along with lateral shift in the back—all of which are commonly used in architectural work. The movements that this camera system does lack is tilt and swing," Totaro notes. He gets around this shortcoming with the 35XL, a 35mm focal length that he notes is the digital equivalent of the 90mm from his 4x5 days, affording him the depth of field he needs. Totaro emphasizes that the reliability of the technical camera, knowing it's rigid and that the scene is perfectly squared off in camera, is more important than trying to add one degree of tilt.
Client: BLT Architects
One-Point Perspective
Totaro continues: "One-point perspective is a compositional tool that I use regularly. I find that, in spaces that have a lot going on, using a simple one-point perspective can keep the composition well balanced." He points out that, when shooting one-point perspective, it takes a little bit of trial and error to really nail it. "You start by squaring the camera off and lining up the shot as best you can, taking keystoning out of the equation." Toward that end, he uses Capture One software when shooting tethered, applying a grid to aid in controlling perspective and lining up the center of the shot in live view.
However, he may begin by availing himself of the viewfinder on the Alpa to simply gauge the composition, or, more correctly, the appropriateness of the lens. "I try to get the camera to fit what I'm seeing in my mind's eye. And I can fine-tune the composition from there once the camera is connected to my Mac laptop."
Client: KlingStubbins
More Pointers On Perspective
"When composing an architectural shot, camera height, along with lens choice, is very important," Totaro observes. "Sometimes I'll keep the camera pretty low, at least lower than eye level. A wide lens at my eye level can look like I'm 10 feet tall in the space, adding unwanted shape distortions to furniture or other surfaces."
Then there are times when you need to go higher. Totaro finds his giant carbon-fiber Gitzo tripod especially useful toward that end, allowing him to view the scene from an elevated perspective. He usually stands on a stepladder atop his minivan to reach the tripod's full 9-foot height.
On his tripod Totaro uses the Arca Cube, which is a geared head. "The Cube is nice because it's quick and easy to use, and there are no handles sticking out from it. What's more, it's very precise, which is what I especially like about it for architectural work."
Client: Keast & Hood Engineers
Choices In Lighting
Totaro works with a mix of lights, following the time-proven dictum: strobe for daylight, hot lights when daylight is not the predominant source. His primary strobe system centers on 1000 ws Dynalite power packs, but he also uses a Profoto Acute 2400 ws system on occasion. His hot lights include Arri and LTM Peppers, along with Lowel Omni-lights and Tota-lights. Plus he fashioned his own incandescent lights from 10" reflectors purchased at a hardware store, which he uses in combination with photo clamps. He employs these as accent and edge lights, for instance to kick some light into the back of a chair so it doesn't become a distracting black void.
He accessorizes his lights with a range of light shapers, including barn doors and snoots, softboxes, and diffusion scrims. He has even used umbrellas to light the side of a house. Totaro triggers his strobes with PocketWizards. And for outdoor shots, he brings along 250 feet of extension cord, but he'll rent a generator when he can't access power at the site.
Client: Voith & Mactavish Architects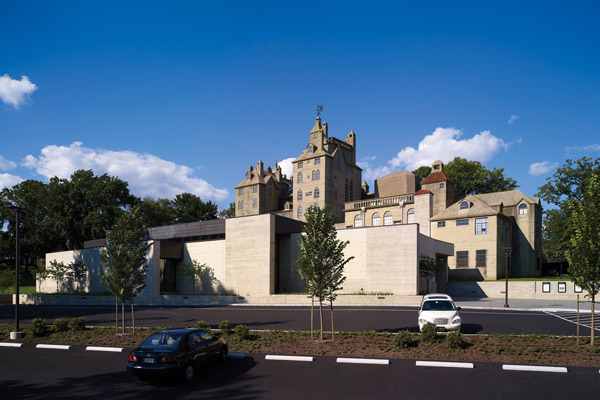 When it comes to white balance, he will often use an ExpoDisc (www.expoimaging.com), applying it in Capture One. Given that many architectural exteriors are shot at the Magic Hour, he adds: "It's inappropriate to use that tool when shooting at dusk because you want the sky a little cooler."
Totaro mused that shooting digital has made a world of difference in his architectural photography. "When shooting film, you had to watch for every reflection, light, and cable. Each shot took considerably longer. Today, shooting digital saves time in setting up the shot at a location, but, of course, you end up spending hours retouching and compositing to bring each shot to its fullest potential."
For more information on Alpa technical cameras, visit: www.alpa.ch. For more information on Phase One digital backs, visit: www.phaseone.com.
FEATURED VIDEO