Pro's Choice: Paul Aresu Takes Sports To The Next Level: Capturing Dynamic Moments With Skill And Imagination
"I started in my father's darkroom, retouching negatives at 5 years old," recalls New York City-based photographer Paul Aresu. "My father was a wedding photographer, with 10 studios and maybe 50 photographers working under him." In his late teens, Aresu was already shooting weddings for his dad. "It grew from there." He achieved a BFA from New York's School of Visual Arts and went on to assist Pete Turner and Tom Arma for several years. "I learned a lot about the business from them."
Client: Pepsi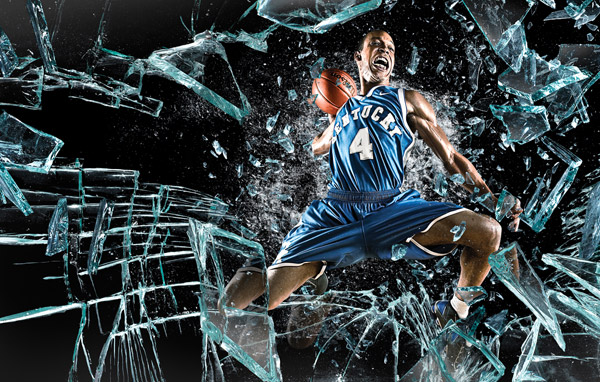 His dad started him off on Rolleis, but Aresu moved from the twin-lens to the 35mm SLR when in college, specifically an Asahi Pentax. "Then I switched to a Nikon F, and then an F2. I loved those cameras." In his formative years, he also shot on Toyo and Sinar 8x10s, for still life. He also proudly boasts a mint collection of vintage cameras.
But before long he veered yet again, in the direction of Canon EOS cameras. And when it came time to make the switch to digital, his course was set: the 1Ds. "I liked the AF system in the EOS cameras, for sports." Sports has long been a passion and an integral component of Aresu's portfolio. He now owns the 1Ds Mark III, along with a 5D Mark II for video. "All my print ads are shot with the Mark III. I need the large megapixel output for billboards." He also owns a Hasselblad with a Phase One P 45+ back. "I use it more for studio portraiture."
Client: Under Armour
While Aresu favors zooms for his workhorse 35mm-style cameras, his Canon lenses do include some fixed optics (14mm and 50mm f/1.2). His preferred lens is the 24-105mm IS. Aresu prioritizes depth of field over low-light capabilities in a lens, which explains his preference for the f/4 version of the 70-200mm over the f/2.8 model, though he owns both.
"I very rarely use a tripod. I like to move around and explore the angles. For what I do, tripods inhibit really good picture taking. And it especially doesn't matter when I'm using strobe. Even with the Hasselblad."
Aresu always shoots tethered to a Mac laptop, whether in the studio or on location, using Phase One's Capture One software. His studio houses nearly two dozen computers. But he largely leaves the compositing to digital artist Mike Moskowitz ("he's a genius"), among others who he works with closely, art directing each project in infinite detail.
Client: Under Armour
The Studio
Aresu owns a spacious 4000-square-foot studio in New York City. That gives him plenty of room to shoot, while dedicating space for makeup and dressing rooms, a client reception area, photo gear stowage, computer workstations, and an office.
The client is practically always on set—whether in the studio or on location. Aresu usually has 20 to 30 people on every set. "Given the flurry of activity and number of people, it feels like we're producing a movie every time we shoot."
But on occasion Aresu also rents studio space, even in town. For instance, a recent shoot involving famed football star Eli Manning required special accommodations. "I needed an even bigger space, in this case Bathhouse Studios (www.bathhousestudios.com), located in New York's East Village, for the large number of people involved. Plus this affords the client a completely private area. We also wanted to be able to drive into the studio so no one would see him coming in."
Client: Under Armour
Lighting
On assignment, Aresu approaches lighting with a practiced eye. For sports in particular, he follows certain norms that he's established over the years, which give his subjects form that reflects their physical stature and appearance. It's become a trademark.
Does Aresu approach a subject in the studio differently than in the field, when it comes to lighting? "Sometimes, in the field, I won't light the subject as much. I will use a lot of ambient light mixed in with strobes. I will use the sun for much of my sidelit shots, and use that as a rim light, and then add another rim light, a top light, front light, bottom light, and backlight. But I would use the sun—I would start off with that ambient exposure—let's say it's f/8 at 1/125—and then add light to that."
Client: Nike
To determine his exposures, a practiced eye again comes to the fore, since he hasn't used a light meter in "maybe 15 years." And of course the camera's meter is unsuitable when it comes to measuring studio flash. "Because we're shooting tethered, we don't need a light meter. We see the image right away. I'm so tuned in to the lighting that I know what a half- or even a quarter-stop looks like. So I can look at something and say, that's got to come up a quarter, or a half, change this, do that." When it comes to white balance, "we totally white balance everything using a gray card."
For his commercial work, Aresu largely turns to Profotos, which he owns and may rent when, for instance, he expects that a job would require as many as eight packs and up to 12 heads, which has happened, adding several assistants to move stuff around. He'll also rent Broncolors when shooting stop-action, so that he can take advantage of the ultra-short flash durations available in these strobes. "For instance, to get the shot of glass exploding (to simulate a basketball court backboard shattering), I needed a super-short duration strobe, and that's where the Broncolor came in. Power is dialed down to achieve these ultra-short flash durations." In conjunction with these powerful strobes, "I use beauty dishes, grids, softboxes of varying size, octabanks."
Client: Asics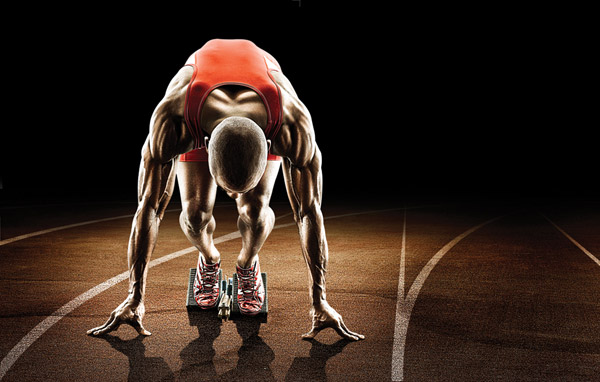 That said, "I like to mix it up. I shoot three or four jobs a week, so I have the opportunity to work with many types of lighting." That includes using Mole-Richardson hot lights (www.mole.com) and, on rare occasions, Kino Flos (flicker-free fluorescents—www.kinoflo.com), particularly in the studio, with stationary subjects.
The true professional, he's always open to taking a fresh look at lighting to suit a subject or assignment. Or on personal projects. That brings us to his use of Canon flashes—rarely on assignment, but mostly for personal work. For instance, one book he's working on involved photographing people in Brighton Beach (in Brooklyn, New York) entirely with on-camera flash. His use of flash here is an eye-opener, proving that shoe-mounted flash lighting does have a place in a photographer's repertoire—when used judiciously.
Client: Asics
As mentioned, Aresu involves himself with various personal projects, which almost invariably are destined to take book form. Aresu's latest coffee-table book is New York: The Big City and Its Little Neighborhoods, in conjunction with author Naomi Fertitta.
Client: Nike
To see more of Paul Aresu's work, please visit www.paularesu.com.
FEATURED VIDEO