Pro's Choice: Jeff Kauck Captures The Essence Of Food: The Assignment Dictates The Lighting; The Location Dictates The Camera
Chicago-based food photographer Jeff Kauck (
www.jeffkauckphotography.com
) developed his artistic eye through years of training as a watercolorist. While attending Central Academy of Commercial Art, in Cincinnati, where he also studied advertising, "I picked up my father's camera—a twin-lens Rolleiflex—and really enjoyed playing with it. And to help support myself through art school, I did a lot of color printing for a wedding photographer." But he soon realized that his time and talent were better spent on photography than painting. And Cincinnati proved to be the perfect location for a start-up food studio, since it was the home of Procter & Gamble, which became his first client, and a major one at that. But a larger market—Chicago—beckoned to him after 18 years, so he made the move and hasn't looked back.
Client: Salpicon (Chicago Restaurant)
"I shoot most of my advertising work here in Chicago," Kauck notes, "and my clients come here from around the country. But I also go all over the world on assignment, often for cookbooks, sometimes magazines. Or clients may want us to come to their facility or orchards. I even went to the jungles in Madagascar because the company wanted me to photograph vanilla that is grown in the purest and most unique forms. It was easy to track down, and real vanilla right off the tree is amazing!"
Trends In Food Photography
Kauck's years in food photography have given him a unique understanding of what works and what doesn't. He has observed that directions in food photography often parallel those in the fashion industry, though not always.
"High-key imagery with an ethereal color palette held sway in food photography for a while. Then the trend shifted to richer colors," Kauck observes. "One of the advantages to shooting high key is that it gives the client a neutral backdrop on which to place type, or which can be swapped out for another backdrop, such as a kitchen, especially when it comes to packaging." He continues, "In advertising there is a much greater need for an image to be used in many environments at the same time so a white or very light background is the easiest to reproduce and the most universal to use."
Client: Givaudan (Switzerland)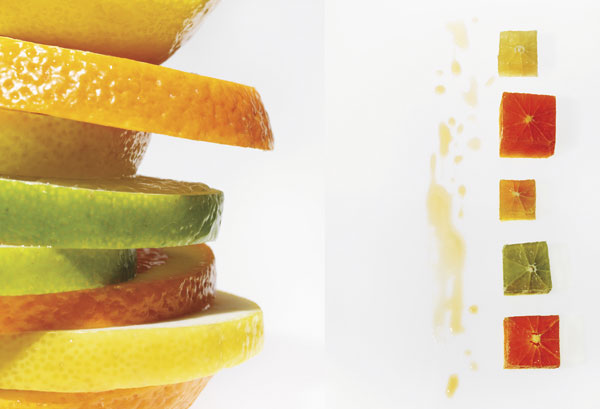 But trends don't always originate in one's backyard. Kauck returned from a recent trip to Spain with a different visual methodology. Chefs in Spain preferred their dishes set against a stark black backdrop and presented with hard edges. So he approached his next assignment in just that fashion, to the delight of the client.
Another recent trend involves selective focus, bringing the eye to focus on one point on that plate, then gently veering off. The other trend prior to that was what some call "dutching" the camera, where you're tilting the camera relative to the horizon to give the food a definable energy. And Kauck emphasizes that trends don't simply end abruptly. They may linger and mix—and, as with fashion, have a habit of returning, sometimes at a client's behest.
Client: Givaudan (Switzerland)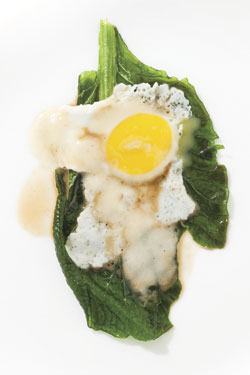 Switching Gears In The Digital Age
Practically all of Kauck's commercial work was shot initially with a Sinar, on 8x10 and later 4x5 when clients balked at the cost of the larger format, while also introducing a Mamiya RZ67 into the picture. But when he made the move to digital, Kauck also transitioned his gear in part to smaller formats, beginning with Canon, and switched magazines on his Mamiya RZ to an Imacon 22-megapixel back.
But he never really divested himself of the need to control depth of field through camera movements. Only now they would involve tilt-shift lenses on the Canon and a tilt-shift board for his medium format cameras. "So many times in a commercial assignment I have to be able to put focus precisely where a client wants it and take it away where they don't want it. And I don't like to solve that in Photoshop." He routinely tests his lenses for the "sweet spot" in terms of f/stop, which has led him to shoot most assignments at f/8 or f/11, or possibly f/16, depending on the lens and camera.
After a while, he abandoned the Mamiya in favor of Hasselblad. Currently his cameras of choice include the Hasselblad H3DII-39 and Canon EOS-1Ds Mark III and 5D Mark II (which he also uses for video).
Client: Givaudan (Switzerland)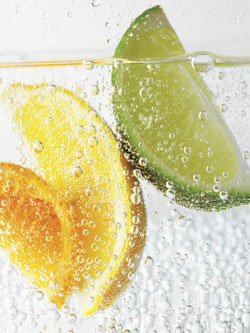 In the studio, Kauck employs a heavy-duty Manfrotto aluminum tripod with a Manfrotto gear head. "I'm not a fan of carbon fiber. I feel a tripod should weigh a ton and essentially be like a big boat anchor." The reason for the tripod? "I always keep my ISO at 50 with medium format." He continues: "If we are shooting plated food (styled in a table setting), I mostly use a tripod." Available light images with the Canons are captured handheld when they involve spontaneous action or when shot back in the kitchen. "If I'm outside and photographing a chef or I'm moving very fast, shooting a cookbook on location, I would never use a Hasselblad because it just can't keep up with the spontaneity and the pace. And we may need the high ISO of a Canon while minimizing noise." Of course, the client, intended use, and situation are the final arbiters over which camera is used and how. The Hasselblad is shot tethered, using Phocus software. Lightroom holds sway with Canon captures.
Kauck owns an extensive range of lenses for each camera format. For the Canon system he has everything from a 17-35mm zoom to a 300mm f/2.8. And his tilt-shift lens of choice for the Canon is the 90mm TS, more so than the 45mm. He also favors the latest 100mm macro. Lenses on Hasselblad are equally extensive, but he notes that "tabletoppers, as we're called, have a tendency to shoot in that just-slightly-longer-than-normal range."
Client: Butter (Chicago Restaurant)
Choices In Lighting
In the studio, Kauck often relies on his Profoto Pro-7 system, although "we have a beautiful north light that I'll also use on occasion." The type of assignment normally dictates the lighting. Kauck explains: "There are essentially two food industries: advertising and editorial (which includes magazines and cookbooks). Editorial typically is shot daylight because the client wants it to have that natural feel, capturing the sense of the environment where the dish was prepared. But they also want it to look beautiful and appetizing, with the appeal of a dish presented in a fine dining experience.
Client: Butter (Chicago Restaurant)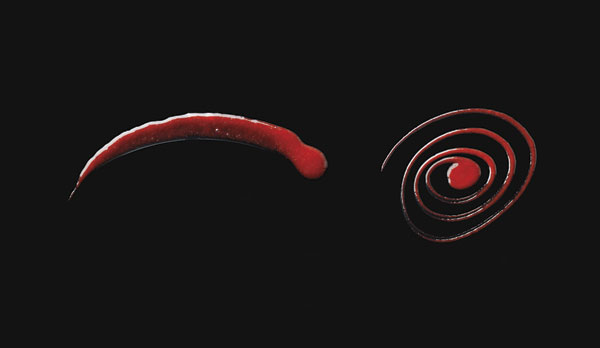 "My background as a painter dictates how I see the existing light, which may be streaming through a window." When additional light is needed, Kauck will bounce a strobe, using any available surface to simulate the direction and quality of natural light. When shooting strobe, he often prefers a beauty dish, sometimes using grids, and, in rare instances, an umbrella. He may also use HMI or tungsten lighting to capture movement through a longer shutter speed, for instance, while a chef is tossing pasta or grating cheese. For color balance he employs a Macbeth ColorChecker, making any needed adjustments in post. With rare exception, it all comes back to one overriding philosophy, as Kauck points out: "I try to keep my lighting as natural as it would appear in nature."

LATEST VIDEO