Pro Choice: Erik Almas Sees The World His Way: Clients Trust His Vision To Deliver Results
Erik Almas is truly passionate about his photography and will go to great heights to shoot a picture—literally. He and his camera have gone mountain climbing, skydiving, and flying in microlight aircraft. That said, most of his images are shot on terra firma.
Beyond that, he will spend upward of $10,000 on a personal project to create images he strongly believes in for his portfolio. The project may involve travel with a crew and hired talent and renting gear where needed. He does not believe in limiting himself or his creative vision, and his clients appreciate that.
Client: Personal/Genlux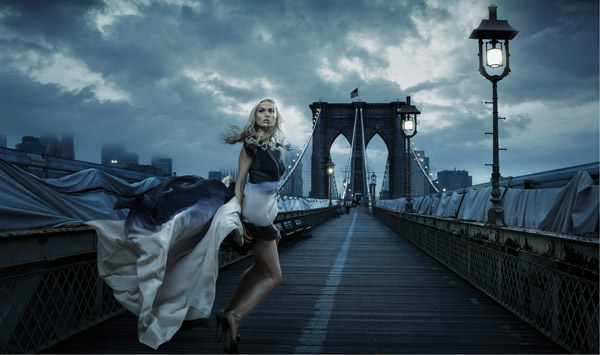 Almas approaches photography with an edginess derived from European photographers textured with an American temperament. He grew up in Norway, but realizing that he could best pursue his burgeoning photographic pursuits in the United States he moved to San Francisco, further honing his unique eye at the Academy of Art University. He then worked as a photographer's assistant for a brief period before setting out on his own. Some years later, he also established himself in Brooklyn, New York. He doesn't maintain a studio at either location—they're simply business offices. He instead prefers to rent studio space, since much of his work is shot on location. In fact, he spends a good deal of time traveling. He told me that in the past two years he's shot on assignment in Spain, The Netherlands, Canada, South Africa, Thailand, Seychelles, Malta, Mauritius, and New Zealand.
Client: Spanish Tourism Office (Instituto de Turismo de España)
Cameras And Software
Back in his film days, Almas worked with Canons and a 4x5 Linhof Technika. When he transitioned to digital, he scanned the 4x5 film, bringing that into Photoshop.
Today he primarily works with a Phase One back attached to a Contax 645—which has become his go-to gear largely for stationary subjects. The Phase One can either be a P25+ or the newer IQ160 (for a review, see the December, 2011, issue or search online at www.shutterbug.com). He has been working with the Contax for 12 or 13 years now. When using this gear, he'll normally employ a Gitzo tripod with a Linhof ball head while shooting tethered to a computer. His other cameras, albeit used less often, are the Canon EOS-1Ds Mark III, with a 5D Mark II delegated primarily for video. The Canons, he notes, are best suited to action, where he needs the freedom of movement and the camera in his hands.
Client: Spanish Tourism Office (Instituto de Turismo de España)
Lenses for the Contax include the 45mm, 80mm, and 140mm. "Eighty percent of my work happens on the 45mm. I also have a 45-90 zoom, but I rarely use that." He uses a comparable range of lenses with his Canons, including a 35mm and 50mm, and two zooms: 24-70mm and 70-200mm f/2.8.
When it comes to processing, Almas is largely his own digital lab, initially bringing the images into Phase One's Capture One on his Mac. A trademark of his image-making is the precisely executed composites, for which he uses Photoshop. We should point out that "accurate" color is not his aim. "I rarely use any of the correction features in Capture One. I like the digital 'mishaps,' as it were. I never use a gray card to neutralize my palette. I always take the colors to a place that feels more emotional than real." For his personal work, he also does the retouching, but hands that task over to a digital artist when shooting for clients.
Client: Infinity San Francisco
Lighting Kit
Almas chiefly works with Profoto for his strobe lighting. The Elinchrom Octabank (adapted to his Profotos) often comes to the fore, producing the needed broad, enveloping light that complements any ambient setting. That said, "I don't really have one tool that I prefer out of hand. I use the tool that I feel is right for the picture." To bring that point home, he has smaller softboxes, which he uses "depending on how hard or soft I want the source to be."
He also uses Mole Richardsons where hot lights are required to balance existing incandescent sources. "It's especially important for video," he adds.
Client: Ritz-Carlton
A Personal Style
Both San Francisco and Brooklyn have served to inspire his photographic vision. But for Almas inspiration could come from anywhere. "I was influenced by both American and European photographers. Jim Erickson, the photographer I assisted, definitely helped shape my photography." Almas also mentioned Olaf Veltman, a Dutch photographer, as influencing his vision, adding, "he had this beautiful painterly palette."
Inspiration could even come from dreams—in one case, not his own but his girlfriend's. "It's an image of a beautiful, ethereal staircase that hangs in thin air, with a young woman descending the stairs." He adds: "It's not always easy to pinpoint what the inspiration is. If I knew what that was, I would do only that. It just comes from a lot of different sources and places. Doing different things inspires the pictures as well. I try not to just do one thing."
Client: Sorel
Of course, when it comes to commercial work, the client often has a say in the direction a picture takes. However, Almas has developed such a profound relationship with clients that the client prefers to work hand in hand with him, establishing a foundation upon which the photographer builds. "I have such a distinct style in my images that clients come to me saying, this is the basic concept. Can you execute this with your style and vision? So often the pictures end up with the same look and feel as my personal work, even though they're client shots."
That "look and feel" is something that evolved over time as a result of "just listening to yourself and finding what you're drawn to, in terms of lighting, subject, and esthetic treatment. Eventually you get to a place that you feel good about, and that becomes your style."
Client: Personal/Genlux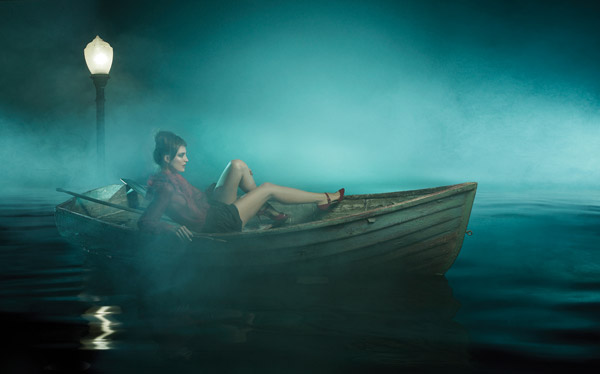 To see more of Erik Almas's work, please visit his website at: www.erikalmas.com.
FEATURED VIDEO