Pro Choice; Cars With Style; The Photography Of Charles Hopkins
"I've always loved cars," Charles Hopkins proclaims. "Besides, who wouldn't like having access to the latest vehicles before anyone else has even heard about them?" It was when he arrived in Los Angeles that Hopkins took that passion one step further. He'd joined up with photographers who specialized in automotive photography and honed his skills. He went out on his own in 1991 and hasn't looked back. (To see more of Charles Hopkins' work, visit www.charleshopkins.com.)
Mazda RX-8
This is a composite of several shots produced in a rental studio in Tokyo for Mazda Japan. To photograph this Mazda RX-8, Charles Hopkins used a Hasselblad 503CM and more than a dozen Mole-Richardson hot lights to bathe the car in light, bouncing additional lights off overhead foamcore sheets for fill. The foamcore was later retouched out, and the individual components were composited into the final shot. The floor design is the engine rotor, shot by bounced light, with a couple of small hot lights for accents. Because the client wanted to give this a continental flavor, even though the ads were bound for the Japanese market, the models were European. Each person was lit with a combination Profoto strip light and square softbox, with each model standing on black Plexiglas. Finally, the wash of light seemingly falling behind the set was actually added in post.
Gearing For The Car
In those early days he was of course shooting film, but Hopkins had learned the enduring value of a medium format camera when shooting for advertising. Nowadays, having seamlessly made the switch to digital, the medium format camera is still his camera of choice. And that camera is a Hasselblad, either an H2 or one of the older V-style bodies adapted for digital, namely the 503CM or 553ELD. "I like the older cameras because they're smaller," Hopkins observes. He attaches a Phase One P45 back for digital capture. For editorial shoots, he turns to a Canon EOS D-SLR, either the 5D or 1Ds Mark III. "The budget of the shoot determines which camera I use," expanding on that by noting that the smaller file sizes are a smaller strain on computer resources, leading to lower overhead. "Also, it depends on where and how the client plans to use these files." In a studio shoot, where portability is not a factor, the requirements are normally for large files, so he opts for the Hasselblad.

Hopkins employs Phase One's Capture One PRO for raw conversion and workflow management and Photoshop for all the rest of his digital editing. "I even process the Canon raw files in Capture One, primarily because it's faster." He continues: "I usually have a cart on location so that I can shoot tethered, with a laptop or even a tower with a monitor attached. That gives the client, who is routinely on set (on location or in the studio), the opportunity to review images live."
Infiniti QX56 SUV
A car prep company brought the Infiniti QX56 to the rental studio and detailed it to make sure it was spotless. Charles Hopkins hired a set design firm to construct the cherry wood wall paneling that was retouched in post to look curtain-like. They hit the background with six Mole-Richardson hot lights and lit the car with 11 tungsten-balanced Kino Flo fluorescent lights. Hopkins shot this car with a Hasselblad 503CM and a 120mm lens, capturing the image on a Phase One P45 back.
© 2008, Charles Hopkins, All Rights Reserved
In The Studio
There are several rental stages designed to accommodate car photography in the Los Angeles area (and in other cities around the country), and Hopkins turns to one of these for his studio shoots. He finds these facilities work best not only because of their size and street-side access for the vehicles, but also for the lighting they provide to meet any need (lighting is usually added to the stage rental fee).

He'll use everything from hot lights and HMIs to strobes and especially Kino Flo fluorescents. He may gel lights to establish a uniform color balance or add splashes of color to surrounding areas. For an ad, the vehicle itself has to appear neutral in color: manufacturers want the consumer to see their car, not a stylized interpretation of it, he explains. Editorial car shoots have more leeway in this regard.

Hopkins notes that you normally light the vehicle from numerous angles to bring out its most salient features, even aiming individual lights at the wheels and undercarriage, as well as the grille and logos. While views of the interior are not the primary focus, he notes, you may still find yourself highlighting the dash or unique and innovative features, routinely using spotlighting.

What determines whether you shoot in the studio or on location? Actually, you may be doing both. The advertising agency or client hands you a "shot list," which enumerates the number of shots and looks needed. "Then I interpret that list," Hopkins adds.
Nissan Rogue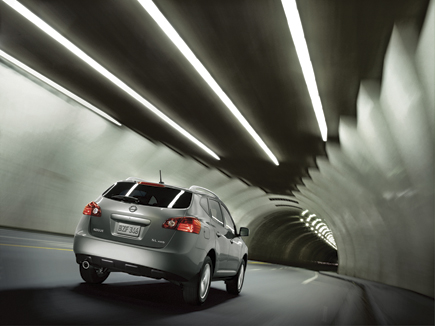 Charles Hopkins photographed this Nissan Rogue being rolled (simulating driving) through the Second Street Tunnel in downtown Los Angeles, using a rig and a Hasselblad 553ELD with a Phase One P45 back. For the back of the car, he employed two banks of Kino Flos on a rolling stand, pushed by an assistant out of frame at a matching speed. The side of the car was lit with two banks of Kino Flos in a stationary position. The overhead fluorescent light is coming from existing tunnel lights. Heavy densities of green gels were needed to give the Kino Flos the appearance of existing lights with the characteristic industrial fluorescent color cast.
© 2008, Charles Hopkins, All Rights Reserved
FEATURED VIDEO