Portraying Mood in Your Images; Master Photographer Robert Farber Shows You How
Robert Farber is renowned for his painterly images. Throughout the years, he's carved a niche with his romantic, illustrative approach to photographing nudes, landscapes and a variety of other subjects that have been featured in books like By The Sea and Farber Nudes.
Farber photographed this old De Soto on a foggy morning in Rockport, Maine, during the summer of 1981.
He's continued this tradition with a new book, entitled American Mood (from Merrell Publishers; it's currently available at book stores). What By The Sea was to the ocean is what American Mood is to the U.S.A. In this book, he goes beyond documenting the varied American climate--Farber's images elicit emotion. The earliest images in his book were taken around 1970, he says, and many were photographed while he traveled around the western U.S. on assignment, shooting a Wrangler Jeans campaign. "Over the years, I've taken a lot of photos of America," he notes. "Most of these images were taken during the past decade."

It was during the extensive time he traveled for Wrangler that he recalls, "I got the idea for telling a story through a mood." In the 90 images in his book, he takes us on a nostalgic journey of the country. "What I tried to do is to capture the various moods of America," Farber points out.
Left: A ladder resting against a colorful Southwestern building, Arizona, 2001.
Right: This 1986 Greenwich, Connecticut window scene evokes nostalgia.
Steps to Create Moods
So, how does he do it? To begin with, Farber says, you can't approach capturing moods from purely a technical perspective. "Think of nostalgia or the emotion you're feeling first, and then figure out how you want to translate this to the photo." He advises utilizing your technical know-how secondly, otherwise, "it becomes a mundane picture." You must "feel" the image and then decide how you want to capture that feeling, perhaps by use of black-and-white film (or the appropriate setting on your digital camera), or by using a diffusion filter to promote a romantic look. And he adds, "You don't always need to be technically right-on."

Farber shot one such nostalgic image during the summer of 1981, in Rockport, Maine, where he was teaching a Maine Photography Workshop. He awakened early one foggy morning and found an old De Soto parked nearby. Using a wide-angle lens to accentuate the vehicle, he shot the picture on ISO 400 black-and-white film, and recently sepia-toned it in Photoshop.
Diffusion is another tool that Farber uses to depict mood. But he emphasizes that this softness is most effective when it's not too overpowering: "A diffusion filter is best when it just takes the edge off." He likes to create his own diffusion, he says, by spraying the air with hairspray and passing a UV or sky filter through the mist. "The best quality diffusion you can get is by closing your aperture down 4--5 stops from your lens' widest opening," he says.
A '50s-style gas station in Kansas, 2001.
He also recommends using an 81C or D, or a sepia filter "to warm up the subject." Farber uses a polarizer to saturate colors or to make skies more dramatic. "I'll sometimes combine a polarizer for drama and an 81C filter to warm up the image," he says.

A Slice of Life
He accentuated strong graphics and bold colors when photographing an old gas station in Kansas, where he used a polarizing filter and 200-speed chrome film. Farber says, "These bright colors are quite different from my usual monochromatic images, but how could I not capture a part of America that's so 1950s?"

Likewise, bold colors dominate an image that was photographed off the main street of a small town in Arizona, where he was inspired by a ladder resting against a Southwest-style building. To capture this scene, he also used ISO 200 slide film and
a polarizer.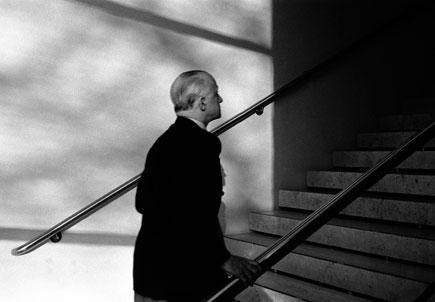 A gentleman who could be a figure from the '40s, New York, 1988.
Farber has numerous examples of combining filters to inspire a dreamy, nostalgic feeling in American Mood. "I suggest getting a filter for your sky or UV filter with the largest thread size, and get step-up or step-down rings for additional filters," states Farber, who uses a 77mm filter size with his Canon lenses.

Many of Farber's images in American Mood capture a slice of life that could have taken place long ago, although they were photographed recently. One that especially evokes a sense of nostalgia is a black-and-white photo of a storefront in Greenwich, Connecticut, taken in 1986. He says, "I saw this sign and the patron in the window. His look and the style of his clothes made me feel like I was capturing something from another period of America, when the sign might have read `Ice, 5 Cents.'"

FEATURED VIDEO