The Photography Of William Davis: The Power Of Place
It is probably true that a photographer, through almost single-minded devotion to a place, can help make it known, understood, and appreciated. But the converse is also true. A place can make a photographer. Its beauty, its landscape, its human dimensions, its impact on the creative spirit can mold or shape a photographer—both as artist and person. That's been the experience of fine art photographer William Davis in his 45-year symbiotic relationship with Northern New Mexico and the small town of Taos.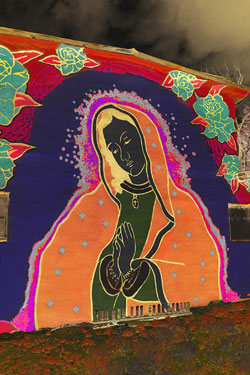 Davis's path to Taos took many twists and turns. As with so many of life's directions, serendipity—call it fate if you must—played a major role in getting Davis from his childhood home of High Point, North Carolina, to the mountains of Northern New Mexico.
As a student at the University of North Carolina - Chapel Hill, Davis initially studied chemistry. But a trip to Washington, DC's National Gallery in 1963 to see the "Mona Lisa" put him on a new course. "In visiting the museum, I was presented with a cornucopia of the world's greatest masterpieces. The experience planted a seed that ultimately changed my life," Davis said, a soft Carolina accent still apparent after more than four decades in the Southwest.
"In 1965, degree in hand, Davis began the odyssey that would lead him to Taos."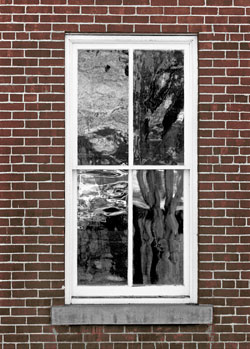 Davis went back to school; changed his major to history. But, finding history a bit dry, turned to Latin American studies. "I was longing for something more colorful, something filled with passion and crazed people doing outrageous things." Davis had followed the Castro-led revolution in Cuba with great interest. "His overthrow of Batista seemed pretty damned passionate and romantic to me—a people's revolution over extremely long odds."
To feed his new academic interest, Davis enrolled for a summer at the National University in Mexico City. He decided that, if he were going to go all that way, he should buy a camera to record his adventures. "At the local camera store I discovered something that was changing the face of photography—the single-lens reflex camera. I bought the new Pentax H1a and suddenly there was magic in my life," he said.
The Road To Taos
In 1965, degree in hand, Davis began the odyssey that would lead him to Taos. To exercise his newfound love for photography, he traveled to California to shoot L.A., Big Sur, and Haight-Ashbury in San Francisco. Eventually he and his girlfriend headed back east, harboring some vague notion of taking a trip to Europe. Along the way, they found themselves in Española, New Mexico, where he saw a sign: "Taos—39 miles." Davis had read about Taos as some kind of "art colony, Indian pueblo, and all-around mystical place." They decided to check it out. That was 1969. He never left.
"As a longtime resident, I have had the opportunity to capture many enchanted moments that, together, help explain what makes Taos and Northern New Mexico such a special place to live and work. For over a century, artists have found Taos to be a place that inspires them and I feel privileged to have been able to spend almost 45 years here, photographing the myriad moods and the light that gives the region such a special quality.
"In Taos I found a milieu in which people are pretty much left alone to pursue their own lives. Thanks to its long involvement in the arts, it's a great place to practice or create whatever type of art one feels drawn to. It seems to be in the atmosphere," Davis said.
Over the years, Davis has watched this "atmosphere" evolve to the point that Taos was named in 2012 by Smithsonian Magazine as No. 2 on a list of 10 Best Small Towns in which to live because of the vibrancy of its culture. In 2013, it was included on the list of "America's Top 12 Small Town ArtPlace Communities" based on the concentration of the arts, artists, and "venues for creativity and expression."
Davis, too, evolved as an artist during his nearly five decades practicing photography. "Early on, to vent my creative urges, I tried my hand at writing—short stories and poetry. But I found writing didn't give me as much satisfaction as photography. In fact, I found I had sort of a sixth sense about subjects and composition—and people actually enjoyed looking at my work."
"The first thing I noticed was that all the work on display was black and white."
Materials And Media
Davis initially worked in black and white, having his images commercially processed with what he thought were mediocre results. So he turned to color transparencies and they opened new vistas. "Like Paul Simon sang, Kodachrome gave us 'those nice bright colors…the greens of summers. Makes you think all the world's a sunny day.'" But Davis soon found, for one interested in fine art photography, he was out of step.
"My friend Eric Kroll opened Taos' first photo gallery—One Loose Eye—in 1969. It was the first photo gallery I had encountered. The first thing I noticed was that all the work on display was black and white. It dawned on me that if I were going to make photography a career, I'd better get back into monochrome. So I bought a Linhof 4x5 camera in 1970 and set up a darkroom in the basement of a friend's restaurant near the Taos Plaza."
To this day, some old-timers remember Davis as "Basement Billy" because of the extraordinary amount of time—day and night—he spent in that basement lab. Eventual acquisition of a 4x5 enlarger with a cold-light head led to major improvements in the quality of his prints.
Davis, however, did not abandon color. The first major success in his long career came with the publication in 1979 of the photo-memoir If Mountains Die for which he teamed with John Nichols, his novelist friend and fellow Taos resident, best known for The Milagro Beanfield War (1974). Davis provided 65 color plates for the highly successful "coffee-table" book that had a second edition published in 1994.
"I was instantly catapulted into celebrity," Davis remembers. "But I was still concentrating more on monochrome and focusing on landscapes in Utah and the Four Corners area. So I was out of step with my newfound fame and unable to capitalize fully on it."
One characteristic of Davis's work is its whimsy. In 1983, perhaps reflecting his interest in writing, he developed a science fiction photo story called "Report from Uranus." Encouraged by New Mexico's fame as the site of the alleged crash of an alien spacecraft near Roswell in 1947, increasing reports of UFO sightings and bizarre cattle mutilations beginning in the 1970s, he concocted, with tongue in cheek, a scenario in which satellites had picked up cryptic signals from Uranus. Thus the government began a top-secret program to make contact with the aliens from a remote location in the Southwest—a staging area for launching clandestine probes to Uranus. Local villages were evacuated and the residents secretly relocated. To "prove" the story, Davis provided photographic evidence.
The results can be seen on his site: www.taosphotographs.com.
"Thus the government began a top-secret program to make contact with the aliens…"
Davis has strayed occasionally from his fine art roots, but not very far. In 1985 he was hired by an area mental health service to document its work in treating the mentally ill in the three-county area to help its effort to retain public funding. "I shot both color and monochrome and produced the requisite 8x10 prints, but couldn't escape the feeling that something was missing—that they didn't convey the tragedy of these people's situations. The images didn't help. The service was eventually defunded.
"Later, taken with the heart-rendingsubject matter, I made a set of 16x20 black-and-white prints. But these also were too sterile." Davis then tried sepia toning the 22 prints.
"That helped, but they still didn't have the punch I was looking for. Then I had an inspiration: what if I were to paint different toners into various areas of the prints?" Davis hastens to point out that, while the technique achieved a kind of handcolored look, it was not the result of paint on the surface, but of a chemical reaction within the photo emulsion itself.
"Surely I wasn't the first person to do such a thing, but I doubt few have ever tried it on such a complex scale. It would generally take up to 12 hours to complete one print. Over the next 16 years I continued to experiment with the technique, applying it to landscapes as well. The downside was that, considering time and materials, I was never able to charge enough to justify the work. It was truly a labor of love," Davis said.
Digital Output
Despite his dedication to the darkroom and chemistry, Davis has embraced those aspects of the digital revolution that meet his needs. For him, it's not about image capture. It's about scanning and manipulating 50 years' worth of transparencies and color negatives.
In making large prints from his huge library of color images, he quickly realized there were numerous technical limitations. "One could make prints just so big before exceeding the size of available papers. And works of fellow artists on paper and other media revealed the lack of true aesthetics in color print materials. My large prints also showed me that greatly changing the scale often affected their look," Davis said.
"Fortunately, digital printing has changed all that, allowing me to print on rag papers or environmentally-friendly fibers like mulberry and bamboo using pigmented inks to achieve beautiful and archival results. Then, of course, there's the almost infinite ability to manipulate images to remove imperfections and color correct."
One of Davis's first digital applications was scanning color negatives to create positives. He said this accomplished two things—it created an image with highlights and shadows reversed and changed the palette from RGB to CMYK, greatly altering the look of the image to make it seem less photographic.
"In recent years I've begun doing something similar with slide images. I use Photoshop to boost contrast and various color controls to alter hue and boost saturation. The result can be very compelling-looking prints."
Reflecting on his technical and aesthetic development over five decades of photography, Davis feels the only constant has been Taos—the place in which he has rooted. Relocating to a major market might have brought more recognition, but he fears it would have cost him the stimulation of the place; the artistic freedom to follow whatever direction his work has taken him.
"This has been more than sufficient compensation," Davis said.
FEATURED VIDEO