Photographing Pets
Lynne Eodice is an accomplished writer/photographer and a popular contributor to Photographic magazine.
Pets are often important members of the family, and it's not unusual for a portrait to include the family dog, cat or parrot. Most animals have a very brief attention span, so plan to shoot for 10 minutes at a time, with breaks in between. Like children, pets are best photographed on their level, so be prepared to get down on the ground for some of your shots. When photographing other people's pets, it's important to take a few minutes to become acquainted with the animal.
Reader photo by Pablo Mendivil, Urupan, Michoacan, Mexico
What You'll Need
If your camera accepts interchangeable lenses, a moderate telephoto with a focal length ranging from 70--135mm is ideal. If you have a compact camera with a built-in zoom, use the telephoto setting. People feel uncomfortable when a photographer gets too close with a camera, and animals are much the same way. A wide angle lens in the 24-35mm range works well when you want to step back and show the animal in its environment.

Working with the pet's owner can make the photo session easier. This individual can be positioned right next to you so that the animal will look toward the camera. A squeaky toy (or simply calling the animal's name) can help attract the pet's attention. Cats respond to visual stimuli--you can get a feline's attention by dangling a ball of string, or by waving a feather.
Animals do some pretty interesting things, especially when they aren't being watched. That's why candid pet portraits are so effective. If you own several cameras, leave one in each room of the house so that you're always ready for a special moment.
Reader photo by Holly McClearn-grant, LaFayette, CO
Lighting Tips
Most cameras have a built-in flash unit, so use the Fill Flash mode to add catchlights to your subject's eyes. Use the redeye reduction feature to minimize redeye (this phenomenon is actually rendered as blue or green-eye when photographing a dog or cat). If you're taking pictures outdoors, open shade provides a soft lighting source, just as it does for humans. You can also take pictures early in the morning and late in the afternoon, using the sun as your main light. Use a piece of white Fome-Cor board or a reflector to bounce light into the shaded side of the animal.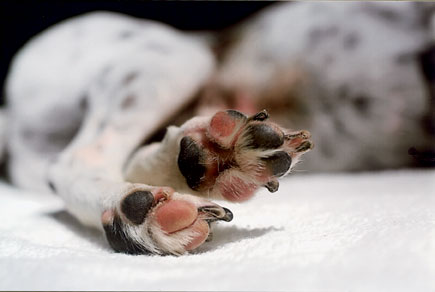 Reader photo by Debra Kolwn, Leesburg, VA