Peter Jackson's Colorized WWI Film Will Blow Your Mind (and Break Your Heart)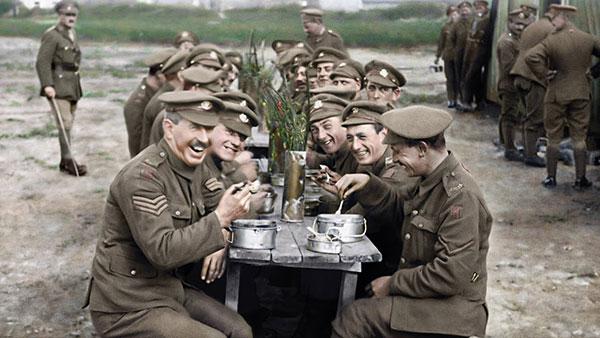 We're not, typically, fans of colorizing old photographs and film, but an upcoming World War I documentary with restored and colorized footage of soldiers during the Great War, looks unbelievable. Called They Shall Not Grow Old, the movie was produced and directed by Peter Jackson of Lord of the Rings fame.
We've embedded the trailer for the documentary below and it will likely blow your mind. Along with restoring and colorizing the archival film footage, Jackson adds interpretive audio to make it seem as if it were shot recently.
Here's how the movie is described in the introduction to the trailer on YouTube:
"The acclaimed documentary is an extraordinary look at the soldiers and events of the Great War, using film footage captured at the time, now presented as the world has never seen. By utilizing state-of-the-art restoration, colorization and 3D technologies, and pulling from 600 hours of BBC archival interviews, Jackson puts forth an intensely gripping, immersive and authentic experience through the eyes and voices of the British soldiers who lived it."
Another notable tweak to the footage is that it has been slowed to regular speed, so the WWI soldiers and civilians move as we see them in real life (not comedically sped up). Unfortunately, "They Shall Not Grow Old" will only be screened in select theaters on December 17 and 27, 2018.
Hopefully it will eventually get a wider release. After you watch the trailer below, we've got a feeling you'll be drawn to watch it a few more times.