Our 10 Favorite Film Cameras of All Time
I've been collecting cameras for (ahem) well over half a century. But unlike many of my fellow film camera fanatics, I actually use these things to make pictures, which is a lot more fun. That's why all the cameras on my 10 Favorites list below are prime, high-performance user-collectibles capable of outstanding image quality that can give those digital upstarts a run for the money. Yes, shooting film is a lot less convenient, and more expensive than shooting digital, but if you enjoy being a contrarian, iconoclast or outlier, being a Film Dinosaur is a great way to go.
Aside from film, and a good film lab, anyone who shoots with old cameras, even very well made and reliable ones, needs a good camera repair outfit to keep them in good fettle. I can highly recommend Pro Camera in Charlottesville VA, headed up by ancient camera guru Bill Moretz, and United Camera Repair in Rock, Island IL.
Finally, if you have a favorite user-collectible that's not on this list please tell us about it and make your case. You never know, but there could be a follow-up article. And speaking of follow-up articles, if you enjoy film photographry, check out My 10 Favorite Film Stocks of All Time. You also might be interested in my picks for The Top 20 Greatest Cameras of All Time.
1. Leica M-3


My all-time favorite user-collectible, the M-3 was introduced in 1954 and widely hailed as the finest interchangeable-lens 35mm rangefinder camera ever. The most advanced rangefinder 35 of its day, it established the form of all subsequent Leica Ms including the acclaimed digital M (Type 240). Its most significant features: a magnificent long base (68.5mm) nearly life-size (0.9X) combined range/viewfinder with true projected, parallax-compensating, auto-indexing framelines for 50mm, 90mm, and 135mm lenses, the M-type bayonet mount, a two-stroke film-advance lever (later modified to provide single-stroke operation), and a hinged back section to facilitate cleaning, shutter checking, and aligning the film. A translucent light-collecting window in between the rangefinder and viewfinder windows provides illumination for the bright, crisp white finder framelines, and a frameline-selector lever below the front viewfinder window lets you visualize the effect of mounting other lenses. The integration of its various components is brilliant. It's rubberized, 1-1/1000 sec plus B, cloth focal plane shutter is whisper quiet. Its rounded contours mold seamlessly to your hands, and its shutter release, wind lever, and focusing mount operate with silky precision.
Leica M3s are readily available but hard to find in pristine condition. The single-stroke version of mid-60's, with more rugged, durable wind and shutter mechanisms, a larger exit pupil for enhanced finder brightness, and serial number above 1,100,000, is especially prized (and more expensive). Earlier two-stroke models in average condition are more affordable.
Favored lenses are the collapsible, rigid, and Dual-Range 50mm f/2 Summicron, which gets down to 19 inches and the rigid 50mm f/2 Summicron, which is more common. A mint single-stoke M3 with rigid 50mm f/2 Summicron lens can easily fetch $3,000 and up, but you can acquire a two-stroke model with lens and body in user condition for under $1,000.
2. Canon 7s

The ultimate interchangeable-lens rangefinder Canons in terms of overall quality of construction, finish, and heft, are the lever-wind VI-L and the the trigger-wind VI-T which have a three-position range/viewfinder showing the fields of 35mm and 50mm lenses, a 1.5X setting for critical focusing, auto-parallax adjustment of shoe-mounted finders (!), and a coated stainles steel focal-plane shutter with speeds from 1-1/1000 sec plus T and B. However, my personal favorite user-collectible rangefinder Canon is the very last screw-mount rangefinder Canon, the 7s, which has the same shutter, a built-in coupled CdS meter (alas, with ISO settings only up to 400), a beautiful 0.8X viewfinder with selectable, labeled, parallax-compensating pairs of framelines for 35/50mm, 85/100mm, and one for 135mm lenses, and an outer bayonet for mounting the groundbreaking 50mm f/0.95 Canon lens shown on our example. The 7s is most often found with 50mm f/1.8, 50mm f/1.4 or 50mm f/1.2 Canon lens, and the very last 7s models (commonly designated as 7sZ) have a larger rewind crank and a rangefinder adjustment screw located in a different position. A clean, functional 7s with the excellent 50mm f/1.8 Canon lens currently runs about $400-600, more with 50mm f/1.4, and over $4,000 with the collector's heartthrob 50mm f/0.95.
3. Nikon SP


The very last iteration of the classic, interchangeable-lens Nikon rangefinder camera, the SP of 1957 is the most famous and prized Nikon S-series model, and I know from personal experience that it's a superb picture taker. Its signature feature is the distinctively shaped, wide window for the viewfinder, which includes projected, parallax-compensating framelines for focal lengths from 50-135mm and a separate built-in viewfinder for 28mm and 35mm lenses. The SP was also compatible with an electric motor drive. Features include: Single stroke film-wind lever, cloth focal-plane shutter with speeds of 1/1000 sec plus B, and self-timer. Most common normal bayonet (S-mount) lenses: 50mm f/1.4 or f/2 Nikkor. A great user-collectible collectible, the Nikon SP is most often found in chrome finish, but it was also made in black. Chrome versions in pristine condition with original lens currently sell in the $1,100 to $1,800 range and rarer black versions fetch about twice as much.
4. Nikon F2


Everybody loves the original Nikon F, the first truly professional system 35mm SLR, but ask a seasoned camera repairman and he'll chose the ultra-reliable F2 every time. This handsome, rugged camera had a long production run, from September 1971 to June 1980 and it incorporates a mechnaically controlled horizontal-travel focal-plane shutter with titanium shutter curtains that provided speeds of 1-1/2000 sec (up to 10 sec using the self-timer) plus B and T, with flash sync at 1/80 sec. and required no batteriies. It also has a swing back for eaier loading, a larger reflex mirror to eliminate vignetting, and a shutter release placed closer to the front of the camera for better handling. It accepts a wider assortment of meter heads, all with a more secure mounting system, and offered a detachable motor drive that fit the camera directly, a feature lacking on the F. The later F2A and F2AS versions required AI or AI-S lenses, which is one reason I prefer the original F2. However, I wouldn't refuse a Nikon F2A with a titanium body and DP-11 prism if I could find one at a good price. The Nikon F2 is an awesome camera that will probably last three lifetimes and it's a superb picture taker. You can snag a clean chrome F2 for about $350-550 with classic 50mm f/1.4 Nikkor, which is a pretty good deal. Black ones go for a bit more.
5. Canon F-1


Introduced in 1971 as a competitor to the all-conquering Nikon F, the F-1 was the heart of a formidable professional system of 180 accessories that included virtually anything a pro could want. Rugged, reliable, and beautifully made, its horizontal-travel metal focal-plane shutter offers a top speed of 1/2000 sec and manual speeds down to 12 sec plus B. Open-aperture TTL match needle metering was possible using the then-new series of FD lenses, and aperture, and shutter-speed, and exposure readouts are displayed in the finder. An accessory Servo EE viewfinder provided auto-exposure with or without the 3 fps accessory motor drive. The camera works in stop-down-metering mode with earlier FL- and R-mount lenses. In 1976 the camera was revised by inorporating 13 refinements into the F-1n (not to be confused with the New F-1 of 1981, that had electro-magnetic shutter speed control.) Upgrades included widening the film-lever offset to 30 degrees, increasing the maximum ASA from 2000-3200, incorporating a brighter mirror, and simplifying the multiple exposure procedure. Whichever Canon F-1 you opt for you can rest assured it is an indestructible camera built to the highest standards, and is a phenomenal user collectible. I opt for the original F-1 because it's also a piece of history. You can acquire a clean Canon F-1 (original or F-1n) with the excellent Canon 50mm f/1.4 FD lens for $350-$700, which is a mighty good deal.
6. Topcon Super D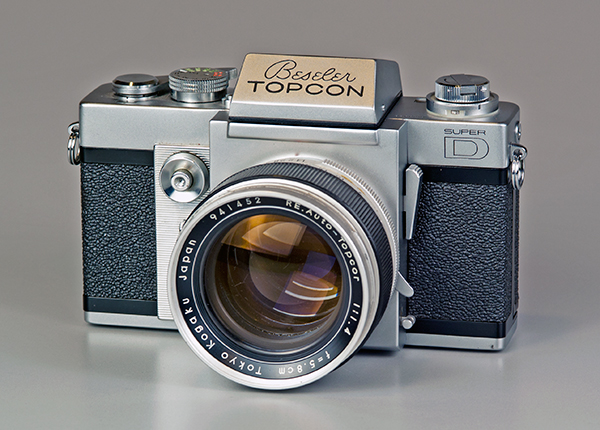 The first 35mm SLR with through-the-lens match-needle metering, it was announced in 1963 by Tokyo Optical Company, Ltd., initiating a trend all other SLR makers were destined to follow. The Super D, which sold in Japan as the Topcon RE Super and was later marketed in the U.S. as the Beseler Topcon Super D, was unique in having its CdS meter cell built into the mirror behind narrow light-admitting slits, permitting the use of simple interchangeable optical finders. Large, robust, and beautifully finished, the Topcon RE Super features include interchangeable eye-level pentaprism and finder screens, single-stroke wind lever, full-aperture metering, a cloth focal-plane shutter with speeds from 1-1/1000 sec plus B, winder/motor compatibility, and Exakta-compatible bayonet mount. Standard lenses: the excellent 58mm f/1.4 or 58mm f/1.8 Auto Topcors. The Topcon Super D and DM remained in production until the '80s. A clean original Topcon or Beseler Topcon Super D or RE Super with 58mm f/1.4 lens sells for around $200-350, making it a fantastic buy among user-collectibles.
7. Pentax Spotmatic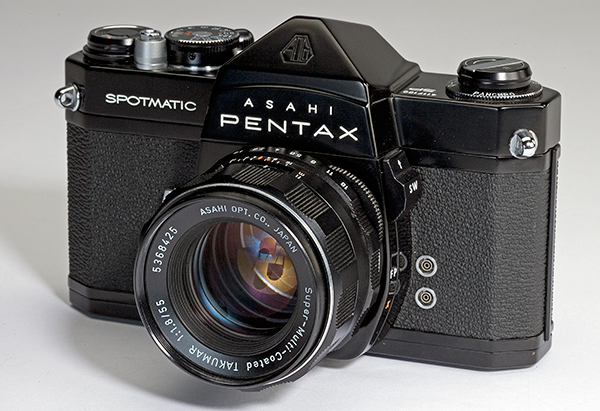 The original Spotmatic of 1964 was the first though-the-lens (TTL) metering 35mm SLR that took exposure readings off the finder screen by means of two CdS cells placed on either side of the pentaprism near the finder eyepiece. This brilliantly simple TTL metering system was adopted by almost every other SLR manufacturer and versions of it are still in use today. The Pentax system, far less complicated and more flexible than previous TTL systems, has been refined to allow the sophisticated multipattern metering systems in current DSLRs. In other respects, the Spotmatic (misnamed because it actually had an averaging meter pattern) was quite conservative, providing match-needle metering at working aperture and using the traditional 42mm threaded lens mount pioneered by Praktica. Nevertheless it was a compact, beautifully proportioned, ergonomic design and was one of the hottest-selling, most influential SLRs of its era. It was eventually developed into the similar-looking, full-aperture-metering Pentax Spotmatic F of 1974, my personal favorite because it just looks right, and feels right. Features include: a cloth focal-plane shutter with speeds from 1-1/1000 sec plus B, single-stroke wind lever, and, on the original model, a meter switch that stops the lens down and doubles as an auto/manual diaphragm switch. Any Pentax Spotmatic original or Spotmatic F is a lovely high-performance user-collectibles that can be found for the bargain price of $100-200 in excellent condition with 55mm f/1.8 or 50mm f/1.4 Super-Takumar lens.
8. Rolleiflex 3.5F


If you ever want to disabuse yourself of the notion that digital cameras blow those "old fashioned" film cameras out of the water, try running a roll of 120 film through one of these babies, especially the late version with 6-element 75mm f/3.5 Zeiss Planar or Schneider Xenotar lens. How can you tell if a 3.5F has the 6-element lens and not the earlier 5-element version? From 1964-1973 only the 6-element Planar was available starting at about camera serial number 2,282,000. And starting at serial number 2,851,000 only the 6-element Xenotar was available. Both versions are awesome, the best twin-lens reflexes ever made, and they trace their lineage back to the landmark Rolleiflex Automat of 1937, one of the most beautifully integrated optical-mechanical creations of all time, and the basis for all subsequent Rolleiflex 6x6cm (2-1/4 square) twin-lens reflexes (TLRs), as well as countless Japanese Yashica-Mats, Chinese Seagulls, etc.
The Automat's impressive feature array, also found on the 3.5F, includes: Milled aperture- and shutter-speed-setting wheels nestled in between the lenses that read out conveniently in a little window atop the viewing lens, right-hand film-wind crank with automatic first frame positioning via an ingenious friction roller system, waist-level viewfinder with automatic parallax compensation at all distances by means of an ingenious frame under the focusing screen that moves vertically as you focus. Later models like the 3.5F feature numerous improvements in the film-wind and counter mechanism, more robust construction, full-sync Synchro-Compur shutters, and coated lenses including the 75mm f/3.5 Zeiss Tessar, 75mm f/3.5 Schneider Xenar, and 75mm f/3.5 and 80mm f/2.8 versions of the Zeiss Planar and Schneider Xenotar. A nice clean, late-model Rollei 3.5F will set you back about $800-$2,000 depending on its cosmetics and mechanical condition. It's a prize user-collectible for discerning film fanatics.
9. Hasselblad 500C/M


The Hasselblad 500C (the C stands for Compur shutter) of 1957 was the first 6x6cm (2-1/4 square) Hasselblad SLR to incorporate a leaf shutter in each interchangeable lens in lieu of the in-body metal focal-plane shutters found in previous models (the 1600F of 1948-52 and the1000F of 1952-57). The main reason for this departure was to provide full flash sync at all shutter speeds, important for studio photographers that comprised the bulk of Hasselblad users. As a result of this wise decision, the Hasselblad system became the mainstay of studio, portrait and wedding photographers all over the world. The 500C remained in production until 1971, and was mildly upgraded as the Hasselblad 500C/W and 500C/M. A masterpiece of compact modular design and mechanical precision the 500C features interchangeable film backs and finders (later models are compatible with digital capture), a full line of Carl Zeiss lenses, ranging from a 30mm to 500mm, a Synchro-Compur 1-1/500 sec plus B and T leaf shutter in each lens, and an array of accessories including waist-level, plain prism, and uncoupled meter prism finders. Any Hasselblad 500C is a superb user-collectible that performs extraordinarily well, but my personal favorite is the 500C/M because it has an interchangable focusing screen and an improved back, the A-series film magazine. Expect to pay about $800-$1,500 with 80mm f/2.8 Carl Zeiss Planar lens, waist-level finder and standard 120 film back for a clean, fully functional 500C/M, which is, relatively speaking, a bargain.
10. Leica A (aka Leica I)


This timeless minimalist classic proves that less is more. It's also great fun to shoot with and performs incredibly well given its modest specs. The first Leica offered for sale, it almost singlehandedly put 35mm photography on the map, and Oskar Barnack, its principal inventor certainly deserves the title, "The Father of 35mm Photography." The camera he painstakingly created under the auspices of the venerable microscope maker E. Leitz of Wetzlar, Germany was finally released as the Leica (subsequently called the model A) at the Leipzig Fair in 1925, and it was the first high quality 35mm camera to be mass produced, and a watershed design that defined and determined the direction photography was to take in the 20th century. It established the basic shape and control layout of 35mm cameras, the viability of 35mm as a serious contender, and the excellence and legendary status of Leica cameras that continues today. Perhaps the greatest testimony to the rightness of Barnack's original design is that, with the addition of an interchangeable 39mm threaded lensmount and a coupled rangefinder, the basic concept endured for over 35 years, during which time the Leica name was revered as "the best camera in the world."
The Leica A is very straightforward and Spartan, and that indeed is part of its charm. A true pocket-sized miniature, it's finished in black enamel with nickel-plated metal parts, including the distinctive "hockey stick" infinity lock on the front. Other features include: a self-capping, horizontal-travel cloth focal-plane shutter with speeds of 1/20-1/500 sec plus T, set via a top-mounted dial, a non-interchangeable, scale-focusing, collapsible, Tessar-type 50mm f/3.5 Elmar lens) with aperture-setting tab on the front, a film-wind-knob with concentric, manually set frame counter, a rewind knob, and a small optical viewfinder perched on top. Like all Leicas prior to the M3, it features a svelte, one-piece main body with rounded ends, and bottom loading by means of a removable baseplate—a type of construction ensuring excellent rigidity and accurate lens-to-film-plane alignment. One of the Leica A's best loved features was automatic blank- and double-exposure prevention—winding the film to the next frame cocked the shutter. This doesn't sound too impressive today, but it was state-of-the-art in 1925. Today, the Leica A is regarded mostly as a prized possession among well-heeled Leica collectors. However, the Leica A is still a pretty darn good picture taker, and a fun, pocketable, user-collectible for those with deep enough pockets. A clean, functional Leica A with 50mm f/3.5 Elmar sells in the $1,300-2,200 range depending on condition, but mint examples with four-digit or three-digit serial numbers fetch stratospheric auction prices. I nabbed mine for a paltry 150 bucks, but that was back in the late '60s.
FEATURED VIDEO