Nikon D7100 DSLR Review
The Nikon D7100 is the newest of Nikon's D-SLRs with a DX sensor (APS-C size). This is a new sensor without a low-pass filter, a very unique feature in this class because nearly all compact and SLR cameras use low-pass filter systems to avoid moiré and aliasing effects. The sensor has a resolution of 24MP (6000x4000 pixels). We did our tests with the kit version of the D7100, using the AF-S DX NIKKOR 18-105mm f/3.5-5.6G ED VR, said to be optimized for DX cameras.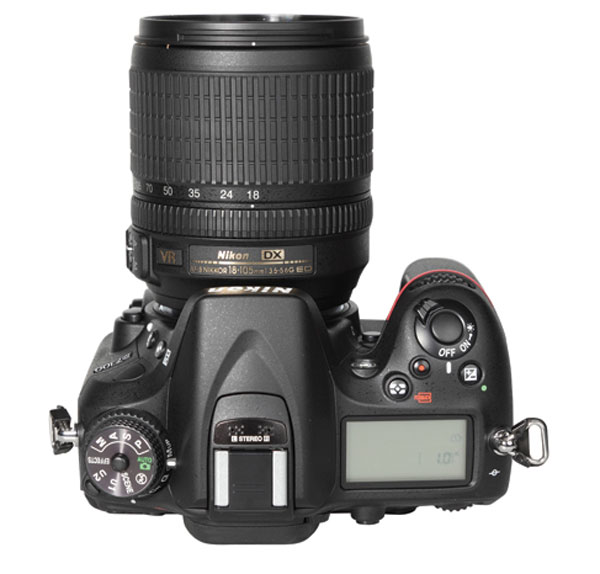 The camera has a massive and robust body. It sports a classic SLR design with a bulky handle on the right-hand side, which allows for stable and secure handling of the camera. A large and illuminated LCD screen on the top shows all the necessary image parameters and important information.
The camera is very fast. Shutter delay and start-up time are low; we'd say on a professional level. The camera can record up to 6 frames per second in full resolution (24MP).
Its AF system offers 51 sensors (15 cross-type sensors) and shows a very quick response when pressing the shutter release button halfway down. The user can change the AF sensor setup and define the AF area in the image center with nine, 21, or 51 sensors. The AF areas are shown in the bright and very large optical viewfinder, which also shows 100 percent of the final image. In addition, the camera offers a live preview on its very large LCD screen (3.2"), which features a very high resolution (1.229 million RGB dots).
The LCD screen is fixed, which is a slight drawback when using the Nikon D7100 as a high-end video recorder. It records Full HD video with up to 60 frames per second (interlaced) or up to 30 full frames per second (progressive recording). Manual exposure settings can be used when shooting video.
The D7100 offers parallel recording of Raw and JPEG images. In addition, it has a dual SD card system that, for example, allows the user to send Raw images to the first SD card and the JPEG version of the images to the second card. The two cards can also be used in serial mode (recording on the second card starts when the first card is full) or as a backup system (copy images on the first card directly to the second card).
Image Quality
Color: The camera is able to reproduce colors very exactly. The automatic white balance system did a perfect job under nearly all lighting conditions and created very neutral colors, but it also showed a tendency toward a very saturated color style. This was noticeable in the blue and red nuances of our test chart; the red color in the portrait shot is quite saturated. This causes a mean/average saturation of more than 112 percent, a very high saturation result for an SLR system. On the other hand, skin tones are reproduced nearly perfectly.
Sharpness: The resolution results are excellent. The camera reproduced the ISO 12.233 chart with 3911 lines in picture height, which relates nearly to its nominal resolution of 4000 lines. The images have a crisp, but still very natural, appearance. During our tests we had absolutely no problems with moiré or aliasing effects. Even shots of fine detailed structures (front of an office building with sun blinds in its windows, fine structures of fabric as in our portrait shot, lines in the Siemens stars in our standard test box shot, and more) are reproduced neatly and cleanly. Some aliasing effects are noticeable in video shots, however, but are still on a lower level than in videos taken with some other D-SLR and D-SLT cameras we have tested. Considering the missing low-pass filter, this is a surprising result.
Noise: Noise results are very good. Luminance noise shows at a slightly higher level than in images taken with cameras with APS-C-sized sensors and lower image resolution, but the look of the final images is very good. Color noise is filtered efficiently and the final image shows only a little grain similar to the grain of analog film material.
The camera also showed an excellent performance in our dynamic range test. It scores up to 11.5 f/stops in lower ISO speeds and keeps a high level of more than 10 f/stops up to ISO 3200.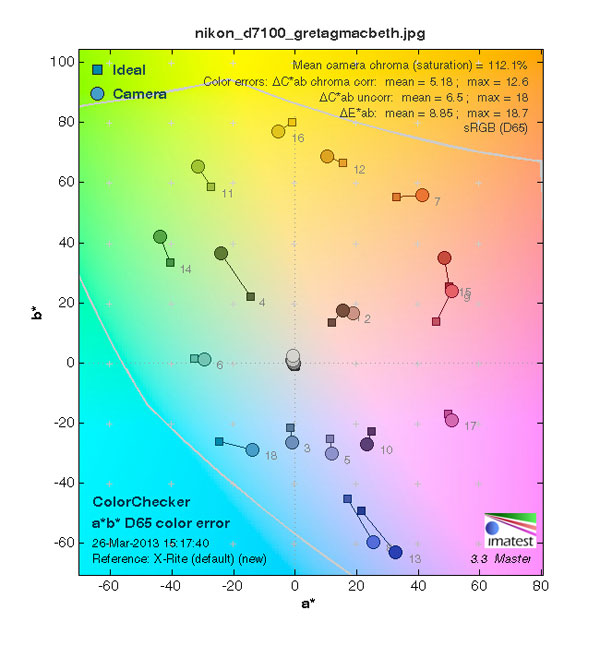 The Nikon D7100 (body only) has a list price of $1199; $1599 with the 18-105mm VR kit lens.
Scorecard
Pro
+ Extremely high image resolution and image sharpness
+ Very fast SLR system
+ Massive and robust body, carefully sealed
+ Easy handling, automatic functions for beginners (scene modes for example), but also a lot of individual settings for precise set up of all parameters
+ Large LCD screen
+ Large optical viewfinder (shows 100 percent of the final image)
Con
- Missing swivel monitor
- GPS and WLAN only with optional accessories
Lab results and test images by BetterNet, our TIPA-affiliated testing lab. Edited by George Schaub.
Image Tech is where we publish web-exclusive lab reports on cameras. To read the reports please go to the Shutterbug homepage at www.shutterbug.com and click on the Image Tech tab on the top navigation bar. New reports are published frequently, so check Image Tech for updates.
For more information, visit www.nikonusa.com.
FEATURED VIDEO