Location Shoot: Photographing Istanbul, Turkey at the Crossroads Of Europe & Asia
"If one had but a single glance to give the world, one should gaze on Istanbul."
—Alphonse de Lamartine (1790-1869)
(French writer, poet, and politician)
I could hear the predawn call to prayer broadcast from minarets across the city as I climbed the stairs to my hotel's rooftop. From there I enjoyed a magnificent view of the ancient city of Istanbul. Immediately below me, roughly facing north, was Sultanahmet Square, the city's historic center, flanked by the Blue Mosque to the left and the Hagia Sophia to the right. Behind and to my right I could see the Sea of Marmara and Asia, while in the distance to the northeast I could see the Strait of Bosphorus. As I stood alone on the rooftop in this city of 14 million people, admiring the view all around, it occurred to me I should get out my camera and take some pictures.
First Things First
Istanbul cannot be visited (let alone photographed) in a few days. I suggest focusing on the historic area and surrounding attractions first, then going farther afield if you have extra time. Unfortunately, most attractions do not allow the use of tripods inside, so when photographing interiors set your camera to a high ISO, select a wide aperture, and engage your equipment's shake-reduction feature if available. Elsewhere, however, even in the busy bazaars, you should have no trouble using your tripod (just make sure you are out of the way).
Because most of the subjects in Istanbul are relatively close, I recommend bringing a wide-angle zoom lens for tight architectural shots and a middle distance zoom (mine is a 24-105mm) for most all other subjects. A longer zoom lens (70-200mm or 70-300mm) could come in handy when photographing distant subjects (for example, boats on the water).
Turks are very friendly people and for the most part do not mind being photographed. Be especially sensitive to women who are covered. When in doubt, ask for permission first and comply with your potential subject's wishes. When visiting a mosque you should show respect by following certain rules. Wear clothing that covers your legs and shoulders, and take off your shoes before entering. Women should cover their heads as well, and men should uncover theirs. Do not eat or drink. Most mosques, especially those frequently visited by tourists, will also have their rules posted outside.
Finally, since the summer of 2013, Istanbul and other Turkish cities have experienced anti-government demonstrations. The demonstrations in Istanbul have taken place quite a distance from the sites described in this article (imagine you are in San Francisco's Fisherman's Wharf while demonstrations are taking place in Oakland). I was there with a group of photographers in the fall of 2013 and no one experienced any problems. For the latest information visit the U.S. State Department's website.
Hagia SoPHIA And blue mosque
Especially if you stay in Istanbul's historic center (and you should), it will be impossible to miss these two buildings. Originally built as a church and later converted to a mosque, the Hagia Sophia is now a museum and a UNESCO World Heritage Site. Featuring four minarets, a large central dome, and a number of elaborate mausoleums, the exterior can be photographed from Sultanahmet Square, using its fountain as a foreground, or from a number of hotel and restaurant rooftops surrounding it. The magnificent but dimly lit interior is known for its large central nave and Byzantine mosaics. Entrance lines and the interior can be very crowded, so plan accordingly.
The Blue Mosque, which takes its name from the blue tiles in its interior, is the only mosque in the world (outside of Mecca) featuring six minarets. Because it is a place of worship, its interior can only be visited between prayers. Check outside the mosque for prayer times before deciding when to visit. There is no entrance fee.
Whether photographing them from the ground or a nearby rooftop, my favorite time to photograph the Hagia Sophia or the Blue Mosque is at twilight, when the structures are beautifully lit. You can also capture them reflected on the fountain pond in the middle of Sultanahmet Square in the morning, before the fountain is turned on.
Topkapi Palace
Built in the 1400s as the local ruler's main residence, Topkapi Palace is not really a palace; rather, it is a large, walled compound featuring a number of lavishly decorated pavilions, fountains, monumental courtyards, a harem, and more. A visit to Topkapi should occupy the better part of a morning or afternoon. I recommend visiting when it first opens and heading straight for the harem. Its many rooms are worthy of a shoot all by themselves, but some of them are small so photographing them when it is crowded can be challenging. After photographing the harem you can explore the rest of the compound.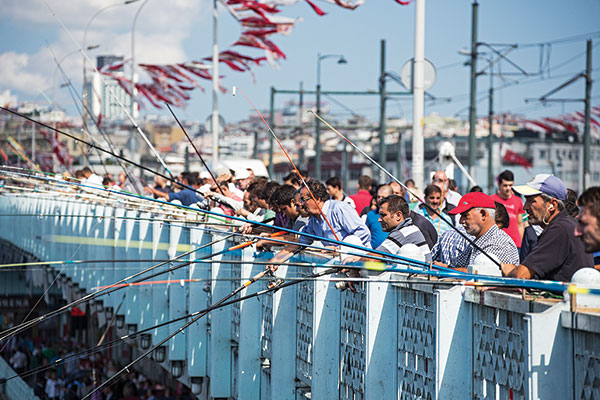 Grand Bazaar And Spice Bazaar
Established in 1453, the Grand Bazaar is a labyrinth of streets and alleys covered by vaulted ceilings and lined by thousands of shops featuring all manner of goods. Here you will find traditional carpet shops next to a stall selling blue jeans; antiques in one corner and touristy fez hats in another; colorful pots next to scented bars of soap. All of this, plus the varied collection of shoppers and vendors, make for a photographic smorgasbord that will test your battery life. Get there early for relatively uninterrupted access to the many colorful subjects displayed in the shops, then stay a bit to capture the chaotic scene as the day progresses.
The Spice Bazaar, though much smaller than its big brother, is no less colorful. The bazaar features conical piles of colorful spices and nuts, plus the ever-present (and tasty) Turkish Delight, all beautifully displayed to tempt passersby (my favorite is pomegranate and pistachio). While at the Spice Bazaar you should also explore the surrounding area, featuring even more shops and colorful stands.
To capture the many details in the bazaars I recommend hand holding your camera and moving quickly from one stand to another to allow shoppers to keep moving. For establishing shots, stand near one of the entrances and deploy your tripod. You will then be able to photograph the building's architecture using a relatively small aperture (f/8 or f/11), and the resulting slow shutter speed should yield a pleasingly blurred image of moving people.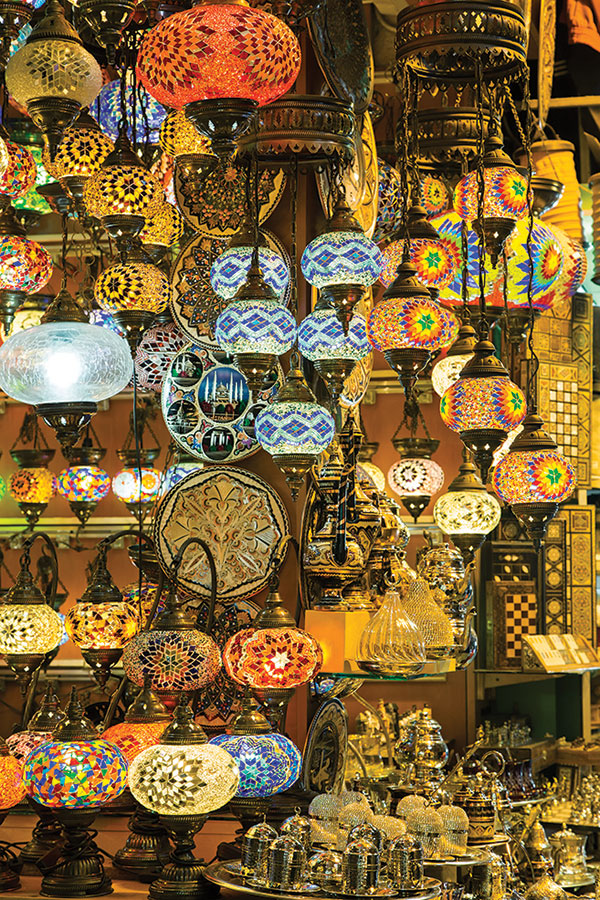 Eminonu Port
Street photographers will love this area of Istanbul. Located on the south end of the Galata Bridge, Eminonu Port is the departure point for many trips on the Bosphorus. Up and down the waterfront you will find street vendors selling drinks and snacks, while hundreds of fishermen cast their fishing poles off the Galata Bridge. The bridge itself is the perfect platform to photograph the fishermen or the many types of watercraft using the Bosphorus, from cruise ships to container ships to pleasure craft. On the opposite side of the bridge the Galata Tower rises above the bustle on the water below.
My favorite photo subjects in Eminonu Port, however, are the restaurant boats that sell freshly grilled fish sandwiches. While the lavishly decorated boats bob up and down the dockside, cooks prepare the sandwiches and hand them out to patrons or waiters on the ground. Small barrels double as tables and even smaller ones act as chairs. At lunchtime the place is crowded, as both tourists and locals jostle to grab a sandwich. Cooks are used to photographers, so feel free to get up close to the boats and capture the organized commotion.
Süleymaniye Mosque
Perched atop a hill overlooking the Golden Horn, the four-minaret Süleymaniye Mosque stands tall and magnificent above Eminonu Port and the Galata Bridge. Built by Süleyman the Magnificent between 1550 and 1557, Süleymaniye is Istanbul's most important mosque. The mosque is not crowded (compared with the Blue Mosque), though in my opinion it is just as impressive. Its exterior is so well preserved it seems it was finished yesterday, and the surrounding grassy areas are perfect for a break or some contemplation. The extra room is also convenient for backing up a little when framing the mosque in your viewfinder. Inside, a sense of soaring space is created by the large arches and domes that dominate the prayer hall. But don't forget to look elsewhere when visiting Süleymaniye; the floor is covered by a red carpet with geometric designs, and delicate architectural details—on a door, a privacy screen—are everywhere.
Whirling Dervishes
The meditative ritual performed by the whirling dervishes is one of the most fascinating, and challenging, subjects to photograph in Istanbul. Designed for dancers to experience the divine by achieving a meditative state, the spinning dance is held in a number of venues throughout the city. I had the opportunity to photograph the performance held inside the Sirkeci Train Station, which is also the terminus of the Orient Express. The dancers were accompanied by musicians playing traditional music.
The low-light conditions and continuous movement of the dancers meant it would be very difficult to get sharp pictures, so I selected a slow shutter speed to blur the dancers on purpose (1/5 sec or so). I also zoomed in during some of the shots. Both techniques worked well in portraying the mystical aspect of the ceremony.
And More…
These are only a few of the many subjects one can photograph in Istanbul. If you have more than a few days, you should also take a trip up the Bosphorus and explore some of the sites and villages along the way; explore the town's old Jewish and Greek quarters; visit the Basilica Cistern near Sultanahmet Square; and more.
If You Go
When to go: Because of its mild temperatures and sunny days, May/June and September/October are the best months to visit Istanbul. Summers are usually warm and humid and winters cold and wet.
How to get there: Istanbul's main airport is Ataturk Airport (IST).
Where to stay: I highly recommend staying in Istanbul's historic center during your visit. From there you can easily walk or take public transportation to the destinations listed in this article. The hotel I stayed at is called the Armagrandi Hotel. It features basic but clean rooms, a friendly staff, and the location cannot be beat.
Getting around: Traffic in Istanbul can be oppressive. The best way to avoid it is to stay in the historic center and walk to your destinations. All subjects in this article are within 30 minutes walking distance from Sultanahmet Square. If you prefer not to walk, public transportation (metro and tram lines) in the historic area is excellent and inexpensive. Taxis are also plentiful and inexpensive, but not all cabbies
are trustworthy.
Helpful websites:
• Istanbul: http://en.wikipedia.org/wiki/Istanbul
• Blue Mosque: www.bluemosque.co
• Hagia Sophia: muze.gen.tr/muze-detay/ayasofya
• Topkapi Palace: muze.gen.tr/muze-detay/topkapi
• Süleymaniye Mosque: http://en.wikipedia.org/wiki/Süleymaniye_Mosque
Author's Bio
Efraín M. Padró is a professional photographer specializing in travel and architectural subjects. Padró has photographed in such diverse locations and his work has appeared in Geographic Expeditions catalogs, Frommer's Budget Travel, and other publications. Padró is the author of The Photographer's Guide to New Mexico. He currently lives with his wife Cathy in the Denver, Colorado, area. To see more of Padró's work, please visit www.padroimages.com.
FEATURED VIDEO