Lighting Options: Flash, LED, On-Camera & More
This year has seen many new introductions in lighting gear for all photographers. Auxiliary and accessory lighting can make a big difference in your work. Here, reporter Jack Neubart gives us a sampling of products he found at trade shows that caught his eye. For more information on the companies whose products he mentions we encourage you to explore their websites to discover their full offerings in this category plus check www.shutterbug.com for lighting gear tests. We've provided a full list of contact information at the end of the article.—Editor
Studio Strobes
The RPS Studio AC/DC 600 Watt-Second Portable Monolite Kit ($599) from Dot Line Corp. can be powered by standard 110v AC in the home studio or by an optional battery pack when shooting on location. The kit consists of two RS-SR300D 300 ws digital monolights with LED readouts, and each head can be powered down to 1/32 in 0.1-step increments. Each light comes with a user-replaceable flash tube, a built-in photocell, an umbrella reflector, a wireless radio system, a small softbox, an umbrella, light stands, and a kit bag. The heads are compatible with Bowens-style light modifiers. The optional lightweight RS-CT1000 Ni-MH battery pack ($285) employs a user-replaceable battery that will provide 400 flashes at full power on a full charge (four hours to recharge, with LCD status indicator).
Studio LED Lighting
American Recorder Technologies has introduced their SIB-301 Full Size Photo Studio In A Box (MSRP $399). The SIB-301 comes with two light stands to which you mount two battery-operated daylight 112 LED lights per stand. Kit includes background stand with green screen backdrop and 54" aluminum tripod, plus carry bag.
APV/Tristar's CooLED 100 Kit consists of two daylight (5200K) heads outputting the equivalent of 1000w each while consuming only 100w, and rated to last 50,000 hours. It comes with two stands, sock diffusers, and silver umbrellas, plus a wheeled case. Output control is via a power cord switch (down to 1/3 power). Their HPL-1600 Monobloc LED light is a step up for anyone looking for a system-oriented LED system. It features a 5200K 100w LED that is bright, cool, long lasting, and flicker-free, and operates on 110v to 230v, with a three-step dimmer. A removable glass diffuser softens the light from the LED and spreads it out evenly, making it more suitable for portraiture, while a conical reflector intensifies the beam. A diffusion sock is included. It accepts all APV Imager accessories. And, their HPL1600K2 Kit comes with two heads/umbrellas/stands and a wheeled kit bag.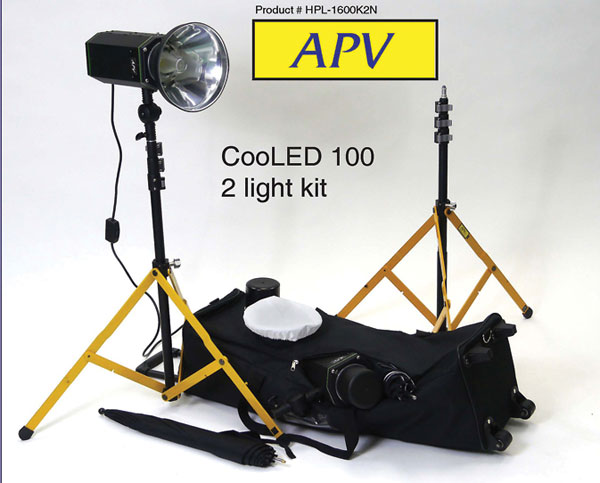 Dot Line Corp.'s new RPS Studio 15,000 lumen RS-5610 LED Studio Light uses a single 100w LED that produces light equal to 1000 watts with the 8" reflector attached ($395 for head/reflector). Light output is adjustable while maintaining a constant 5200K color temperature. It mounts to any standard 5/8" light stand spigot. The on/off switch is in the power cord. Comes complete with an 8" Bowens-mount-style reflector that will accept a standard umbrella, a diffusion sock, and a protective cap. A complete kit includes two RS-5610 LED heads, 8" reflectors, silver umbrellas, diffusers, and wheeled nylon carry/storagebag ($999).
Lighting Accessories
Dot Line Corp.'s RPS Studio 3x6 Self-Standing Reflector Panel RS-3398 features a lightweight aluminum frame that collapses down to less than half its open size. The frame is supported by an adjustable stand that also folds down. Included is a reversible white/silver cloth reflector panel and one translucent panel,each of which easily attaches to the frame via elastic straps; pouch included ($199). The new medium-duty RPS Studio 8x9 Background Stand RS-1990 ($119) will support standard 9-foot seamless paper or muslin. The three-section uprights extend to 96" and close down to just under 34". The crossbar consists of four interlocking sections and may be assembled with as few as two sections, suitable for half-width seamless. The maximum load is 16 lbs; carry bag included.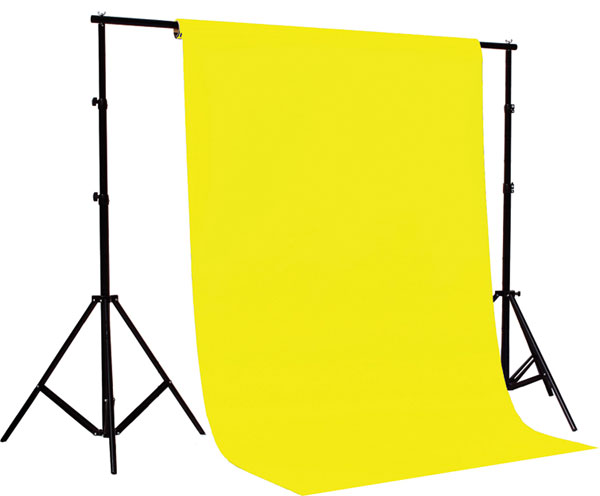 HP Marketing Corp. introduced Gepe Pro light stands. Made from sturdy, black anodized aluminum, they are available in four-section 8-foot (30.7" min.) and 10-foot (38.4" min.) sizes, folding down to 26.25" and 32.25". Load capacity, respectively, is 5.5 and 6.6 lbs.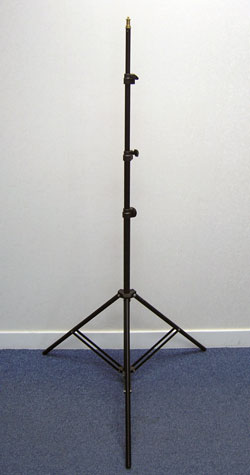 Kenko Tokina USA, Inc. launched the new Kenko KFM-2200 flash meter. While similar to the KFM-2100 on the surface, this long-awaited upgrade can also be used when shooting video with an HD-SLR: it reads out in shutter frames per second and includes a lux reading mode. It also adds an illuminated display, which is noteworthy when shooting in dimly lit surroundings. The KFM-2200 can simultaneously display an exposure reading for incident (via dome diffuser) and reflected light (spot measurement) and determine exposure latitude. It also incorporates an Exposure Navigation System, which displays information on the digital-plus-analog LCD panel that helps you determine the proper exposure for a scene. The meter reads ambient light and flash (cord/cordless), storing readings in memory for contrast and light ratio measurement, while also analyzing flash fill-to-ambient ratio. The meter will also bias reflectance readings toward highlights or shadows, or average multiple readings.
On-Camera Flash & Accessories
Argraph is now bringing in the Pixel line of wireless radio triggers. The Pixel King supports wireless TTL (Canon, Nikon, and Sony), syncs up to 1/8000 sec, and operates on seven channels/three groups with a 1000-foot range, plus features a USB port for firmware upgrades. The Pixel Soldier triggers hot-shoe flash and camera (Canon, Nikon, Olympus, Panasonic, and Sony), and operates on 16 channels/three groups, with a 1000-foot range. Both can also be used with studio flash. Kits include transmitter, receiver, and cables (King Kit: $249; Soldier Kit: $99; additional receivers, respectively: $149 and $69).
Calumet Photographic announced the new Genesis Speedlight SP692 ($269) for Canon E-TTL II and Nikon i-TTL compatible systems. It features TTL Autoflash, Manual, and Multi (Stroboscopic) modes, plus support for front/rear-curtain sync. Wireless mode operates on four channels/three groups as master or slave to 33 feet with compatible Canon, Nikon, and Genesis speedlights. Guide Number is 50 meters/164 feet (at ISO 100 at 180mm focal length), with output from full to 1/128, in full or 1/3-stop increments, with flash exposure overrides to +/- three stops. Other features: thermal cutoff against overheating, power zoom (24-180mm), bounce/tilt, built-in bounce card plus diffuser. Operates on four AA batteries.
Dot Line Corp.'s RPS Studio Large Uneven Mounting Arm ($29) is a larger version of an earlier model, with greater distance between shoe-mount support arms, additional height, and one more cold shoe, for a total of three. It features all-metal construction, locking foot, and 1/4-20 female thread. The new DLC Small Articulating Arms feature two ball joints controlled by one lock. Each joint rotates 360 degrees and tilts 180 degrees. One arm has an adjustable cold shoe on top and the other has a conventional screw post/platform (each under $20).
The Gary Fong Lightsphere Collapsible Snoot (OmegaBrandess) fits over the flash head but instead of diffusing the light this accessory controls the direction of the light, tightening the beam and minimizing spill. It should prove especially handy as a hair or accent light. Available with or without the Gary Fong PowerGrid. MSRP is $53 alone; $64 with grid.
Pentax Ricoh Imaging introduced what is tentatively named the AF360FGZ II shoe-mount flash. This flash has a maximum Guide Number of 36/118 (at ISO 100, in meters/feet). It features P-TTL, automatic flash discharge level adjustment, and vertical/horizontal bounce flash functionality.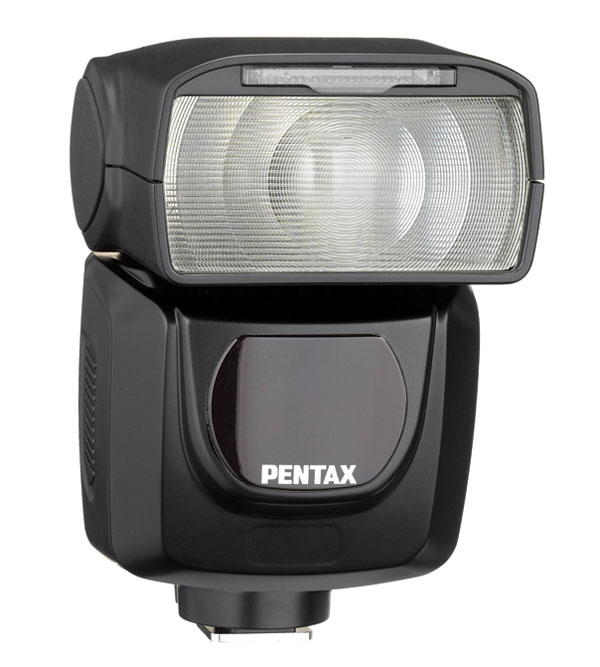 Xit Group is a newly formed company offering a variety of products, among them the new Elite series flash units. The XTDF260C (Canon E-TTL) and XTDF260N (Nikon i-TTL) each feature an LCD display, bounce/swivel movement, and an automatic power zoom head. They have a power saving mode, PC sync port, wireless trigger sensor, and support multi flash lighting applications (S1/S2 modes) and rear-curtain sync. Also featured is power ratio control down to 1/128 power. Metal shoes provide added durability. Supplied with diffuser and mini-stand.
On-Camera LED Lighting
International Supplies introduced the Lumos LED lighting lineup. In addition to a larger studio unit, the Lumos 300MK, with control over intensity and color temperature and running off a lithium-ion battery, they featured the Lumos 100 portable LED light. The smaller light can be seated in a camera's hot shoe, or on any bracket. Employing 84 LEDs, the portable unit is available in Daylight and Tungsten models, with respective CRI ratings of 90 and 97, each continuously dimmable. On a full charge off the included lithium-ion battery, the Lumos 100 runs two hours continuously at full power and more than six hours at 50 percent output.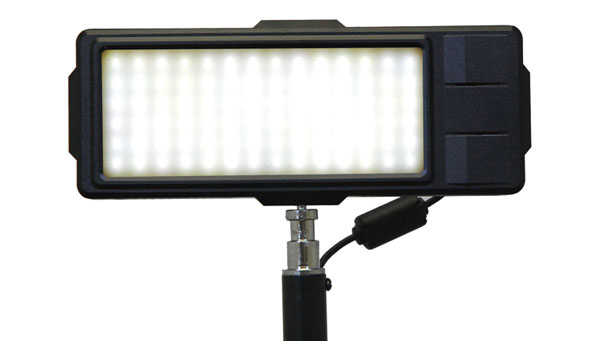 Tiffen's Lowel GL-1 Power LED Light was designed by Brian Marcus (who we featured in a Shutterbug Pro's Choice column) and John Solano for "run and gun" wedding and event photography. The Lowel GL-1 is battery-powered, focusable (from a tight spot to a wide flood), and dimmable (down to 5 percent without color shift), outputting an even photo-quality tungsten color light, with no hot spots. Powered by a rechargeable battery, it boasts a 90 CRI rating for a clean light.
Xit Group's XTLMRUN LED Ring Light will work with any camera (control housing sits on camera shoe) and lens, provided the lens filter diameter is not larger than 77mm (52-77mm adapter rings included). It features 32 high-intensity LED lights for continuous close-up lighting. It also features left and right flash for a modeling effect. It operates on four AA batteries (not included), and has an effective range of 1.9 inches to 4.9 feet, with a color temperature of 5500˚K.
Product shots appear courtesy of the respective manufacturers/distributors.
Contacts
American Recorder Technologies: www.americanrecorder.com
APV/Tristar: www.apvphoto.com
Argraph (Pixel): www.argraph.com
Calumet Photographic (GENESIS): www.calumetphoto.com
Dot Line Corp. (RPS STudio): www.dotlinecorp.com
HP Marketing Corp. (GEPE): www.hpmarketingcorp.com
International Supplies (Lumos): www.internationalsupplies.com
Kenko Tokina USA, Inc.: www.kenkotokinausa.com
OmegaBrandess (gary fong): www.omegabrandess.com
Pentax Ricoh Imaging: www.pentaximaging.com
Tiffen (lowel): www.tiffen.com
Xit Group: www.xit-group.com
FEATURED VIDEO