Profoto Intros New Compact B2 Off-Camera Flash and Light Shaping Tools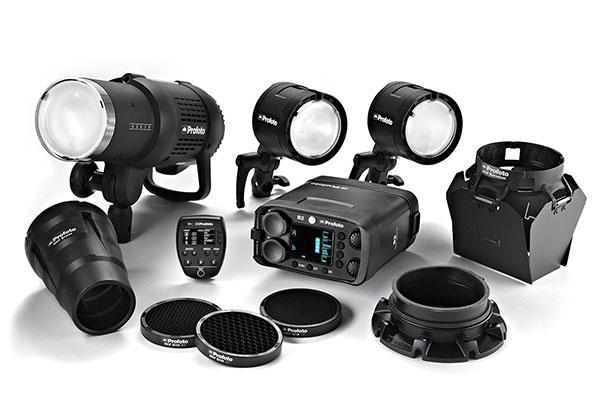 Profoto just released the new, more compact B2 off-camera flash along with a bevy of light shaping tools, designed for fast, easy on-location photography. The Profoto B2 is the follow-up to the pioneering B1 off-camera flash from 2013, which combined the portability (and ease-of-use) of a speedlight with the performance of a pro monolight. (Read our review of the Profoto B1 here.)
The new Profoto B2 model is lighter and more portable than the B1. The B2 consists of a battery pack and a head. The battery pack can be put on the shoulder or hip, while the head is small and light enough to be mounted onto a monopod or a bracket on the camera. This allows the photographer to stay moving.
Both the Profoto B2 pack and the head can also be put on a stand and the B2 can be wirelessly controlled from the camera. According to Profoto, this makes it the world's first off-camera flash that can be used both on and off-camera.
The B2 model has all of the features of the B1 including TTL and HSS. It is designed to be fast enough to keep up with your camera: it's five times as powerful as an average speedlight and it can be used with the entire range of Profoto light shaping tools. All this in a head with the same size and weight as a speedlight.
The Profoto off-camera flash system also includes the new OCF light shaping tools. The OCF Light Shaping Tools are small, lightweight, consist of fewer parts and use smart (patent-pending) solutions that make them fast and easy to mount and use.
The assortment includes four new softboxes, a new Grid kit, a new Snoot and a new Barndoor. Included in the Off-Camera Flash system is a B1 and the (patented) AirTTL system.
Pricing and availability for this new Profoto lighting gear has not been announced yet. More info here.
FEATURED VIDEO