New Fotodiox Pro Flapjack LED Ring Light Kit Produces Soft, Beautiful Lighting
Fotodiox has unveiled the Pro Flapjack LED Ring Light kit offering photographers soft, beautiful lighting with minimal setup, a variety of mounting options, and a custom-fitted carrying case with shoulder strap. The versatile unit runs on either AC power or rechargeable batteries, both of which are included in the kit.
The dimmable light utilizes a unique design with LEDs aimed inward at diffusion material rather that outward as with conventional ring lights. The result is a soft glow with no hotspots that is easy on the eyes. The light enables you to adjust color–temperature settings from an amber tungsten 3200K to white daylight 5600K—with color temperature remaining constant as the light is dimmed.
The $359.95 kit includes two Sony NP–F style rechargeable lithium­–ion batteries with a charging station and AC adapter. There are a variety of mounting options, which include a bracket (provided) for attaching the light to either a 15mm or 19mm rod system. There are also built-in ¼–­20" mounting points for attaching the unit to a table–top tripod or lighting clamp.
The Fotodiox Pro Flapjack LED Ring Light kit is available for purchase on the Fotodiox website where you can get more details. If you've never explored the benefits of using a ring light you should check it out!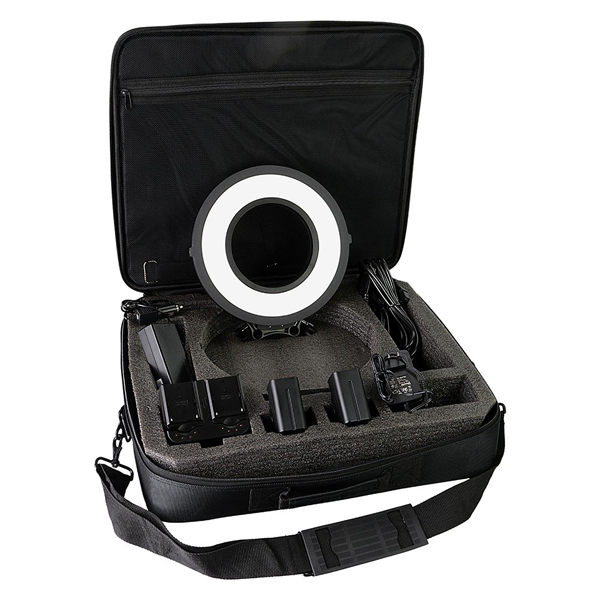 FEATURED VIDEO