Legal And Business Practices For Digital Photography; On Guidelines, Licensing, And More From ASMP's Judy Herrmann
As digital technology grows it's critical for photographers to enlighten themselves about the most essential business and technical practices. The legalities associated with digital capture are quite different from film and need to be addressed in the everyday business of digital photo shoots. The work of the American Society of Media Photographers (ASMP), Universal Photographic Digital Imaging Guidelines (UPDIG), and Picture Licensing Universal System (PLUS) allow protection of intellectual property and set guidelines that raise the standards of the profession. Established photographers have risen to the task and actively help to spread awareness about the value of trade organizations in the industry. To explore this more we talked with Judy Herrmann, current ASMP president.
Terre Peck Shoe
The creative use of color and shadows has become one of our studio's hallmarks for our still life and product work.
All Photos © Herrmann+Starke, www.HSstudio.com, 2007, All Rights Reserved
Since 1989, Herrmann of Herrmann + Starke (www.HSstudio.com) has specialized in producing still life and lifestyle photography primarily for advertising. Her work has won acclaim from Lürzer's Archive, Graphis, HOW, PDN, and Pix and has been featured in many publications. As an established expert on digital photography, she has written numerous articles and taught over 60 seminars targeted toward photographers. Herrmann's current seminar offerings, "Breaking into the Biz" and "Taking Control of Your Career," focus on helping students, emergent photographers, and established professionals build careers that fulfill their goals. She also consults individuals on career planning and development. Herrmann joined the national board of the ASMP in 2002 and currently serves as president for the 6000 member international trade association.

Shutterbug: It appears that more clients are rejecting professional services and completing their own digital photography projects. How has this changed the industry?

Judy Herrmann: We first noticed this trend in the late '90s when catalog design firms began building product photography studios in-house. Nearly a decade later, the practice has become increasingly widespread. Much of the bread-and-butter work that we cut our teeth on as emerging photographers is done in-house now.
Evening Dresses
Illuminating an entire roomful of black-clad women without overexposing the environment or skin tones takes a level of skill that few non-professionals can match. Offering complex lighting on location is another way we're able to provide clients with images that they can't produce themselves.
SB: How does a photographer compete with the client's in-house photography?

JH: It's very important for photographers to focus on providing value. It's not about the gear--many of our clients own the same cameras we do--it's about visual communication skills and creative problem-solving abilities. By the time a client hires a professional, they're looking for a level of expertise and skill that goes beyond what they can do themselves. That means that photographers must have significantly stronger visual and technical skills than their clients. They also need extremely good communication skills so the buyer can quickly and easily understand the value that they bring to the table.

SB: How has the in-house trend changed your photographic marketing?

JH: Our studio has always focused on providing clients with cutting-edge imagery, technical proficiency, and an extremely high level of service. We use our visual, communication, and technical skills to differentiate ourselves from our competition and to provide clients with images and solutions that maximize our value. We push ourselves very hard both creatively and technically to ensure that we have the skills to offer our clients the best possible solution for the problem they're trying to solve. We market a visual style and we reinvent it every 3-5 years, but we're not locked into that style. If a different approach will communicate their message more effectively, we're flexible--our skills give us the versatility to work in any visual language.
Skirt
As part of our focus on providing value, we'll find creative ways to solve our clients' problems. For this image, we combined a studio shot of the model and false wall with a separate shot of water-spritzed glass and a third shot from a recent trip to Paris. The client got the atmospheric image they needed without having to set up an elaborate location shoot.
SB: Once your projects are complete, how do you present your clients with digital billing concepts such as capture fees, retouching and postproduction charges in a way that is easy for them to interpret?

JH: The way we structure the language depends on the nature of the project. Sometimes, it makes sense to line item each aspect of the postproduction. Other times, we'll present multiple activities as a single line item. Our studio has been providing clients with digital files since '94 and we have always charged for digital postproduction services. It's simply a stated policy and, truthfully, it's never really been questioned.

The important thing to recognize is that digital postproduction adds both cost and value. To do it well, the photographer has to make a significant investment in equipment and training, not to mention the time actually spent managing and optimizing the files for the job at hand. Clients used to have to pay for scans and multiple rounds of proofs. Even then, the color fidelity rarely came close to the original transparency. A photographer who understands pre-press and controls the optimization of their images will deliver files that are true to their creative vision; a vision informed by the client's needs and refined over the course of the project. That's the best possible scenario for all involved.
Antonella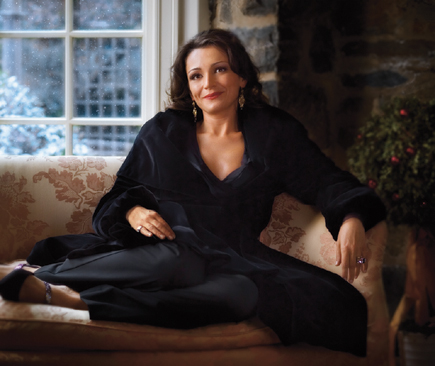 To make the distribution deadlines, this holiday-inspired image had to be produced at the height of summer. Controlling the color temperature of our strobes let us create the illusion of cold winter sunlight creeping into a cozy interior environment.
FEATURED VIDEO