Judith Pishnery; A Variety of Photo Subjects Keeps Her Enthusiasm High
Always artistic, Judith Pishnery was a natural choice to be her high school's yearbook photographer--an initial foray that resulted in her becoming "hooked" on photography. And, because one of her science teachers also taught photography on the side, "I would hang out in the biology department," she recalls.
A view of floral fields near Burgundy.
All Photos © Judith Pishnery, All Rights Reserved
Between her junior and senior year of high school, she sought a special program to learn all she could about her new passion. Thus, she left the small, coal-mining town of Tower City, Pennsylvania, where she grew up, and attended a professional photography school in Atlanta, Georgia, after her high school graduation. She majored in photography and worked at a commercial photo lab while in college. "I learned much about what labs can and can't do for you as a photographer," she comments. She also earned a B.A. degree from Thomas Edison State College, where she specialized in photography.

Just Do It
After graduation, Pishnery worked as an assistant to an interior/architectural photographer. She says that when she first opened her own studio in 1984, Atlanta was not a city that was known for having women photographers' studios, "so I just went for it!" She also knew what type of work she wanted to do. As a burgeoning professional, Pishnery also specialized in photographing interiors and architecture--"life with a large-format camera," as she puts it.
| | |
| --- | --- |
| | |
| A rural scene in Burgundy. | The interior of a church in Lourdes, France. |
Eventually she began doing product photography for corporate and high-tech clients. Today, she lives and works in Atlanta, where she does a lot of corporate photography, brochures and executive portraits--"I've done quite a bit of work for Southern Bell and Georgia Power." She also specializes in editorial and advertising photography for nationally known companies, and her fine-art photographs are in many private collections.
Of France, Pishnery proclaims, "I love the country, the people, and the scenery is just magnificent!" On this page are some diverse views of this country, as seen through her lens.
An interesting view of the Eiffel Tower.
Pishnery has taught college-level classes for the past 20 years, including courses that deal with the business side of photography, which, she points out, "is an important education a lot of photographers don't get." As a photography professor, she shared her photographic expertise with students at several colleges and art schools in Atlanta.

She's recently started her own workshop series, Pisconeri Workshops, which she describes as "small and intimate" creative learning experiences. (She uses her husband's traditional family name of Pisconeri in her profession, a name that was changed long ago to Pishnery at Ellis Island.) She teaches no more than 10 participants per photo workshop, and up to 25 in business classes. "I'd love to give more small classes," she says, "and some one-on-one instruction." These private photographic workshops incorporate her "love of photography, love of travel, and love of teaching!"
Farm fresh--a weekly market in San Remy.
Fluent in French, Pishnery advertises her workshops to destinations like Paris and Provence in French journals, some American publications, and on her Website: www.pisconeri.com, which also includes her gallery of diverse imagery. Of France, she says, "I love the country, the people, and the scenery is just magnificent!" She describes her workshops to this country as "A week of photo-filled days and nights." Upcoming Paris and Provence workshops are slated for March through May, 2003.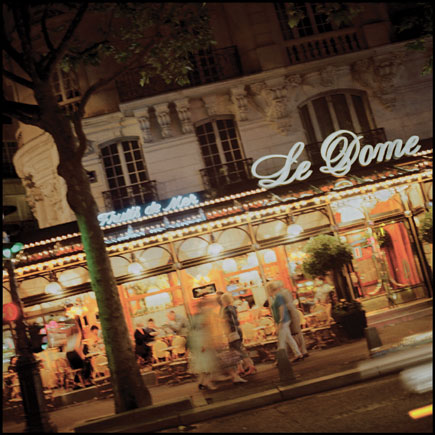 A Paris street scene at night.
These excursions, Pishnery says, stemmed from field trips that she once offered at various colleges to locales such as New York, New Orleans, San Francisco, and Paris. "Each year, I would organize photo trips to New York to coordinate with Photo Expo East" (an annual photographic trade show on the east coast). This way, students had the opportunity to go to some of the seminars and product displays that this show offered. Pishnery also organized trips to photographer's studios, agencies, and magazines in the city.
Pishnery's travels also take her to far-flung locales like China.
The Great Wall of China.
FEATURED VIDEO