Here's a Great Intro to Studio Lighting to Help You Easily Capture Beautifully Lit Images (VIDEO)
If you've wanted to learn more about studio lighting but have been too intimidated to take the plunge, the below video from Mango Street is a great place to get started. Led by special guest photographer Daniel DeArco, the video is designed to help you easily integrate studio lighting into your workflow so you can create strikingly lit images.
Along with demystifying the process, DeArco explains that you don't, necessarily, need to buy a lot of expensive lighting gear to get great shots.
"A big misconception in studio lighting is that you need these big expensive packs and flashes to do the entire job," DeArco says. "And that when you get them you have to use the entire power it contains, which is not the case at all."
In the video, DeArco uses the Flashpoint XPLOR 600 ($749) but notes he could also have used just speedlights. (Look for a review of the Flashpoint XPLOR 600 in Shutterbug's September 2017 issue.)
"If there are people out there like Joe McNally shooting editorial jobs and everything with Speedlites their entire career, you can use one flash and get a lot done," he says.
The key to DeArco's approach is to use both natural light and flash in the studio but to "prioritize the natural light first."
His lighting method is best describe as the DeArco Diamond, which puts ISO, Shutter Speed and Aperture on the top of the diamond as "the definitives," with flash in the bottom corner to form the diamond.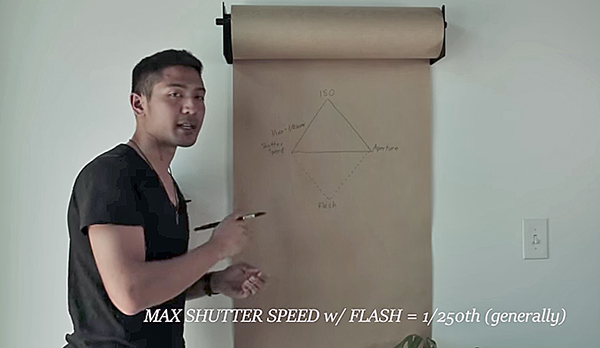 A key point is not to overpower the flash or the subject.
"When shooting wide open I start with the power really, really low," he says while noting that the Flashpoint system is at 1/128th power. "You don't want to overdo the flash when you throw it in the mix."
In summary, here are the three main points that DeArco explains in the video below:
1. Keep It Simple: Prioritize One Light Source First
2. Have a Go-To Hard Light and Soft Light Setup
3. Experiment: Knowledge of Studio Lighting Will Make You a More Well-Rounded Photographer
Give it a watch and try for yourself.
FEATURED VIDEO