The Goods: Our Favorite New Premium Photo Gear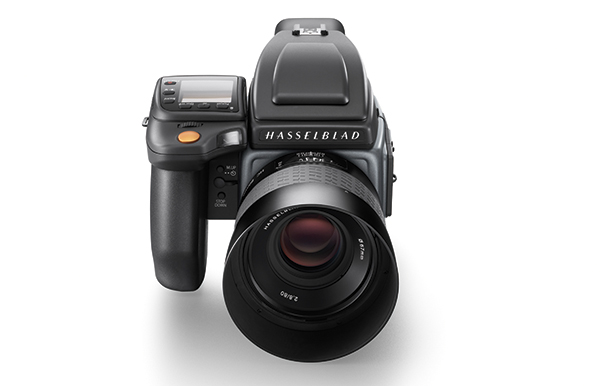 Raised Platform
Hasselblad, as venerable a name in medium format photography as there is, is back with the H6D. The Swedish company has given this medium format camera system a significant overhaul from the previous model, offering several key upgrades, including a new electronic platform for better overall performance and faster image file throughput. The H6D comes in two versions: the H6D-100c, which boasts a 100-megapixel CMOS sensor, and the H6D-50c, which uses a 50-megapixel CMOS sensor. The ISO range has increased on both models, with the H6D-100c capable of shooting at up to ISO 12,800. The H6D-100c also offers 4K video shooting, which is a first for medium format. Other enhancements on both versions include a three-inch, 920,0000-dot, high-resolution rear touchscreen display with pinch and swipe capability; full flash sync speed at up to 1/2000 second; a USB 3.0 Type-C connector that delivers faster file transfer; built-in Wi-Fi; an HDMI port for external monitor connectivity; and built-in dual card slots: a CFast slot for high-speed capture and an SD card slot. Hasselblad users should also be pleased to learn that the company's image processing software, Phocus, has been upgraded with the new 3.0 version with new features and a new graphical interface.
Hasselblad H6D
H6D-50c: $25,995; H6D-100c: $32,995
hasselblad.com
New Twist
Lensbaby is always up to something interesting with its creative optics and now the company has added a new twist. Quite literally. Lensbaby's Twist 60 is a non-tilting 60mm portrait lens with a fast f/2.5 maximum aperture and an anodized copper body that harkens back to a design from Joseph Petzval in 1840. And like Petzval's lens, the Twist 60 captures subjects with unique, swirling bokeh effects in the background. It does so by creating a sharp center with a swirl of blur in the background and enhanced vignetting. The more you open up the lens, the greater the effects. The Twist 60 works its magic best on full-frame camera bodies, with some (but not all) of the effects cut off on APS-C-based cameras. Featuring a 12-blade f/2.5-22 aperture, the lens is constructed with four elements in three groups and uses 46mm thread-on filters. The minimum focusing distance is 18 inches. The Twist 60 comes in Canon, Nikon, and Sony E/FE mounts.
Lensbaby Twist 60
$279
lensbaby.com

Mobile Marvel
The Leica name on a smartphone camera? They said it would never happen but it has. Chinese mobile manufacturer Huawei is using two Leica-branded 27mm f/2.2 Summarit aspherical lenses on the dual 12-megapixel cameras—one monochrome and the other color—in its new P9 and P9 Plus smartphones. While the exact provenance of the lenses is in dispute—reports indicate that the China-based Sunny Optical Technology company is manufacturing the lenses to Leica's specifications—the quality is not. Together the dual sensor and optic combo is designed to increase the amount of light the imager can detect by 300 percent, with a 50 percent improvement in contrast. There's also a laser-assisted hybrid AF system and an obligatory front-facing 8-megapixel selfie camera. And from the slick look of the 5.2-inch P9 and 5.5-inch P9 Plus, it seems as though Leica may have also had a hand in the industrial design.
Huawei P9 and P9 Plus
Price: TBD
huawei.com
Wide Wonder
Using filters with ultra-wide lenses can be a tricky proposition but Fotodiox has a nifty solution. Called the WonderPana FreeArc XL, the innovative filter system enables Canon shooters to use NDs, polarizers, and other filters on the ultra-wide Canon EF 11-24mm f/4L USM lens. Fotodiox, long known for precision lens adapters, filters, and other accessories, designed the new WonderPana unit to accept both round and square filters in their extensive collection. The WonderPana's all-metal core attaches directly onto the lens with a secure mounting system. With the core in place, you can mount any of Fotodiox's square or 186mm round filters, or 200x260mm "square" filters. The device accommodates either two square filters, or one round and one square simultaneously. The FreeArc nomenclature refers to the fact that the filter stage is rotatable 360 degrees. It's important to note that this WonderPana system is custom designed to fit the Canon EF 11-24mm f/4L USM lens and will not fit other optics.
WonderPana FreeArc XL
$229
fotodioxpro.com
The Goods spotlights the hottest premium photo gear out there. If you have a product you'd like considered for The Goods, e-mail images and info to editorial@shutterbug.com.
FEATURED VIDEO