A Force of Nature: Photographer Ray Collins Captures the Untamed Beauty & Power of the Sea
Capturing the fleeting moments of a wave's journey to dissipation, award-winning photographer Ray Collins feels much more at home in saltwater with his camera than on land. Photographing the relationship between water and light is what inspires him.
Collins purchased his first camera in 2007 (to shoot his friends surfing) and soon companies such as Apple, Nikon, United Airlines, Isuzu, Qantas, Patagonia, National Geographic and Red Bull were using his unique seascapes for their international ad campaigns.

Collins' work has been featured by Wired, Yahoo, CNN, ABC (USA), ESPN, Huffington Post & BuzzFeed and can be found in art, lifestyle, sport and photography magazines around the world, his seascapes have been exhibited in galleries and museums throughout the United States, Europe, the UK and Australia.
We caught up with him recently to find out how he captures such beautiful images of water and waves.
Shutterbug: Could you give us some background on your photography career?
Collins: I bought my first camera in 2007 after an injury in an underground coal mine, I just read, and re-read the manual until I figured out how the fundamentals of photography worked. During the rehabilitation process the doctor suggested swimming and as I was an avid surfer it made sense to take my camera with me. Soon I became obsessed…
Shutterbug: What inspired you to capture the various shapes and rich colors created by waves?
Collins: The ocean has always inspired me. My earliest memories are of it and so are my most fond. It has taught me many life long lessons about respect, patience and instinct. Things money can't buy and things that can only be learned through experience.
Shutterbug: Your Seascapes series is breathtaking. Where were the images captured?
Collins: Most images are on the east coast of Australia; we get very dramatic light in the mornings and that's usually my favorite time to be in the water. Which usually means I'm in the ocean in the dark waiting for the sun to come up. I have travelled to Hawaii and Indonesia enough to be very familiar with both locations and throughout Europe and even Iceland to swim in the water and capture waves breaking.
Shutterbug: How do you capture the images? What gear do you use and do you enhance the shots with Photoshop?
Collins: With many thanks to Nikon Australia, I use all Nikon gear. The D4 and D810 combo has my image making needs taken care of, and I usually shoot with prime lenses from 16mm to 300mm in the water.
To be able to take my camera gear in the water, I use Aquatech water housings. I have used them since my first camera and I've never needed to try anything else because they are the most trusted (and user friendly) housings in the world. You have full range of camera controls as you would on land.
I try not to overdo anything in Photoshop. I find shooting in the right light and using in camera settings can save a lot of time down the track in post—which means more time to shoot!
Shutterbug: What advice would you give others who want to capture the power of the ocean?
Collins: Just know your limits. Use fear to create excitement, but know your limits. It can be a dangerous profession trying to swim with all that gear and you need to be confident of your abilities and knowledge of the ocean. If in doubt, don't go out. Also the best bit of advice I ever had was to "shoot what you want to see… not what you think others want to see." That will help create a signature style.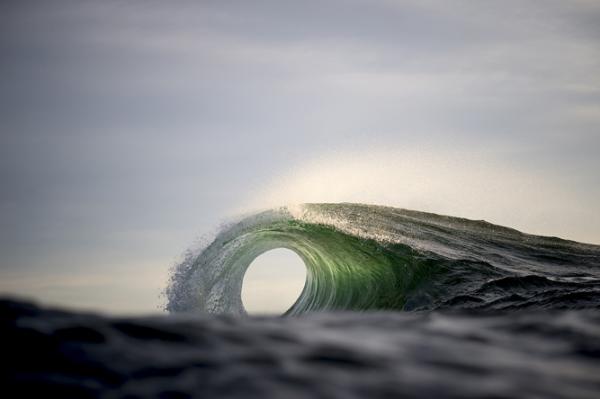 Shutterbug: What other projects you working on these days?
Collins: Just continuing to push what I am capable of and to show the emotions of the ocean. I don't ever want to get comfortable.
Working on an intimate series of the many moods of it and working toward my second book.
For more info, visit Ray Collins' website.
LATEST VIDEO