Flashpoint 500C LED Light: LED Lighting For The Rest Of Us
LEDs may represent the future of studio lighting but a number of the currently available options come with a caveat or two for the new professional or aspiring pro. Some LED solutions are affordable but may be too physically small for efficient use in a studio, or they may be large enough but too expensive for the shooter who just wants to dip their toes into the LED waters. Measuring 14x7.5x2.75" and costing less than $200, Flashpoint's 500C LED Light appears to be a good solution for the LED newbie who wants to see what all the fuss is about.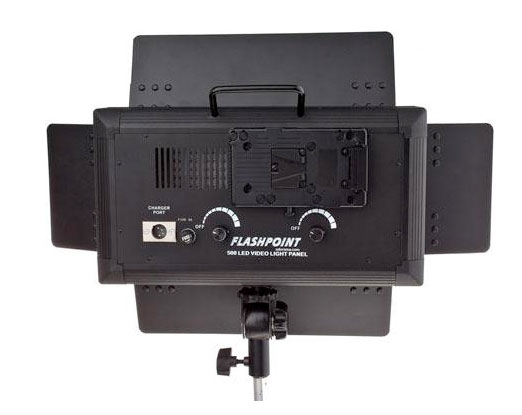 What's New
Like most LED light sources that I've tested, the Flashpoint 500C was originally designed for video applications but it can be a useful tool for still photographers, too. Designed to run on AC power, the 500C can be powered by an optional ($199.95) 162.8-watt Flashpoint V Lock Battery. To ensure safe operation, the battery's circuits monitor and protect cell balance, temperature, overcharge, and over-discharge. The V Lock Battery can also power an additional device and has four LEDs that show remaining battery capacity. Unfortunately, I was unable to test the battery for this review and all
my images were captured using AC current.
Mounted inside the Flashpoint 500C's metal chassis are 500 (white and yellow) LEDs that are controlled by two knobs on the unit's back, allowing you to fine-tune color temperature and light output. One knob controls the intensity of the white LEDs, the other the yellow ones. Instead of the smaller connectors used by other transformer-powered lights, the 500C has a 13-foot power cord that connects to the light's back using a rugged multi-pin DIN plug. No biggie, you say? Maybe not, but the rugged, metal DIN plug provides a secure connection that won't accidentally disconnect when tugged on by the transformer's weight.
The 500C has four built-in black anodized barn doors whose surface is covered with reflective material, allowing you to flag or spill light wherever you want. A sturdy and clever mount adapter for 5/8" stud-topped light stands lets you rotate the 500C from vertical to horizontal or anywhere in between. A nicely designed handle helps steady the unit while rotating and locking it in place. The 500C's simple design is such that you just turn it on, spin either or both of the control dials, and shoot. Let's see what happens when I do.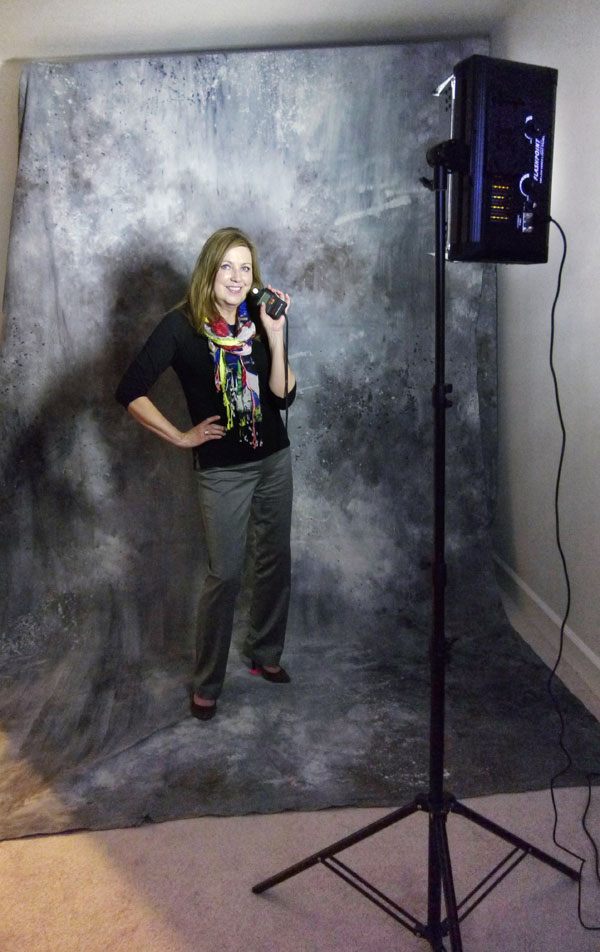 In Studio & On Location
I made a series of test shots of BD Company's Silver Gray seamless paper with a Canon EOS 60D set in different white balance modes. I turned on all the 500C's LEDs and shot in Auto White Balance (AWB) and Daylight color balance. I made the next sequence using only white LEDs and shooting in AWB and Daylight modes, which was followed by only yellow LEDs while shooting in AWB and Tungsten modes.
For this camera, the cleanest color was found when shooting all white LEDs in AWB mode. Second best was all LEDs in AWB mode. (Note: Every digital SLR manufacturer interprets white balance presets differently and while these particular settings worked for me you should make your own tests and evaluate the results on a color correct monitor, not just the camera's LCD. As an alternative, some may prefer to do a custom white balance or just shoot in Raw and correct in postproduction. It's your choice.)
I put together a basic lighting setup in my 11x15-foot home studio using the Flashpoint 500C LED Light mounted on a 9-foot Flashpoint Heavy Duty Pro air cushioned black light stand ($39.95) with a 32" Flashpoint 5-in-1 reflector ($25.95) used as fill. While turning on only the white LEDs and shooting in AWB mode produced the most neutral color, I didn't want to give away 50 percent of the Flashpoint 500C's output, so my compromise was to shoot with all LEDs on maximum output with the camera set to AWB and apply color correction, if required, using PictoColor's iCorrect Portrait in postproduction.
Output specifications for the 500C (in lux) are 5250 at 2 feet, 1350 at 4 feet, and 530 at 6 feet. In "photospeak" output in EV is 11 at 2 feet, 9 at 4 feet, and between 7.5 and 8 at 6 feet. The EV for a full-length shot at 10 feet at ISO 100 is approximately 6, which translates to about 1/4 sec at f/4. My EXIF data for a full-length shot of Pam Simpson wearing a black-and-white dress was 1/60 sec at f/4.5 and ISO 100, so the 500C might be slightly more powerful than its specifications would indicate. Another way of quantifying the Flashpoint 500C's output is by using an incident meter. With a Gossen Luna-Star F2 meter set at ISO 100 the exposure measured was 1/15 sec at f/4.5 at 5 feet and 1/4 sec at f/4.5 at 10 feet.
The 500C does throw a broad enough light that it can be used for full-length shots. In making full-length portraits of Ms. Simpson wearing a variety of clothing from Eccentrippy with an EF-S 15-85mm f/3.5-5.6 IS USM lens, I ended up shooting at 1/10 sec. This shutter speed is, I feel, over the edge for producing subject motion blur problems, especially when photographing a typical portrait subject. Consequently in subsequent sessions I used higher ISO settings to eliminate concerns about subject or camera motion blur.
Tip: The use of fast prime lenses, if you own them, would give the ability to use higher shutter speeds at somewhat lower ISO settings. Image stabilization lenses and/or cameras would be a handy item as well.
Light Modification
The Flashpoint 500C's built-in barn doors let you create dramatic lighting effects without producing any heat buildup. If you close down the barn doors on other kinds of continuous (non-LED) light sources, it can produce unsafe levels of heat and that's why older studios always had oven mitts handy. That means the unit doesn't require a fan, which in turn means a quieter working environment, something I prefer but might not matter if you play Bon Jovi during shoots.
Out of the studio proper I wanted to make portraits in a spare room that has particularly contrasty lighting, but on the day Ms. Simpson showed up for the shoot it was overcast and the available light was not the best in either quantity or color. I ended up photographing her with the Flashpoint 500C using only the yellow LEDs to remove some of the cool light and was pleased with the final results.
Tip: Wedding photographers who like to shoot dreamy candlelit portraits of the bride and groom can use the 500C with all the yellow LEDs turned on in a similar manner, but may have to crank up their ISO setting to compensate for only using half of the 500C's LEDs.
Conclusion & Recommendations
Like most Flashpoint products, the 500C LED Light combines functionality and value. I only had access to one of these lights for this test but the unit is so reasonably priced that you could buy two or more of them and not even get close to the cost of what similarly sized systems cost for a single light. You could put three of them in a sturdy case and have an impressive and inexpensive all-LED lighting kit. Simplicity of operation and affordable pricing make the 500C an ideal starter system for anyone looking to add LED lighting capability to his or her wedding or portrait operation.
Quick Specs
Weight: 6 lbs
Size: 14x7.5x2.75"
Price: $199.95
Contact: www.adorama.com
For more information, visit Adorama at www.adorama.com.
FEATURED VIDEO