Fotodiox LED Studio-in-a-Box Review: An Inexpensive & Extremely Portable Lighting Solution
If you're looking for a lighting solution for product photography that's cheap, fast, and extremely portable, look no further. The Fotodiox LED Studio-in-a-Box, as the name implies, is a self-contained tabletop studio that features interior LED lighting that has a daylight color balance of 5600 Kelvin. The CRI, or Color Rendering Index, is 85 (on a scale 0 to 100).
But before we get too far lost in the specs and details, I just want to say that his super portable light box works great and it's priced right. If you have any need to photograph small to medium-size objects with minimum hassle and very high likelihood of success, get your wallet out.
Product Highlights
I've never started a review by mentioning the price first, but the MSRP for the Fotodiox LED Studio-in-a-Box is an important part of this story. This is not a cheap white nylon tent with a spring wire frame, but it's priced like one. Prices start at $69 (for 16x16 inches) and range to $119 for 28x28.
I reviewed the 24x24 which sells for $99. There's also a 20x20 that's $79.
The sides, top and bottom are made of flexible fabric, black on the outside with a quilted silver reflective interior surface. (Have you seen the car windshield visors that look like textured aluminum foil? The innards look very similar.) The package includes three vinyl sweeps (white, black and blue).
My sample came with a beige sweep, too, but brown is truly a useless color for a backdrop, so don't fret if yours doesn't have one. The plastic sweeps don't wrinkle or fray and can be wiped clean if necessary. Also included is a white diffusion drape that can be used to soften the LEDs.
Operation
Assembled, the 24x24-model for the Fotodiox LED Studio-in-a-Box is roughly a 25-inch cube. But it folds to make a self-contained "case" that is so slim that it slips into a flat box that is only 3-inches thick. Talk about portability.
Once assembled, which took about five minutes the first time (mainly because of recalcitrant Velcro) you shoot through the two-piece front door of the LED Studio-in-a-Box and/or the closeable top hatch. It took me—by actual stop watch—30 seconds to assemble it the second time. I wound up leaving the front door all the way open during most shooting exercises.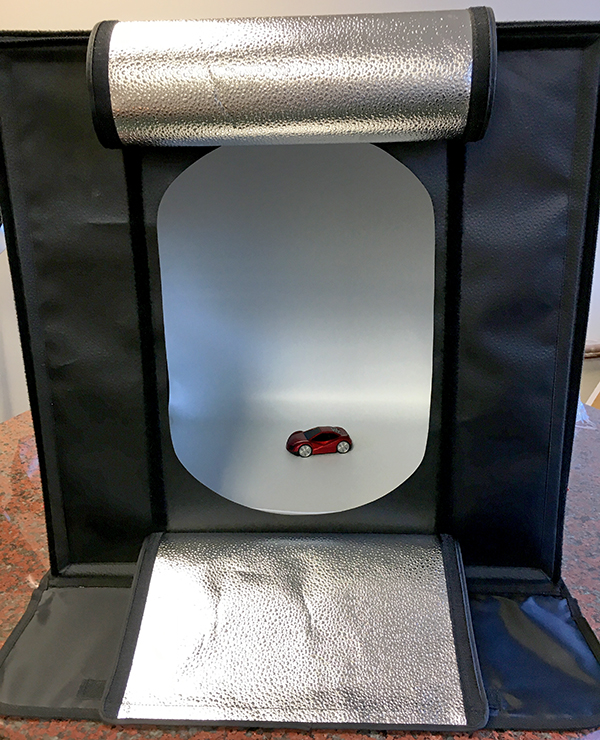 One reason why I'm so enthusiastic about this product is the built-in LED lighting that is so powerful that I easily shot very useable images without setting up a tripod. In other words, I was able to use a small enough aperture and a fast enough shutter speed for good results, and I was able to work quickly.
I even got publishable results shooting with an iPad Pro and an iPhone 6s while using LED Studio-in-a-Box. Please understand that I do not advocate letting a phone or tablet do a camera's job, but I know that there are plenty of folks who just need a quick-but-perfect shot and use their cell phones to that end.
Applications
The first use of the LED Studio-in-a-Box that comes to mind is, of course, online auctions. In fact, I feel slightly compelled to sell something on eBay just because this box makes website photography so fast and easy. The Fotodiox Light Box LED is ideal for any sort of product photography including houseplants and flowers, school projects and drool-worthy food images.
And when you've finished doing the fun stuff, do something important like a new set of photos to substantiate your homeowner's insurance policy.
Precautions
The LED light in the LED Studio-in-a-Box is very bright, so don't stick your head inside the box and flip the switch. Also, even the slightest amount of dust becomes obnoxiously visible, so be liberal with the Dust-off compressed air and microfiber cloths.
Finally, although the plastic sweeps are wrinkle-free, as advertised, I did encounter some distinct reflections at bend. This was easy enough to remediate in post-processing, but visible nonetheless.
Conclusion
I am not a stranger to light boxes. I personally own a Digital Dynamics white box manufactured by MK Direct that cost $2400 about 15 years ago. It has a motorized turntable and is quite durable and reliable, but it's small—and expensive. Not to mention that it takes two men and a boy to lift it.
In comparison, I was able to get equal or better results using the Fotodiox 24x24 LED Studio-in-a-Box. And it's portable enough to take to a friend's house or to the office for some fast product shots.
Put this on your shopping list. It's fun and easy to use and you'll get great results even if you've never done any tabletop product photography.
—Jon Sienkiewicz
FEATURED VIDEO