Digital Help; Q&A For Digital Photography
Digital Help is designed to aid you in getting the most from your digital photography, printing, scanning, and image creation. Each month, David Brooks provides solutions to problems you might encounter with matters such as color calibration and management, digital printer and scanner settings, and working with digital photographic images with many different kinds of cameras and software. All questions sent to him will be answered with the most appropriate information he can access and provide. However, not all questions and answers will appear in this department. Readers can send questions to David Brooks addressed to Shutterbug magazine, through the Shutterbug website (www.shutterbug.com), directly via e-mail to: editorial@shutterbug.com or goofotografx@gmail.com or by US Mail to: David Brooks, PO Box 2830, Lompoc, CA 93438.
To aid us in making Digital Help as helpful as possible, please be specific in your query and include components, including software, that you use. David says, "Make me guess the problem and I might guess wrong."—Editor
Slow Performance Running Aperture Or Lightroom
Q. In your response to Dirk in the January, 2011, Shutterbug, you said your Mac Pro and minis are not slowed down by processing photo files. Any thoughts on why my 2-year-old iMac with a 4GB card in it gives me the spinning beach ball so often, especially when I am in the Develop mode in Lightroom 3, and why some of the adjustment tools in that program sometimes lock up for a while before continuing to operate? I process Raw files (22MB or so—TIFF files end up about 120MB). I am thinking of purchasing a Mac Pro 8 core to process very large files—stitching together up to seven or eight of these 22MB files to make a panorama. Would an 8 core handle this without the spinning beach ball?
Jim
via e-mail
A. I don't consider Lightroom as primarily an image-editing application; it is primarily a large and complex database with a small, mediocre image-editing application tacked on to one side. Both Aperture and Lightroom were and remain rather slow because the original Raw file is preserved unchanged and the editing is a complex metadata instruction set attached to the Raw file, and that is what takes the processing time that slows the application.
I use my camera-supplied application, like Canon or Sigma, to batch convert Raw to TIFF and then edit the TIFF files with LaserSoft's SilverFast HDR. To me it's more efficient and faster and does not misinterpret the metadata associated with the Raw file like both Apple and Adobe Raw processors, which are just guessing what the camera metadata defines because that is proprietary, copyrighted information.
My Raw scan files from 35mm run close to 200MB and it never slows my 4GB Mac mini down.
With a large load of open images the processors don't have to do anything once the files are open, but to work with them efficiently you need 4x the amount of RAM than the total file size, at least 8GB; better yet, 16GB or 32GB.
Processors do computation and almost none is required to do basic image editing, only lots of RAM because the image pixel data is moved constantly back and forth between RAM, video, and the application.
On Using SilverFast With The Plustek 7600i Scanner
Q. I recently purchased a new Dell Studio XPS 8100, an NEC MultiSync P221W monitor, and a Plustek 7600i scanner and SilverFast Ai. My scans are quite good for 8" JPEGs, which I use for slide shows, but my desire is to produce top-quality scans once only in 16-bit and use them as masters for all of my work. So far, I have had trouble getting those results, so my settings in SilverFast must be incorrect. I would really appreciate your advice on the best settings to get high-quality scans.
Robert McKenzie
via e-mail
A. Here is the control screen: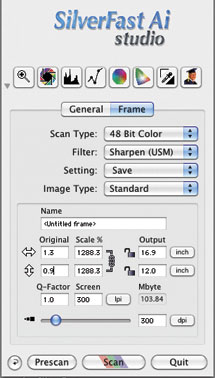 I usually set Scan Type to either 48 Bit Color or i64 if the film is E-6 or C-41. For Filter I usually select USM to adjust UnSharp Mask sharpening, and leave the Setting at Save to a high-bit archive file. I do not use the automated Image Type options; I leave it at Standard and individually adjust each image for color correction and image qualities using the five central icons in the row at the top of the control window. You may try the Image Type automated options in the drop-down selection and see if you like the results.
The first control, which looks like an aperture, sets the high and low points of the image to the gamut of 256 RGB levels automatically, and seldom needs manual adjustment. The four in the middle—one looks like a histogram, one a curve, another global color balance, and the last, selective color adjustment—are manual adjustments that need to be adjusted perceptually in order, left to right. At the bottom in a box you can select the Output size, and mine is usually 12x18", too, or somewhat shorter, and then I set dpi resolution at the bottom to 300.
Gold CD-R For Archiving Image Files
Q. I read with interest your suggestion that archiving photo files on gold CDs is much preferred to archiving on hard disks. My question: are there any reasons to use CDs in lieu of DVDs? Does one perform better in some ways? And a related question is whether there are any archival differences between the types of jewel cases or sleeves used to store the discs? Thanks again for all your very useful work.
Ira
via e-mail
A. There are two deficits with DVD-R for storage: 1) With far more data recorded in the same physical space, the tracks and bits are much smaller and more susceptible to any damage time may have on a record imprinted into a dye layer. 2) With a DVD-R the manufacturer cannot include a fine gold layer on the recording side of the disc as they can with a CD-R because a DVD-R inscribing laser will not burn through a gold protective coat.
As for storing CD-Rs, a jewel box that is hard protects the recorded side of the CD-R from any minor physical damage and also the rigid box suspends the disc above the box surface so nothing will contaminate the recorded side except what is in the atmosphere.
LCD Display Size And Price
Q. NEC doesn't make it easy to compare features: the LCD2690W2-BK-SV costs $1449, and the LCD3090W-BK-SV costs $2449. Are an extra 4" worth a grand to an occasional user/hobbyist?
Donald J. Haarmann
via e-mail
A. Sorry, but that difference in price for 30" LCD displays is industry wide with any brand. The reasons are factual in that production of very large screens is low so cost per unit is higher and the "rejected for failure rate" in screen manufacture with large screens is higher.
Only production users, particularly those doing video editing, really need that large a size. There is little heat and no radiation with an LCD display so just move it closer to you and you have the same screen experience, and if you need more space for dialog windows, a cheap home/office display for a second display is less costly to get the extra screen space.
A few years ago Apple sent me a high-end system to test with two 30" Cinema Displays, and I found it was not any fun and no real advantage having that much screen space. My choice has always been a moderate size with a high-resolution count so the image is sharper and more detailed.
Confusing Terminology?
Q. Largely based on your recent reviews, I bought an NEC MultiSync P221W monitor. I have it hooked up to a new MacBook Pro. So far, everything looks great. I do have one question about calibration, though. I picked 6500 for white point, since that is what I am used to, but I noticed there is a preset for D65. What is the difference?
Irna Jay
via e-mail
A. I am glad you are pleased with the NEC MultiSync P221W LCD display. As for your question, 6500˚ Kelvin and D65 are just two different ways to identify the same thing, the color temperature setting of the display.
On display calibration and profiling a recent blog discusses its function and importance, so you may want to read it. The address of the blog is: http://blog.shutterbug.com/davidbrooks/.
Different Output, Different Display Settings
Q. Sorry to beat "dark prints" to death, but it seems to be a widespread and confusing issue. I have ordered the new Spyder3Elite, which I understand will give me the option to set brightness at your recommended 90.0 CD/m2. I currently set my Epson R1900 print setting to +16 to match print to monitor. That works well for my own printing but I have problems when sending to a lab for prints or photo books. The new calibration should fix that.
But then, it would seem that after I adjust my files for the darker monitor, I will have problems with the photos looking terrible when viewed by others on their computers. Also, I upload files to my website, which are of course viewed and prints are ordered through a linked lab which will use that same file. Seems like they will get a good print but it will look so bright on the website no one would order anyway. Am I wrong in thinking this? How do you get around these issues? Is there a way to switch between two calibrations depending on the output of the file?
Thane Rogers
via e-mail
A. You are not wrong in your thinking at all. A user's monitor should be adjusted in White Luminance (brightness) that is a match with the output, or the receiver of the image file. If printing, the match is 90.0 CD/m2; if you are sending a JPEG file it should be in sRGB color space and the White Luminance of the receiver.
The latter can be a guessing game. What brightness is the average user adjusted to? All this means that you need two modes and calibrations and profiles—one for printing and one for sending JPEG images to another computer or the Internet. With some displays that is pretty easy to accomplish, like the Dell UltraSharp U2410. It allows selecting different operation modes, Adobe RGB for printing and sRGB for images to go out as JPEG files.
P.S. For users of CS versions of Photoshop, there is a built-in utility called Image Ready. It will convert Adobe RGB images to JPEG in sRGB. But how much it compensates brightness for higher luminance receiving users, I don't know. But I use it and my web page images look good to me on my office computer.
The One Scanner Software For All Scanners
Q. I am using Photoshop CS4 on a Macintosh OS X 10.4.11. I recently purchased an Epson GT-20000 flat-bed scanner to go along with an Epson Perfection 3200 PHOTO scanner and a Nikon COOLSCAN IV ED. Is there a scanner software I could purchase that will work well with all three of these scanners?
Beverly Wickersham
via e-mail
A. You have to purchase a different software version for each different scanner because the digital language to control the hardware is different for each scanner, even those made by the same company. However, SilverFast software can and does bundle all models together on a computer so you have several versions of SilverFast in a single launcher and access window. And if you learn to run a scanner with one version of SilverFast, then it will be almost the same with each different scanner you use. I would suggest visiting their website at: www.silverfast.com.
ANNOUNCEMENT
I am pleased to announce a new Fourth Edition, adding four chapters to my eBook DIGITAL DARKROOM RESOURCE CD. The CD now contains 30 chapters totaling 359 pages in Adobe Acrobat .PDF format, providing easy-to-read text and large high-quality illustration. The CD is available for $20 plus $4 shipping and handling (US Mail if available). Ordering is as simple as sending a check or money order for $24 made out to me, David B. Brooks, and mailed to PO Box 2830, Lompoc, CA 93438.
FEATURED VIDEO