Covering The Photo Beat
Small Product Lighting Studio, Flash Bracket, Camo Blind, And More
New Sinar f3 Universal View Camera
Recently added to the precision Sinar view camera line is the Sinar f3 Universal View Camera. Built-in scales permit accurate determination of depth of field and tilt and swing angles, allowing for easy focusing. The Sinar f3 is fully compatible with the modular Sinar camera system and is suitable for use with both rollfilm cassettes and digital backs. It has integrated contacts and electrical bellows so it is possible to control electronic between-the-lens shutters without need for additional cables. All rollfilm cassettes and digital backs having Hasselblad V system connectors can be used. It has an image area for both film and digital applications of up to 6x6cm. Contact: Sinar Bron Imaging, 17 Progress St., Edison, NJ 08820; (800) 456-0203, (908)
754-5800; fax: (908) 754-5807; www.sinarbron.com.
Camouflage Blind For Nature Photography
Anybody wanting to view wildlife close-up in the field without being detected can benefit from using the camouflage provided by Kwik Camo, a portable lightweight patterned material that covers the entire body. A new lighter weight summer version is offered in an Advantage Timber pattern while the original version is called Realtree Hardwoods Green. An opening permits the tripod-mounted camera lens, binoculars, or video camera to protrude for observation and recording the subject. The MSRP is $120 plus S&H. Contact: REP Enterprises, LLC, 5782 Church Highway, Rogers City, MI 49779; (877) 588-0699 (toll free); fax: (989) 734-8157; www.michigannature.com/gear.html.
Camera And Accessory Bags
M-Rock has announced two new additions to their broad line of 14 camera and accessory bags, backpacks, and modular belts. The smaller Everglade and larger Sierra bags feature U-shaped lens cradles that accept lenses up to 6" long while keeping the camera weight off the lens. Constructed from tough, water-resistant material, they have a weather jacket that covers the entire bag for rain protection. For use in rugged and changeable outdoor situations they also offer triple-protection rain flaps, zippers, and buckle closures. Two non-pinching shoulder straps, neoprene handles, belt loops, and detachable compartments shaped for carrying handy accessory items such as CD players, water bottles, cell phones, and binoculars are included. The MSRP is $48 and $100. Contact: M-Rock, 14809 E. Maplewood Dr., Centennial, CO 80016; (800) 773-7067, (303) 400-1964; fax: (303) 400-1965; www.m-rock.com.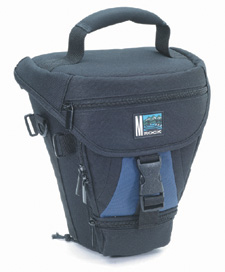 Attractive Sewn Albums
The Sewn Bonded Leather Bidirectional Photo Album is covered in European bonded leather with a raised, rounded spine. Patented bidirectional pages permit the same pocket to accept either horizontal or vertical photos up to 4x6". Larger versions also accept panoramic prints. Beside each pocket is a memo area for identifying the photo. Different versions accept from 100-300 photos. The optically clear pockets are archival, photo safe, acid, lignin, and PVC free. They are offered with black, brown, and burgundy covers and have an MSRP of $10-$18. Also new is the Normandy Sewn Embossed Photo Album. It features sewn and embossed leatherette covers with a scroll design and coordinated rounded, raised spine. It, too, features optically clear pockets with black mesh background which are archival, photo safe, acid, lignin, and PVC free. It holds up to 208 4x6" photos and is offered in black, dark brown, and light brown colors at an MSRP of $14. Contact: Pioneer Photo Albums, Inc., 9801 Deering Ave., Chatsworth, CA 91311; (818) 882-2161; fax: (818) 882-6239; www.pioneerphotoalbums.com.