Compact Digicams A Pro Could Love; Canon's PowerShot G10, Nikon's COOLPIX P6000, And Panasonic's Lumix DMC-LX3: Which One's Right For You?
Now that D-SLRs have become so affordable there seems to be less interest in the premium-grade digicams, high-level cameras with an integral lens. That may make sense because an entry-level D-SLR with a built-in flash and a 28-85mm zoom costs as little as $429. But even the most serious photographers need a compact camera that fits into a pocket for occasions when they don't want to lug a heavy camera bag around. All too often, they take the "family" digicam—typically an inexpensive point-and-shoot model—when hiking, cycling, or attending family events. The problem is such cameras are rarely very versatile; they're not usually equipped with a high-grade lens and they may not provide gorgeous high-resolution images when a great photo opportunity happens.
We're all willing to carry a large/heavy D-SLR for serious image-making, but it's great to also own a portable camera that includes most of the same features. Any of the three prosumer-grade digicams would be suitable for high-quality photos (including raw captures) during family outings or while engaging in strenuous activity such as jogging, hiking, or cycling. (This ISO 100 photo was made with the Nikon COOLPIX P6000 camera but one of the others would be a fine choice as well.)
All Photos © 2009, Peter K. Burian, All Rights Reserved
If you want compact size plus very good image quality, you might be interested in one of the three models I recently tested. Although they're not specifically marketed as D-SLR replacements, all are equipped with the latest technology, many advanced capabilities, including a Raw Capture mode, a superior zoom lens with Image Stabilizer, and a full series of external controls. These 10+ megapixel cameras boast magnesium-alloy shells, 2.7" or larger LCDs, and they accept external flash units and lens converters. Note, too, that they also include numerous automatic options so any of these cameras would be suitable even for novices within your family.

Note: Two additional cameras might be included in this report: the Sigma DP1 and the Sigma DP2. I'm not covering those models, however, because the DP2 was not yet available at press time and because we previously tested the DP1. (You can find a couple of our DP1 reviews at www.shutterbug.com with the Search Site feature.) The Sigma DP2 will be equipped with a very "fast" 41mm equivalent f/2.8 lens and a newer processor "for improved speed and performance."

The three cameras arrived at different times over a period of a month, so I began shooting with each one as soon as possible to determine its basic characteristics. Eventually, the entire trio was available for side-by-side testing. I then sought out specific types of subjects and circumstances, including locations with low light for determining high ISO quality and the value of the Image Stabilizers. Each of the Anti-Shake systems seemed to be roughly equal in effectiveness—consistently providing sharp photos at 1⁄8 sec at 60mm—so this aspect is not discussed in my reviews. I have summarized some of the more important critical and comparative aspects of these cameras in a chart featured in the Instant Links section of www.shutterbug.com.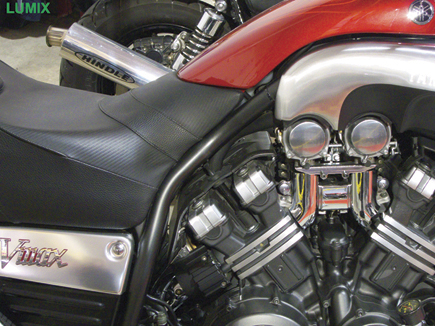 While all three cameras provide ISO levels of 1600 or higher, I found even ISO 800 to be adequate when shooting handheld in many indoor locations thanks to the built-in Image Stabilizers. These ISO 800 JPEGs were made in relatively bright light. The small area blowups show that while the Lumix images are a bit soft overall, they are nice and smooth. The Canon JPEGs are grainy but sharper and richly detailed. The Nikon JPEGs are smoother but the speckles are more colorful and more prominent because of strong in camera sharpening; there's some loss of texture due to NR processing. (These JPEGs were shot handheld, using f/4.5 and a 1⁄30 sec shutter speed.)
Canon's PowerShot G10
Relatively large and heavy, this is the most traditional of the trio with its rangefinder styling and mechanical (metal) dials for ISO, exposure compensation, and mode selection. The previous PowerShot G9 model was very popular among serious photographers who also needed a compact camera, and the G10 is even better in some respects. The primary benefits include higher sensor and LCD screen resolution, even better controls, a new Tracking AF mode, higher capacity battery, and some new high-tech functions. The lens is entirely different: a 28-140mm equivalent zoom vs. the 35-210mm equivalent lens to satisfy those who wanted greater wide angle capability.

Some aspects of operation are quite intuitive (particularly for long-time SLR owners), but the many high-tech features require reference to the instruction manual. The 3" LCD screen provides a beautiful ultrahigh-res display but there's also a (zooming) viewfinder with an extra nicety: a diopter adjustment dial. This tiny finder (with 77 percent scene coverage) isn't too bright, and there's some barrel distortion and framing inaccuracy; still, it's nice to have when bright sun obscures the LCD preview display.
The Canon PowerShot G10 features the longest lens of the three tested, extending to a 140mm equivalent vs. 112mm (Nikon) or 60mm (Panasonic). While the previous G9 model provided even longer focal lengths, the current PowerShot camera's 28-140mm zoom is adequately versatile for most purposes. (This SuperFine JPEG was made with the Vivid picture style at 140mm, using ISO 100 and f/7.1.)
Feature Set: This Canon camera is loaded with automatic and manual functions; many operations can be customized to meet personal preferences. Interesting features include a SuperFine JPEG mode, i-Contrast (dynamic range expansion) for lightening dark areas, and several image-enhancing items in Playback mode. The G10 also includes iSAPS: intelligent scene recognition that optimizes focus speed, exposure, and white balance in snapshooting. Ten picture styles, called My Colors, are available; levels adjustment for sharpness, contrast, saturation, and skin tone color are available in the Custom mode. The LCD display changes to reflect the effect provided by any picture style—and by many of the camera's overrides—a very useful preview feature.

The G10 is very versatile, particularly when used with one of the compatible accessories; surprisingly, Canon does not offer a wide angle conversion lens for the G10. Images can be enhanced in Playback mode, applying various picture styles, i-Contrast for a brighter effect or redeye fix. Maximum resolution in Movie mode is only standard definition, but videos (at 30 fps) are nice and smooth. Note, too, that the Digital Photo Pro software (for Windows or Mac) is a very useful raw file converter with all of the essential features for optimizing a photo.

In spite of the very small pixels, SuperFine JPEGs made at ISO 80-200 in bright outdoor conditions are close to perfect, with stunning definition of intricate detail. The standard picture style provides slightly high sharpness, moderately high color saturation, and very snappy (sometimes excessive) contrast. My best shots made for 12x16" prints that are suitable for use as wall decor. At ISO 400, the JPEGs still look fine and made excellent letter-sized prints. By ISO 800, images made in low light are still very sharp but very grainy, although that's not a problem in 5x7" prints. At higher ISO levels, JPEG quality really suffers due to speckling and some smearing of fine detail by Noise Reduction (NR) processing. At ISO 800+, better results are possible with raw capture since NR and sharpening can be set to the optimal level.
FEATURED VIDEO