Compact 35mm And APS Format Cameras
Although digital equipment received most of the attention at the photokina show, over 80 percent of North American households still own and use at least one conventional camera. Granted, the demand for new film-based lens/shutter models is declining, but these compact cameras are certainly continuing to sell. That's because some consumers find digital cameras too expensive, too large, or too complicated. Consequently, most of the latest 35mm and Advanced Photo System cameras are very slim and lightweight, simple to use, and surprisingly affordable. Most new models include lenses with aspherical elements and many also feature a metal exterior for greater visual and tactile appeal.
Unless otherwise stated, all of the following models are Program cameras with built-in multimode flash, DX code reader for automatic film speed setting, and motorized film advance. Although I'll discuss significant points about each new model, do visit the manufacturers' web sites for more information on any camera of interest. The full specification lists include a great deal of additional data about camera capabilities, maximum apertures of the lenses, as well as size and weight.
Advanced Photo System (24mm) Models
While few manufacturers are devoting resources to developing new APS cameras, Eastman Kodak and several others remain committed to this 24mm format. Frankly, I did not find many new APS cameras at photokina--at least not models that will be marketed in North America in the near future. Still, Fuji U.S.A. announced plans to enhance the styling of their popular Nexia APS models and Canon's ELPH cameras are selling briskly.

Kodak introduced two Advantix cameras starting with the T40, a fixed-focus model with flash and a 24mm lens that will sell for $40. The T70 is more advanced with basic autofocus and a 24-40mm Ektanar Aspheric lens; it will sell for about $65. Unfortunately, production of Kodak's Advantix Easy Share--the most versatile APS camera prototype--has been postponed indefinitely, because of its high potential cost. The sample shown in March was a hybrid that would take pictures on both Advantix film and on a digital chip. While the digital image was to be low res, it would have been useful for e-mail use or for posting to an online photo album. Perhaps we'll see another version in the future.
Premium Grade 35mm Models
We're seeing more and more 35mm lens/shutter compact cameras that include a full metal casing, or at least a front cover made of aluminum, usually with gorgeous styling. Metal is certainly more appealing than plastic but the manufacturing cost is not significantly higher; hence, many of these cameras are quite affordable. The cost of manufacturing aspherical elements has dropped, so more and more compact 35mm cameras also include zooms with non-spherical elements. These offer two primary advantages. A single aspherical element can take the place of two conventional elements, reducing the size and weight of the optical formula. More importantly, such elements effectively control distortion while offering higher image contrast and sharpness at the edges of the frame. The following cameras all include a metal body--or metal components--and a high-grade zoom lens.

High Tech Sure Shot. Encased in an elegant (7.4 oz) silver and gray aluminum shell, the new Canon Sure Shot 130u includes a 38-130mm all-glass zoom with aspherical elements plus "high-refraction" glass for superior image quality at long focal lengths. This model is particularly noteworthy because it employs a unique AF system: with a passive autofocus system that detects differences in subject contrast to determine proper focus. What's really interesting is the use of a CMOS photocell that switches between seven specific points in three stages based on the zoom position of the lens for more precise focusing. Light metering is achieved with an "intelligent" 16-zone sensor but an exposure compensation control is also available. Other great features include a diopter correction dial and five Custom Functions making the Sure Shot 130u highly versatile. (Street price: $200.)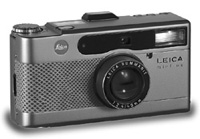 Affordable Yashica Model. Kyocera makes some expensive Contax cameras, but also offers more affordable--and very small/lightweight--models under the Yashica logo. The new Yashica T Zoom, for example, will sell for about $199, but offers some significant features we'd expect in a Contax model. That starts with a rugged metal front cover and a Carl Zeiss T* Vario Tessar 28-70mm zoom lens with two aspherical elements. This is a well equipped camera, with features such as an eyepiece diopter correction dial and 1.5 EV range exposure compensation control plus five point passive AF system for quick shooting with off-center subjects. Although it exhibits fairly standard styling, the Yashica T Zoom is produced in an attractive charcoal color that provides a distinctive look.

The Leica Mystique. Leica released two compact 35mm zoom lens models in an aluminum housing, both with a full three-year warranty. The C3 includes a wide angle to telephoto Vario-Elmar 28-90mm zoom, with eight glass--not plastic--elements including two with an aspherical surface. Its autofocus system is active, great for low-light situations, and offers a single AF sensor for pinpoint focus accuracy. Bearing a slight family resemblance to the M7 rangefinder camera, the Leica C3 is a very handsome 8.3 oz compact model with an ergonomic handgrip and high prestige value. (List price: $449.) The Leica C2 is an even smaller (8.2 oz) aluminum model with a 35-70mm zoom with glass elements and a passive autofocus system with five point AF sensor. More affordable than the C3, its unique shape and style, plus the Leica mystique, should make this model a best seller. (List price: $339.)

A special edition model, the Leica Minilux DB, is similar to the original Minilux but includes a date printing back and comes in a titanium finish with snake leather trim (from a snake not on the endangered list). It's equipped with a fast 40mm f/2.4 Leica Summarit lens designed for superb detail rendition and high contrast. While it is expensive, the Minilux DB offers high prestige value and exclusivity. (List price: $799.)
Metal Stylus Body. Olympus has sold over 20 million Stylus cameras since 1991, and the new Select 105 may be the most desirable model ever made. Billed as "An Aluminum Masterpiece," the front and rear covers of the elegant clamshell-style body are made of polished high-grade aluminum and brushed stainless steel. Even the lens barrel is made of metal. In addition, this model offers a bonus: a splash-proof designation, an unusual feature in a compact metal camera. At 6.6 oz, the Select 105 is not heavy, and it's also tiny, said to be "the world's smallest with a 3 ft zoom and a range up to 105mm."

Because the 35-105mm lens includes an Extra-low Dispersion element plus two aspherical elements--to correct optical aberrations at all focal lengths--it should produce very high image quality. The passive and active autofocus system should be reliable under all conditions, while the 11-point AF system is extremely wide. It will be great for quick shooting even with subjects far from the center of the frame. As the premium model in the Stylus line, I expected the Select 105 to be expensive, but it will sell for a mere $199.
Nikon Lite-Touch "Flagship." Renowned for making lenses of superb quality, Nikon includes high-grade optics in some of their 35mm compact cameras. Their latest premium-grade model is the Lite-Touch Zoom 150 ED boasting a 38-150mm lens with Extra-low Dispersion (ED) glass for high image quality at long focal lengths, plus two aspherical lens elements for great quality at shorter lens settings. Though not made of metal, the clamshell-style body is certainly distinctive with a titanium-colored finish and lots of shiny gold trim. In spite of the long lens, this slim camera is said to be "the world's smallest, lightest (7 oz) model with 4x zoom and sliding lens cover." The Nikon Lite-Touch Zoom 150 ED is well equipped, too, with features such as a wide area passive AF system, panorama frame mask, and diopter correction dial. (List price: $299.)

Samsung With Schneider Lens. Samsung's Evoca series of cameras--called Vega in Europe and in product photos--boast Schneider-Kreuznach zoom lenses and a long list of capabilities. These include continuous film advance, various program modes, automatic zooming, backlight compensation, diopter adjustment, and more. Two of their most recent models are also housed in a stylish aluminum body for a prestige look and feel. Distributed by Samsung U.S.A, the Evoca 140 Neo QD includes a 38-140mm Varioplan lens with two aspherical elements and passive autofocus system. (List price: $219.) The Evoca 70 Neo QD is a similar model but with a 35-70mm Varioplan zoom with one aspherical element and an active AF system. (List price: $129.) Both come complete with a quartz back for date imprinting on the photos and a remote controller unit.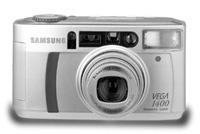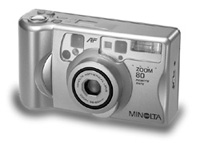 Other 35mm Models
In addition to the cameras already discussed, I found many other new models. Frankly, there are far too many to include in this report, so I'll review models that are noteworthy for specific reasons such as significant new features or technology or unusually low size, weight, or price.

Ultralight Minolta. The latest Minolta ZOOM 80 Date is an entry-level 35mm camera designed for maximum simplicity and priced at a low $79; an optional remote controller unit is available. This basic model includes a 38-80mm zoom and a clear, bright zooming viewfinder for great convenience. Its primary claim to fame is small size--40 percent smaller than previous Minolta's with a similar lens. It's also very lightweight. At a mere 5.8 oz, the ZOOM 80 Date is dubbed as "the world's lightest body featuring a built-in 2.1x zoom lens up to 80mm." This is a nice-looking camera with a metallic silver finish and it does include a bonus feature: a landscape/night view program mode.

High Tech Stylus Model. Another splash-proof Olympus camera, the Stylus Wide 100, contains some great new technology including the 11-point multi-wide passive AF system. Its metering system is also highly sophisticated with a unique "three-way" AE system. Starting with a conventional three-zone silicon sensor, Olympus added an infrared sensor that detects various types of artificial lighting plus another sensor that employs data from the AF system to compare the brightness of the primary subject with other areas to detect backlighting. Employing data from these systems, the exposure computer makes the optimum settings to produce a good exposure, activating flash when necessary for the best results. A color-balancing flash should effectively prevent the green tinge caused by fluorescent lighting.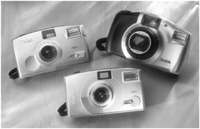 More conventional features include an eyepiece diopter correction dial, and a remote controller unit. The 28-100mm zoom lens will appeal to those who want true wide angle effects, and it features two aspherical elements. All of the many features and advanced technology have been packaged into an elegant, champagne-colored clamshell body that is compact and slim for maximum portability. (Price not yet available.)

Budget-Priced Kodak Models. In order to capture a larger share of the entry-level market, Kodak will offer four new 35mm models that are extremely affordable. Some of these are a great alternative to single-use cameras. Prices range from $20 for the KB 22 with manual film advance and 30mm lens to $45 for the KB zoom with Ektanar 28-50mm aspherical lens and motorized film advance. Most KB series models offer the Kodak EasyLoad system for foolproof film loading and they all feature an attractive style with various silver tones. Anyone looking for a first camera for children or teens will certainly want to check out these Kodak models.

Stylish Fuji Models. The European divisions of Fujifilm announced various 35mm and APS format cameras that are not intended for the North American market. We get several new Zoom Date models instead: the 90EZ with 38-90mm Fujinon zoom, the 110EZ with 38-110mm zoom plus the 125EZ with 38-125mm zoom and an extra large LCD panel. The Zoom Date 90EZ is one of the smallest and lightest cameras in its class, and weighs a mere 6.3 oz. The other models offer two bonuses. The Fujifilm Sure Loading system that makes film loading virtually foolproof and an extra large viewfinder that makes image framing more convenient. All three cameras are housed in a stylish silver-tone case with silver trim. (List prices are $139.95, $179.95, and $219.95, respectively.)
FEATURED VIDEO