Casio's EXILIM Pro EX-F1; Digital Still Or Video Camera?
The EXILIM Pro EX-F1 is the second Casio digital camera I've ever tested. I wrote about that first one, the QV-10, for a computer magazine back in 1995 and boy, things have really changed. The Pro EX-F1 marks a departure for the company from its line of stylish point-and-shoot digicams. Instead, it's a capable electronic viewfinder (EVF) digicam that delivers high-speed still capture and HD and digital video files in such a manner that I sometimes wondered if this was a video camera that made stills or vice versa. Maybe it's a new class of digicams that my Hollywood pal Ralph Nelson has dubbed "V-still."
To achieve its blend of video and still capture, the EXILIM Pro EX-F1 uses a 6-megapixel CMOS sensor and high-speed LSI (Large Scale Integration) processor. In the camera's Still Image Burst mode, you can shoot at 60 frames per second (fps) and the frame rate can be varied from between 1 and 60 while shooting. Variations include the option of capturing those 60 shots at once or shooting bursts of five shots per second for 12 seconds. What does this mean to you besides the obvious application for sports analysis or just a way to capture that decisive moment, at least after sorting out the other 59 image files?

There is an old school of thought from the days of film that holds with blasting images at the highest frame rate in hopes of catching that one frame that's perfect, but most serious sports shooters tend to shoot in short bursts, which is also possible with the Pro EX-F1, thus shooting to capture the peak of action. You can also use the camera to capture images not just at the instant you snap the shutter but before! Continuously recording at up to 60 images per second begins when you slightly depress the shutter; a maximum of 60 images can be saved in the camera's own buffer memory even before the shutter button is fully depressed. Even if you press the shutter a little late, you still may be able to catch that one moment using the camera's
Save Method.
(Top) This dancer from the dance troupe Chimatonali was captured during a Cinco de Mayo celebration in Denver. Exposure was 1/320 sec at f/9.9 at ISO 200 in Aperture Priority mode. Visit the Shutterbug website (www.shutterbug.com, then go to the Instant Links section) for a look at a 60-frame sequence made of some of the other dancers. (Above) This young dancer from the dance troupe Chimatonali was captured during a Cinco de Mayo celebration in Denver. Exposure was 1/160 sec at f/11.7 at ISO 200.
All Photos © 2008, Joe Farace, All Rights Reserved
While using flash it's possible to take up to 20 continuous shots at a speed of up to 7 fps. An internal LED located just below the pop-up flash's tiny flash head allows high-speed burst shooting at between 10 and 60 fps. It even turns on for recording video clips, although I'm guessing that tiny light isn't gonna work all that well in a really dark room like at a wedding reception. And speaking of video...
After you capture a 60-frame burst, you'll see this screen that lets you select all, some, or none of the images captured. If you're in a hurry and don't have time to review all 60 frames, choose "Save All" but be aware the camera will then write all 60 frames to the memory card and will tie up the camera so you can't make another exposure until the save process is complete.
The EXILIM Pro EX-F1 can record high-speed video footage for ultra slow motion playback. You can select a recording speed of 300 fps, 600 fps, or 1200 fps. The Movie button even lets you start recording video without switching from Still Image mode. (It's that whole V-still thing...) The camera features HD video recording capability and even offers a High-Definition Multimedia Interface (HDMI) port, something you don't often see on a digital still camera. All this sounds like bad news for battery life, but even on a day when I was shooting many different 60 fps sequences and doing lots of chimping, it never let me down, although I did see the low battery indicator toward the end of the day.

If you're going to shoot a lot of photos you're going to need a big memory card and for this test most of the images were captured on an 8GB SanDisk (www.sandisk.com) Extreme III SD card that has a minimum 20MB per second sequential read and write speed. You'll need both a speedy and large capacity memory card to capture all of those 60-shot sequences.
The Pro EX-F1's mode dial has the unfortunately named "BS" mode that stands for Best Shot and features this Brady Bunch interface that lets you pick the kind of photograph you are making and lets the camera make all of the necessary adjustments.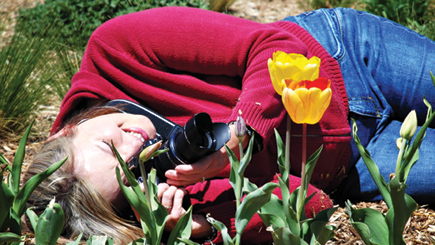 I love the 16x9 ratio of HD video, but unlike the Leica D-LUX 3 that produces the maximum 10-megapixel resolution using this format, the Pro EX-F1 reduces the camera's maximum 2816x2112 resolution to 2304x1728 to capture in this ratio. This photograph was made in BS (Portrait) mode and shows Mary really getting into her flower photography. Exposure was 1/640 sec at f/5.1 and ISO 100.
Even though the camera tosses out resolution to achieve 16x9 mode, it can be a big help with composition, especially when the car is illegally parked and I only had a few minutes to make this photo before the gendarmes came along. Exposure was 1/640 sec at f/8.1 and ISO 200 in Aperture Priority mode.
In The Field
Don't let the thick manual fool you; there are only 29 pages in English. I'll give it, hands down, the award as worst manual of all time. While there may be some who ask, "Who reads manuals anyway?" With a camera like this the answer is you should because the mode dial includes features you don't often see, such as a "BS" mode. No, I'm not making that up. Best Shot mode lets you pick from any of the modes that the BS icons offer when appearing on the 2.8" LCD screen. Just use the camera's four-way controller to select the sample scene that matches the type of image you want to capture and the camera automatically sets it. Sure it's just Scene mode by another more unfortunate name, but it works and is sure easy to use.
When parked legally in Denver's City Park, I was able to switch the Pro EX-F1's Color mode to Monochrome, put the car's top down, and make this photograph. Exposure was 1/320 sec at f/8.7 and ISO 200 in Aperture Priority mode.
FEATURED VIDEO