The Best Photo Gear of 2018: TIPA Announces Annual Imaging Product Awards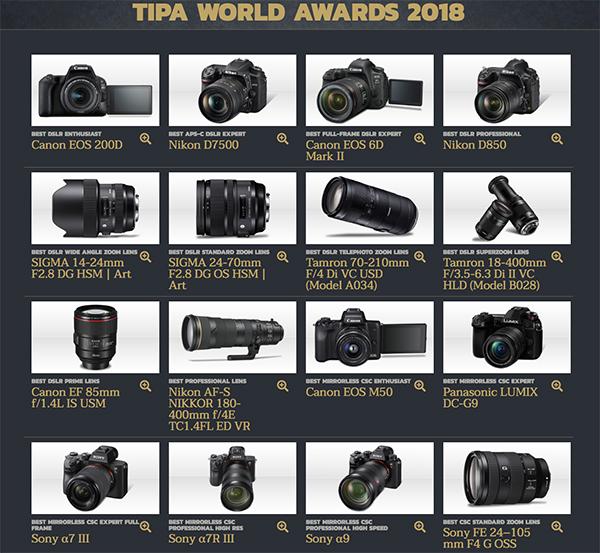 Shutterbug, a member of the Technical Image Press Association (TIPA), once again teamed up with over two dozen other member magazines from around the world to select the winners in the annual TIPA World Awards for the best photo products of 2018 in 40 different categories. We've included 24 of the just announced 2018 award winners below, with write-ups and product images provided TIPA. Click on the product name to see more information including our reviews.
To see the full list of 40 TIPA World Awards for 2018, click here. To see the 2017 TIPA Awards winners, click here.
Best DSLR Enthusiast
Canon EOS Rebel SL2 (200D)
If size is a decisive matter in choosing an interchangeable lens camera, Canon's EOS 200D gives little ground to its mirrorless rivals. This very affordable and ultra-compact DSLR, available in kit form with an EF-S 18-55mm lens, incorporates an upgraded 24.2MP APS-C CMOS sensor with Dual Pixel CMOS AF. With both optical viewfinder and 3-inch Vari-Angle touchscreen LCD, the EOS Rebel SL2 (200D) delivers up to 5 fps shooting, a nine-point AF system, a pop-up flash (plus hotshoe), and easy sharing on social media sites with built-in Wi-Fi, NFC, and Bluetooth connectivity. With both JPEG and RAW still capture capability, plus 1080/60p video, the camera offers a host of AF, exposure, scene, and auto-bracketing modes.
Best APS-C DSLR Expert
Nikon D7500
Aimed squarely at photographers who want to take advantage of Nikon's full range of lenses and imaging expertise at a mid-range price, the DX format, 20.9MP D7500 gives photographers a sense of control over its many parameters and imaging options that are well thought out and combine both pro and amateur features. The camera has very good low-light performance, excellent battery life, and a touchscreen, tiltable 3.2 inch LCD. ISO options range between 100-51,200 with a top shutter speed of 1/8000 second with 8 frames per second framing rate at full resolution. There are numerous advanced options that allow photographers to fully explore a host of creative imaging opportunities.
Best Full-Frame DSLR Expert
Canon EOS 6D Mark II
A full frame, full-featured DSLR aimed at enthusiasts, as well as pros who seek a second compact and lightweight body, the full-frame EOS 6D Mark II includes an all-new 26.2MP sensor with Dual Pixel CMOS AF technology that aids AF during live view and movie shooting. The camera has a normal ISO range of 100-40,000, and up to ISO 25,600 when shooting full HD 60p video. It can deliver up to 6.5 fps when using the optical finder and 4.5 fps when working with the 3-inch, fully articulating Vari-Angle touchscreen LCD. The EOS 6D Mark II features several connectivity options, with Wi-Fi, NFC and Bluetooth, plus there's a built-in GPS. Focusing is fast and reliable thanks to up the optical viewfinder's 45 cross-type AF points.
Best DSLR Professional
Nikon D850
The Nikon D850 brings together all the elements that make it this year's choice for best pro DSLR. With its 45.7MP BSI CMOS sensor and EXPEED 5 processor, the D850 can capture up to 9 fps (using the optional MB-D18 Multi-Power Battery Pack with the EN-EL18B battery - used in the D5 – inserted) for 51 consecutive shots in 14-bit NEF format. Focusing is rapid, with 99 cross-type sensors and a dedicated AF processor that can capture images in light as low as -4EV. The body is made with rugged magnesium alloy and carbon fibre materials with dust and water-drop resistance, as well as battery life that can handle up to 1840 shots at full resolution or 70 minutes of 4K UHD-video off a single charge.
Best DSLR Wide Angle Zoom Lens
Sigma 14-24mm F2.8 DG HSM Art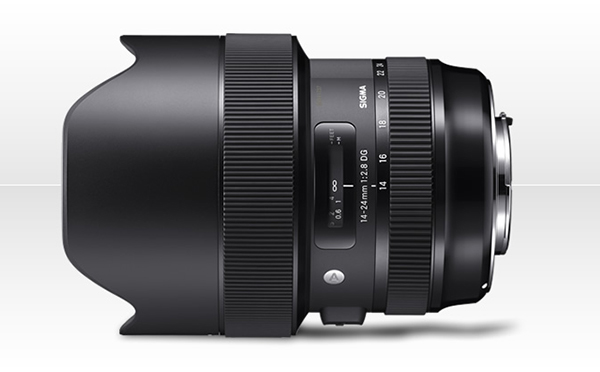 Mountable on Canon, Nikon, and SIGMA cameras, and compatible with SIGMA's MC-11 Sony E-mount converter, the SIGMA 14-24mm F2.8 DG HSM Art lens delivers a high level of sharpness with near zero distortion, along with high-speed and high-accuracy AF, that matches up perfectly with today's high-resolution cameras. The lens contains 3 FLD ("F" Low Dispersion) glass elements, 3 SLD (Special Low Dispersion) glass elements, and 3 aspherical lens elements, including an 80mm high precision molded glass aspherical element. It has special sealing at numerous points for dust and splash proof protection. Thoroughly modern, the Nikon mount features a brand new electromagnetic diaphragm; the Canon mount is compatible with the Canon Lens Aberration Correction function.
Best DSLR Standard Zoom Lens
Sigma 24-70mm F2.8 DG OS HSM Art
For many photographers, the 24-70mm focal length range is considered the standard as an everyday lens for a wide variety of subjects and scenarios, including street and reportage work, candids, travel and even intimate nature and landscape photography. The SIGMA 24-70mm F2.8 DG OS HSM Art offers many advantages: a constant aperture throughout its range, an optical stabilization system, and outstanding bokeh effects due to its 9-blade, rounded diaphragm, 37cm (15in.) close focusing capability. The lens is dust- and splash-proof and incorporates a newly designed hypersonic motor (HSM) for fast and smooth AF operation. The lens also incorporates the latest electromagnetic aperture control for specific Nikon cameras; the Canon mount is compatible with the Canon Lens Aberration Correction function.
Best DSLR Telephoto Zoom Lens
Tamron 70-210 F/4 Di VC USD (Model A034)
The 70-210mm focal length has long been the choice of nature and outdoor photographers as an all-in-one lens for a wide variety of subjects and scenes. The constant aperture Tamron 70-210mm for full frame and APS-C DSLRs delivers 4EV vibration compensation when shooting handheld and is constructed with 20 elements in 14 groups, with three LD elements. The minimum focusing distance of 0.95m (3.1 ft) and the nine-bladed diaphragm combine to yield very pleasing bokeh effects. A Dual MPU (Micro-Processing Unit), internal zoom (which does not increase barrel length when zooming) and an Ultrasonic Silent Drive ring-type motor enable smooth operation and high-speed, accurate AF performance.
Best DSLR Superzoom Lens
Tamron 18-400mm F/3.5-6.3 Di II VC HLD (Model B028)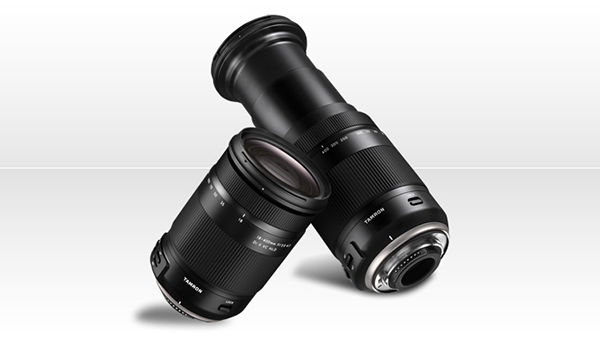 Delivering an effective focal length range of 28-620mm (35mm equivalent) on APS-C DSLRs (varies slightly in Canon mounts), the moisture-resistant Tamron 18-400mm all-in-one 22.2X zoom is a mere 12.14cm (4.8 inches) long and weighs just 705g (24.9 oz). An HLD (High/Low torque-modulated Drive) is designed to save power and enables smooth AF operation, plus allows for a smaller AF module that helps reduce lens size. A new barrel design, which includes distribution of complex movement across three cams, insures smooth zooming. The lens also offers built-in vibration compensation of 2.5EV and, to expand its capabilities even further, a minimum focusing distance of 0.45m (17.7 inches).
Best DSLR Prime Lens
Canon EF 85mm F/1.4L IS USM
A fast, versatile professional lens with Image Stabilization, ideal for studio and location portrait, candid and nature photography. The EF 85mm f/1.4L is the first Canon short prime L-Series lens to incorporate Image Stabilization that delivers up to 4 stops of compensation, which adds low-light capability to handheld image capture. This dust and water-resistant lens has a 9-bladed circular aperture for beautiful bokeh effects, especially when utilizing its 0.85m (2.79 ft) minimum focusing distance at wide apertures. AF is fast and responsive due to "Ring USM" technology and rear group focusing. The lens is composed of 14 elements in 10 groups and delivers corner-to-corner sharpness aided by a moulded glass aspherical lens and Canon's anti-reflective Coating technology.
Best Professional Lens
Nikon AF-S Nikkor 180-400mm f/4E TC1.4FL ED VR
Imagine a lens with a built-in 1.4X teleconverter, up to 4 stops of vibration reduction, advanced dust and moisture sealing, internal focusing, and the ability to easily extend to an exceptionally wide focal length (from max 400mm to 560mm, or as long as 840mm on a DX format camera) with the flip of a switch. Built for the sports, event, nature, and wildlife photographer, the integration of the teleconverter in the lens means that imaging excellence is optimized in terms of light transmission and edge quality. When combined with advanced Nikon cameras like the D850, outer areas of the frame can be used as cross-type sensors, further enhancing acquisition speed and quality.
Best Mirrorless CSC Enthusiast
Canon EOS M50
4K video in an entry-level camera, characterized as affording an easy path from a smartphone to using a real live camera and all the potential creative image-making that entails, the Canon EOS M50 sports a 24.1MP APS-C CMOS sensor, with improved Dual Pixel CMOS AF and a built-in EVF. The M50 delivers quality images in low light conditions and can record 4K video, as well as HD at 120p. The body is small and lightweight, with a Vari-Angle touchscreen LCD. When it comes to sharing and connectivity, an important part of encouraging smartphone photographers to convert, the EOS M50 has Wi-Fi, NFC, and Bluetooth, plus the capability to automatically transfer images to a smartphone as they are taken.
Best Mirrorless CSC Expert
Panasonic Lumix DC-G9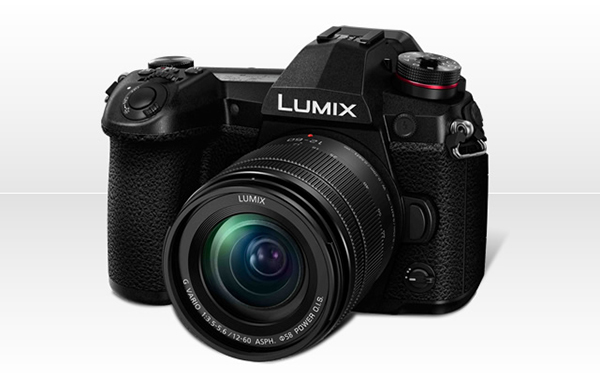 The Lumix G9 delivers state-of-the-art image quality paired with an astonishing frame rate. The mirrorless camera delivers up to 60 fps in both JPEG and Raw formats incorporating DFD-AF with only 0.04 second lock focus speed. Equally impressive is the built-in stabilization system. It compensates up to 6.5 stops as well as providing a high-resolution mode that delivers 80-megapixel-stills via the sensor shift technology. Photographers compose their natural textured and rich gradation images on a 3-inch free-angle display or via the ultra-sharp large OLED-Viewfinder. All this adds-up to form this great camera.
Best Mirrorless CSC Expert Full Frame
Sony A7 III
Combine a "hybrid" full-frame mirrorless with a 24MP BSI CMOS sensor capable of recording hi-res images at a fast 10 fps shooting rate and 4K with "video AF" and you get an idea of the capabilities of this impressive and versatile camera. The A7 III offers 5-axis image stabilization rated at up to 5 stops and a sharp, bright 2.59M dot OLED finder and twin SD card slots with a fast, low-noise processor that handles true 14-bit uncompressed Raw even in continuous drive mode and 4K footage taken from the full-frame sensor and oversampled from 6K capture. Handling is enhanced with touchscreen, a deep grip and long battery life.
Best Mirrorless CSC Professional High Res
Sony A7R III
Combine high resolution with a full frame sensor and add a 10 fps shooting rate with full-res burst rate of 76 JPEG/Raw files and you'll get an idea of what the Sony A7R III offers. Thanks to the 42.4MP BSI Exmor R CMOS sensor with a Bionz X processor, which uses a gapless on-chip lens and anti-reflective coating that improves light collection, the camera affords excellent high sensitivity, low noise performance and a wide dynamic range of an incredible 15 stops at lower ISO settings. To further aid in low light shooting, the 5-axis stabilization system provides a 5.5 EV shutter speed advantage.
Best Mirrorless CSC Professional High Speed
Sony A9
Pro wedding, action and sports photographers need a responsive camera that can deliver fast framing rates and very good resolution. The 24MP A9 delivers on all counts with a 20fps rate with full AF and a buffer that can handle an incredible 241 (compressed) Raw or 362 JPEG frames, all with no viewfinder blackout during continuous shooting. The camera incorporates 5EV, 5-axis image stabilization plus 693 phase detection AF points with 93% coverage, meaning no action shall escape unrecorded, even when capture is commenced with a subject already in motion. To handle power needs the A9 has a higher capacity battery that can deliver thousands of burst-shooting shots per charge.
Best CSC Standard Zoom Lens
Sony FE 24-105mm F4 G OSS
Measuring 83.4 x 113.3mm (3.28 x 4.5 inches) and weighing 663 g (23.4 oz) this 36-157.5mm (35mm equivalent) Sony lens covers a wide range that is ideal for travel, landscape, nature and portrait photography. Offering fast and quiet AF performance, thanks to the incorporation of Sony's Direct Drive SSM system, the lens offers sharp, vivid images as well, due to three ED glass elements and Sony's Nano AR Coating. The range and speed does not preclude capturing great close-up photos as well, with a 0.38 metre (1.25 ft) minimum focusing distance; bokeh is further enhanced by the 9-bladed circular aperture design. The lens is also dust and moisture resistant that can handle light rain or windy conditions.
Best CSC Telephoto Zoom Lens
Sony FE 100-400mm F4.5-5.6 GM OSS
Lightweight and compact long-range tele zooms are a boon for sports, action, and wildlife photographers. The Sony 100-400mm weighs only 1395g and is 205mm long, making it ideal for fieldwork in both the outdoors and in sports and event venues. The demands of these subjects require fast and responsive AF, aided in this lens by a double linear motor and an ultrasonic driver, which Sony dubs Direct Drive SSM, and a zoom "torque adjustment," that provides fine adjustment for both fast and slow zoom rates. Built-in optical stabilization helps capture blur-free images, with 5-axis stabilization available when used with a-series bodies that feature in-body stabilization.
Best CSC Prime Lens
Samyang AF 35mm F2.8 FE
Designed for Sony full-frame mirrorless cameras the Samyang AF 35mm F2.8 FE is compact, light and sharp. The pancake lens is only 3.3cm long and weighs just 85g (without the hood and rear cap). It contains seven elements in six groups, two aspherical lenses and one high refractive lens plus Ultra Multi Coating (UMC) from Samyang Optics to minimize aberration and unnecessary light dispersion. The seven rounded blades contribute to an excellent optical performance for the more than reasonable price. Such a portable lens is ideal for photographers wishing to capture every memory during their travels as a high-quality image.
Best Expert Compact Camera
Panasonic Lumix DMC-ZS200/TZ200/TZ220
One of the most popular camera configurations for pros and enthusiasts alike is a pocketable, wide-range zoom camera that offers a wide range of features and excellent image quality; all attributes of the LUMIX TZ200. The 1-inch 20.1MP High sensitivity MOS sensor can be set up to ISO 12,800 (or expanded to ISO 25,600), making it a great low light performer. The integral Leica DC lens covers 24-360mm, with close-focusing capability of 3 cm Macro, and built-in 5-axis stabilization. Rounding out the special features, the TZ200 offers 4K 30p and Raw/JPEG still recording with an impressive Live View finder that offers excellent viewing even in bright light.
Best Superzoom Camera
Sony RX10 IV
For on-the-go photographers who want to carry one body with an integral 25X zoom lens, the Sony RX10 IV is hard to beat. Packing a 24-600mm (35mm equivalent) Zeiss Vario-Sonnar T* lens - a 20.1MP 1.0-type stacked Exmor RS CMOS sensor and phase detection AF, the camera has built in Optical SteadyShot image stabilization for up to 4.5 EV shutter speed compensation equivalent. The camera is surprisingly compact for such a long-range zoom capability, with a remarkable AF response time of 0.03 seconds. All in all, the RX10 IV is a great choice for travelers, sports, and landscape photographers who want one camera/lens combination for all their imaging needs.
Best Professional Compact Camera
Canon PowerShot G1 X Mark III
A compact for professionals and enthusiasts alike, pros and advanced photographers often seek a "second camera" that will meet their quality expectations while being lightweight, portable, and perfect for travel. The G1X Mark III meets these criteria with a 24.2MP APS-C CMOS sensor with Dual Pixel CMOS AF, a 3-inch Vari-Angle touchscreen LCD, a 2.36 million dot OLED EVF, Full HD video, optical image stabilization, and an integral 2472mm (equivalent) lens. The camera can deliver up to 7 fps shooting rate, ISO range is ISO 100-25,600 and is both dust and moisture resistant. USB charging capability adds another versatile convenience factor for on-the-go photographers.
Best Rugged Camera
Nikon Coolpix W300
Active outdoor adventure photographers can bring the Nikon COOLPIX W300 along, knowing that it can handle whatever comes. Waterproof to 100 ft (30 m) for approx. 60 mins, freeze-proof to 14 degrees F (-10 C), shock-proof and dust-proof, the COOLPIX W300 delivers 4K video and 16MP stills, as well as time-lapse movies. Imaging options are expanded with a 5x optical zoom with Nikon's Hybrid Vibration Reduction while the 4K UHD video features stereo sound, and all the action can be shared via Bluetooth and built-in Wi-Fi through the SnapBridge app. The COOLPIX W300 is a helpful traveling companion as well, with an on-board GPS, an eCompass, an altimeter, depth gauge, and even an atmospheric and water pressure gauge to boot.
Best Professional Photo/Video Camera
Panasonic Lumix DC-GH5S
The LUMIX GH5S can handle both ends of the image capture spectrum – both still and video — although it tips the scales towards the video side. The camera boasts the highest sensitivity of any LUMIX, particularly in low light. The camera's 10.2MP High Sensitivity MOS sensor utilizes "Dual Native ISO Technology" to dig into even the darkest areas, allowing high ISO capture without supplemental lighting. It has numerous video capture options, including cinema 4K/60p and Full HD/200Mbps. On the still side, the GH5S delivers 14-bit Raw images at 11 fps, in 12-bit the frequency goes up to 12 fps. Dual card slots handle the data flow, with numerous output connections, including HDMI and USB-C, for moving the image data to the editing stage.
Best Photo Printer
Epson Expression Photo HD XP-1500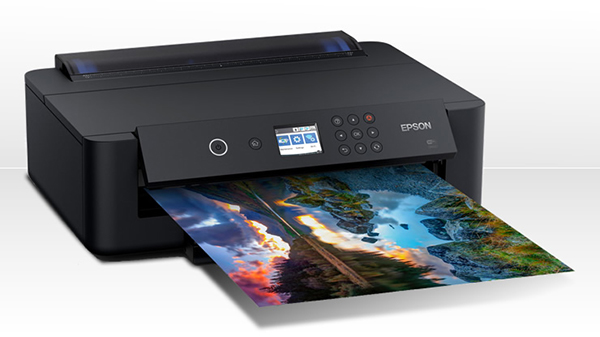 The Epson Expression XP15000 weighs a relatively lightweight 8.5kg (18.7 lbs) and, in printing mode, takes up only 476 x 785 x 412 mm (18.7 x 30.9 x 16.2 inches) of space. This 6-color printer, including grey ink for enhanced B&W prints, offers variable droplet size as small as 1.5 picolitres and can deliver up to 5760 x 1440 max resolution in print sizes up to 13x19 inches (A3+). It can also handle specialty media, including cardstock, via a 50-sheet rear tray, plus 2-sided printing. It offers easy setup via a 2.4" color LCD and features wireless connectivity, allowing users to print from their smartphone and tablet.
To see the full list of 40 TIPA World Awards for 2018, click here.