Apple Unveils iPhone 6 Models with Advanced Photo Tools Including Phase Detection AF and Optical Image Stabilization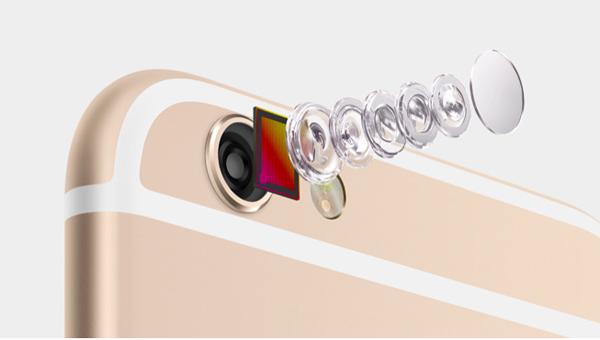 Along with the much buzzed about new digital Watch, Apple unveiled two new iPhone models with ramped up photo features including Phase Detection autofocus and optical image stabilization.
The iSight cameras in the 4.7-inch iPhone 6 and its even larger big brother, the 5.5-inch iPhone 6 Plus, might not be on the level yet of digital SLRs or even decent compact cameras, but they appear to be getting closer. The new 8MP image sensors with 1.5-micron pixels in the iPhone 6 cameras feature something Apple is calling Focus Pixels, which are designed to lock in more quickly on a subject.
During an Apple event in California today to introduce the new phones and the new Apple Watch, Apple CEO Tim Cook described Focus Pixels as akin to speedy Phase Detection AF used in DSLR and many advanced compact cameras. (Most smartphones and some lower end digital cameras use slower Contrast Detection-based AF.)
The Apple iPhone 6 Plus ups the ante further by offering optical image stabilization technology to help reduce image blur by compensating for hand shake in low light. (The iPhone 6 offers only digital image stabilization.)
Both new iPhones can shoot full HD video but now at 60fps for smoother 1080p video and 240fps for super slo-motion playback. They also have continuous autofocus, cinematic video stabilization and time-lapse video. The FaceTime HD camera can capture over 80 percent more light, Apple said, thanks to a new sensor, larger f/2.2 aperture and new features including burst mode and HDR video.
The Apple iPhone 6 comes in gold, silver or space gray, and will sell for $199 for the 16GB model, $299 for the 64GB model, and a new 128GB model will go for $399 with a two-year contract. iPhone 6 Plus comes in gold, silver or space gray, and will sell for $299 for the 16GB model, $399 for the 64GB model and $499 for the new 128GB model with a two-year contract.
More details at apple.com.
FEATURED VIDEO