Windows 7; What Can It Offer Photographers?
With each new Microsoft Operating System (OS) release, a new question arises for photographers: should you upgrade? Or, should you wait? For some, the decision has to do with photographic workflow—changes in software, USB devices, storage technologies, and even one simple driver can have a devastating effect and slow operations. For others, the challenges have more to do with usability—learning a new OS is often time-consuming, but more importantly, there is a process of learning how to cope with the deficiencies of an OS, managing color profiles, overcoming memory management hurdles, and discovering new "features" that are more trouble than they are worth.

With Windows 7, Microsoft is determined to correct the problems in Windows Vista related to driver compatibility, performance, reliability, and just plain old bad press. Yet, in this peek "under the hood" of the new OS, my goal is to wade through the speculation and marketing hype and uncover the core features that might be of benefit.

Windows 7 is intended to address reliability and performance issues in Windows Vista. Okay, Microsoft may not admit that in their marketing materials, but Windows 7 does not introduce any significant new technologies other than support for touch interfaces. That's actually good news for photographers, especially those still using XP, since Windows 7 is reliable and mature, ready for professional workflows. In my tests, the final release worked flawlessly, allowing me to import thousands of photos, view them as thumbnails, compress them into Zip files, and send them via Webmail.
© 2009, John Brandon, All Rights Reserved
© 2009, John Brandon, All Rights Reserved
© 2009, Jamie Larson, All Rights Reserved
(Top): I tested Adobe Bridge with thousands of images in Windows 7 and never had any crashes or problems of any kind. Why? Because Windows 7 is essentially a more reliable and faster version of Windows Vista without any "extras" of questionable value. (Center): I also tested Photoshop CS4 64-bit on Windows 7 and the OS ran smoothly—noticeably faster than Windows Vista, especially when opening files and zooming in on an image. (Bottom): Preview works the same in Windows 7 as it did in Windows Vista, showing a simple slider for zooming in on an image and a few sparse options for exporting the photo.
To find out whether Windows 7 is working for other photographers, I asked a few to report back on their findings after they had tested late-stage betas and final builds. In all cases, the reports were positive. Jeff Finkelstein, a pro photographer at Customer Paradigm in Boulder, Colorado, a marketing company, says Windows 7 is a godsend, running about 3x to 5x faster than Windows XP and Vista, and he's running the final version in a dual-screen mode.

"For me, the best thing about Windows 7 is that it runs quickly, and takes full advantage of the 64-bit processor," Finkelstein says. "When I am running a batch process to change the white balance on a sequence of images, the system flies through them much more quickly. In Photoshop, for example, when I have worked with many, many images in rapid succession, the memory loss on XP or Vista tends to slow the computer down to a crawl, forcing me to exit out of Photoshop and—in many cases—reboot the computer. I haven't found this to be the case so far with Windows 7. Whether it's nature photography or product shots, Windows 7 has dramatically sped up my workflow process."
Windows 7 includes a color calibration wizard to adjust the gamma by moving a slider.
© 2009, John Brandon, All Rights Reserved
After Vista left a bad taste in his mouth, another pro—Richard Grimm, who runs RSPhotoLab.com and currently uses Windows XP—says Windows 7 appears to have an easier interface for his needs, based on his review. Eric Townsend (www.erictownsend.com) has pre-ordered Windows 7 primarily to handle memory problems in Windows Vista, which he started experiencing about a year ago.

For the most part, Windows 7 has only minor cosmetic updates. The taskbar below the main screen looks a bit different—it has been optimized for touch displays with larger icons—and there are a few new tricks. For example, you can grab any window and move it to the left or right to reposition it, or drag it up to maximize the window. There's also a way to hide all open windows by clicking a small block on the lower right of the screen. The most important upgrades are in file management, memory handling, color profiles, and the new touch-interface components—especially important for photographers, and a good place to start since it is the most critical change.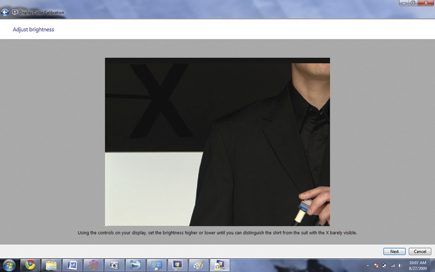 You can also adjust brightness using a stock image with a black X on a black background.
© 2009, John Brandon, All Rights Reserved
One interesting change is the new Device Stage, which automatically recognizes your camera and pops up a window that shows an icon of a digital camera and a list of options—such as browsing the photos or importing images. The idea here is that Microsoft will add more built-in support and may even provide a way to change settings on the camera itself when you connect it using a USB cable. When I plugged in a Nikon D700, Windows 7 recognized that the CF storage was available—although it did not show the correct icon for the camera or provide any other settings. Device Stage is a good start because it provides direct links to common tasks such as importing and adding metatags to images, as opposed to just showing a wizard that walks you through unrelated steps.