Monochrome Makers: Our Favorite Gear for Creating Black-and-White Photographs
"It's gotta be rock 'n' roll music, if you wanna dance with me."—the late Chuck Berry
There's more to black-and-white photography than an absence of color. One reason purists refer to black-and-white images as "monochrome" is that it's a more precise term covering photographs made in sepia and other tones.
One advantage of creating a monochromatic digital image is that the original photograph can come from many sources, including a color file. To get out of a rut I sometimes shoot images using my camera's direct monochrome mode. Wait for it… But I set my camera for Raw+JPEG capture and select monochrome to provide an in-camera preview of what the image looks like in black and white, although the photograph is available as a color Raw file.
Traditionalists may still call it "monochrome" while digital imagers prefer "grayscale," but, to paraphrase Billy Joel, "it's still black and white to me."
M Is For Monochrom
Most digital cameras have black-and-white modes for capturing monochrome images directly but one camera that takes it to extremes is the Leica M Monochrom ($7,550) whose sensor lacks a color filter array, which means it can only shoot in black and white. The M Monochrom's full-frame 24MP CMOS sensor also lacks an optical low-pass filter and captures images in luminance values, forgoing the need for color interpolation, to produce Leica levels of sharpness and resolution.
The camera has a 0.68x optical viewfinder with split and superimposed manual focusing, automatic parallax correction, and manual image field selection. It has a sensitivity range from ISO 320 to 25,000 as well as a 3 frames per second (fps) continuous shooting rate with a 2GB buffer for recording up to 30 frames in a sequence. Interestingly, 1080p HD video recording is possible at 24 or 25 fps frame rates. High rollers will like the gold-toned, limited edition Leica M Monochrom "Jim Marshall Set" ($12,950).
Who's It For: It's a real magnesium alloy and brass M camera for black-and-white Leica aficionados and perfectionists like my friend Ralph Nelson, a legendary cinema still photographer.
Why I Like It: As a longtime monochrome-loving photographer, I love the concept of the M Monochrom. I can't afford one but a used one is on my bucket list.
Black and White and Infrared All Over
I would be remiss if I didn't mention black-and-white infrared photography. If you're new to the concept, light in wavelengths from 700 to 900 nanometers is called infrared and is 1,000 times wider than visible light. Shooting infrared transforms mundane subject matter into unforgettable images. Everyday scenes you might walk right by and never think of photographing take on a more dramatic look when captured in infrared.
Instead of putting your old DSLR or mirrorless camera on eBay or Craigslist, send it to a company that will convert it for infrared capture. You can even convert it yourself. Companies such as LifePixel sell the parts ($99) and have online tutorials that are not for the faint of heart. After conversion, you'll be able to shoot infrared images hand-held with no opaque filters to slow you down, force you to use a tripod, or make it difficult to see what you're photographing in the viewfinder.
Who's It For: Experimentally minded shooters or photographers who want to try something new by capturing images made with invisible light.
Why I Like It: Infrared photography is fun but there's more to it than that because shooting infrared lets you capture images that cannot be visualized any other way.
The 800-Pound Gorilla Bites the Banana
The Nik Collection, which includes Silver Efex Pro, is compatible with Mac OS X 10.7 through 10.10; Windows Vista, 7, and 8; and Photoshop through CC 2015. In May 2017, Google announced, "We have no plans to update the Collection or add new features…" There's no guarantee the software will support future versions of Photoshop and it's also possible the next Mac OS or Windows update could break the software. I plan to keep using Silver Efex Pro for monochrome conversions but as Lego Batman said in the movie, "I'll shop around" for a replacement, just in case. In the meantime…
A combination of extensive use of sliders and presets has made Silver Efex Pro the 800-pound gorilla for monochrome conversions. The presets include preview thumbnails and the conversion options range from historic processes to images emulating specific film. I sometimes use the presets as a starting point but you can create custom black-and-white styles using the software's controls for color filters, vignettes, and toning.
What makes Silver Efex Pro different from the competition is the use of control points that makes its selection based on the object's characteristics. You can control how large of a selection to create using each control point's built-in size slider and by adding multiple control points, simultaneously affecting multiple parts of the image. All of this is wrapped in a wonderfully intuitive interface that, so far, nobody has come close to beating.
Who's It For: Photographers who like to create monochrome images. And who doesn't?
Why I Like It: It's great free software that works…for the time being.
The Contenders
Alien Skin Software's Exposure X2 ($149) is a plug-in/application with roots in emulating black-and-white and color film stock. However, it has evolved over many versions to become a full-featured image editor that includes what amounts to its own version of Adobe Bridge, allowing you to view many images at one time. That's also why it supports many file types, including Raw, TIFF, JPEG, DNG, and PSD. So you don't have to switch between apps, Exposure X2 has a Spot Healing tool for portrait retouching and a Brush tool that can also be used to retouch portraits and burn or dodge specific areas of the photograph.
There's a History panel that lets you retrace/retract editing steps along with enhanced export options that offer file renaming and resizing choices. Exposure X2 has what seems like 500 presets that can be applied with a single mouse click. A Full Text Search feature lets you search images using criteria such as camera model, shutter speed, and ISO. It seamlessly integrates with Adobe Photoshop, including Bridge where you can launch it, and Lightroom.
Who's It For: Ambidextrous photographers who like to create monochrome or color images.
Why I Like It: While a great black-and-white conversion tool, its color effects, especially in the Cinema category, are spectacular.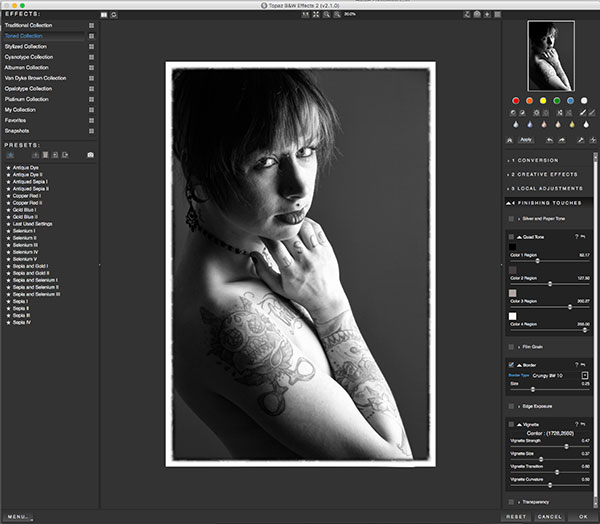 B&W Effects ($59) from Topaz Labs includes over 200 presets in eight collections: Traditional, Stylized, Toned, Albumen, Opalotype, Cyanotype, Platinum, and Van Dyke Brown. Some presets have color capabilities reproducing the digital equivalent of classic Marshall's Oil colors. The functional interface for this Mac OS and Windows plug-in displays a menu of presets on the left-hand side with sets of controls for type of conversion, creative effects, local adjustments, and finishing touches on the right-hand side. Some of these sliders can be slow to react (depending on file size) so the best thing to do is move them gradually, take a beat, and then view the effect. Then as Emeril says, "season to taste."
Who's It For: Photographers who like creating monochrome or color images but don't want to break their piggy banks.
Why I Like It: Great price and great effects, and it's part of a system of clever plug-ins that includes Texture Effects which can be added to your monochrome images.
Macphun's Tonality ($69) combines 16-bit Raw processing with algorithms that include adaptive exposure and smart contrast, user-loadable textures, clarity control as well as structure and grain emulation for more than 20 film types. It comes with more than 100 presets and you can create your own presets or download, as I write this, seven free preset packs for subjects such as Stylising Portraits or Dramatic Landscape. Presets include monochrome HDR effects such as "Hint of Color" and I think the way it's applied transcends the cliché of this overused effect. For more color you can use filters operating on both Luminance and Saturation to provide unique looks and selective color. Most importantly, Tonality permits the use of layers with blending modes and sharing features, allowing you to export to Facebook, Flickr, 500px, and SmugMug.
Who's It For: Photographers looking for black-and-white conversion software with layers capability.
Why I Like It: Tonality is amazingly comprehensive for its price point.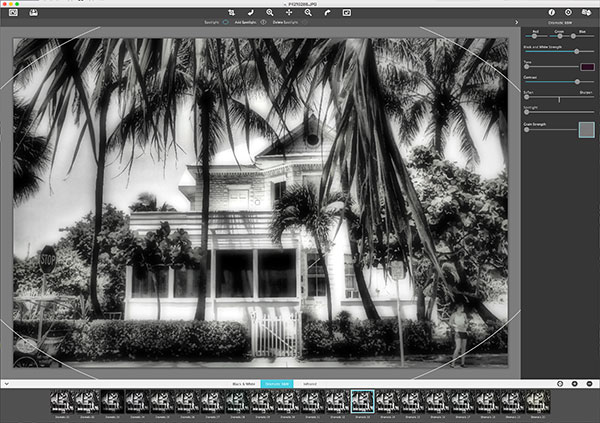 For Newbies and Bargain Hunters
Dramatic Black & White from JixiPix Software is the simplest and least expensive way to try monochrome photography. Sure, Silver Efex Pro is free but you need Photoshop, whereas Dramatic Black & White is a Mac OS and Windows application that costs just $17. And it's easy and intuitive to use, too. The application contains three sets of presets—Black & White, Dramatic Black & White, and Infrared—and supports multiple light sources to create spotlight effects while giving you control over red, green, and blue filters. To add a touch of the original image's color, there is a black-and-white Strength slider that acts like you're using layers and fading the opacity. There are also soften, sharpen, and contrast options, plus you can add toning effects.
Who's It For: Photographers wanting to try black-and-white imagery without having to buy Photoshop or spend a lot of money.
Why I Like It: It does a heckuva job for the price.
Calling Captain Obvious
One of the best tools for black-and-white conversion remains Adobe Photoshop because there are so many ways to do it starting with Adobe Camera Raw (ACR). Simply clicking the checkbox "Convert to grayscale" in the HSL/Grayscale tab gets you started and you still have access to ACR's other tabs to tweak the image further before importing into Photoshop for more manipulation.
Another path is the Black & White Adjustments command (Image>Adjustments>Black & White) that opens a dialog box with sliders you can use to interpret an image's colors while converting them to monochrome. You can also use a pop-up menu that lets you apply a color filter, much like shooting black-and-white film through on-lens filters, while a Tint checkbox digitally tones the photograph using sliders or a Color Picker. Then there's Channel Mixer (Image>Adjustments>Channel Mixer) that does almost everything that Black & White Adjustments does with, what I feel, is a more straightforward interface.
Who's It For: Every photographer. Others have tried but the oldie remains a goodie.
Why I Like It: Eschewing Adobe's subscription model, I'm hanging onto version CS6 until the next Mac OS update breaks it. Hopefully that's not High Sierra.
Joe Farace is the author of the now out-of-print Creative Digital Monochrome Effects that's available used at bargain prices. To shoot his black-and-white portraits, landscape and automobile photographs, he uses Canon EOS DSLRs and Olympus and Panasonic mirrorless cameras. More information about the gear he uses to create monochrome images can be found at joefaraceblogs.com, joefaraceshootscars.com, and mirrorlessphototips.com.
FEATURED VIDEO